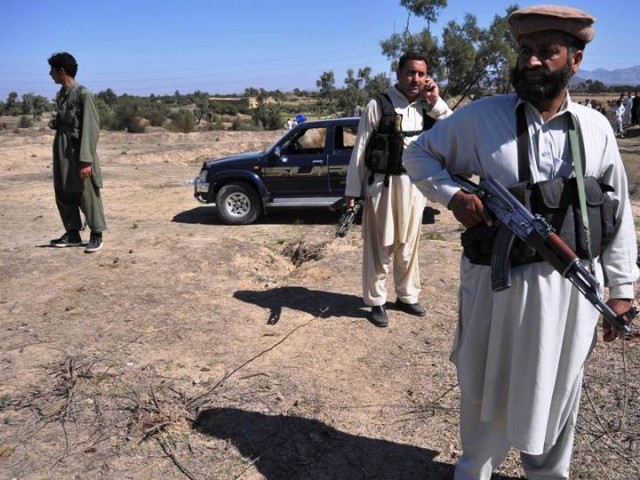 ---
PESHAWAR:



It was in 2008 that the police started arming villagers in Badabher to help the force protect electricity pylons and girls schools – two of the most common targets of militants.




The villagers, who were given AK-47 rifles, thus became part of the first local aman lashkar or peace militia. The idea to mobilise locals in the fight against militancy was first floated by the then deputy speaker of the Khyber-Pakhtunkhwa Assembly, Khusdil Khan, a resident of Badabher himself.




The peace militia was soon followed by the Adezai and Bazid Khel aman lashkars. In the coming years, the two militias would frequently clash with militants, with their members often targeted by suicide attackers, roadside bombs and target killings.

But in their quest to generate more and more resources to fight this war, the militias were at times accused of high-handedness and even extorting money from wealthy individuals. Since the enmity with militants had brought the businesses of these peace militia members to naught, they also resorted to demanding money, fuel, vehicles and ammunition from the police. Some were accused of taking the law into their own hands, kidnapping and killing people on mere suspicion. This forced the police to restrict their role to just providing information to local SHOs instead of taking action on their own.




The lashkar members were not, however, by any means expendable. They were familiar with the local terrain and their contacts in the adjacent tribal belt meant the police needed them on their side. So in order to recruit locals who could be armed and disarmed by the police and kept under their control, villagers were hired as constables on a two-year contract. Two kinds of people made it to the force: recently retired army men and residents of militancy-hit areas. This not only addressed the shortage of manpower in the police, but also helped in collecting vital information on the movement of militant groups.

With the passage of time, the community police, as it was initially called, became an integral part of the operational police force and its members later came to be known as special police officers (SPO). They were paid a salary of Rs10,000 per month, which was later increased to Rs15,000. So vital was their role that they were given extensions after the two-year term expired.

Though the ex-servicemen in particular proved to be capable men, not all those recruited had the requisite combat training. Several were killed in militant attacks while manning their posts, while others fell to bomb blasts and target killings. What was irrefutable, though, was their contribution in dealing with the growing threat of terrorism. Today, Karak, Tank, Battagram and Kohistan are the only districts of Khyber-Pakhtunkhwa where there are no SPOs, of which there are nearly 10,000 in the province.




Mukamal Shah, head of Mashogagar Aman Lashkar, says it was Khushdil Khan who took the first step to motivate locals to protect girls schools in 2008. "It was not an easy thing. Many of our volunteers had no AK-47s even though they were fully committed. There were several militant groups in the area including Lashkar-e-Islam (LeI) in Khyber Agency and Tehreek-e-Taliban Pakistan (TTP) Darra Adam Khel in Frontier Region (FR) Kohat, as well as offshoots in the shape of TTP Adezai and TTP Suleman Khel," Shah tells The Express Tribune.

"LeI and TTP were fighting each other, kidnapping the affluent for ransom and posing a constant threat to these villages. We formed aman lashkars in nearly all the villages and the police provided us with AK-47s. Soon, our volunteers started receiving threats from militant groups," adds Shah, recalling how it was a difficult time for them. "The police then told us our volunteers would be recruited and paid salaries, but they would remain with us and guard our own villages," he says, claiming the move was a welcome relief for the poor volunteers.

A police official maintains that despite lacking discipline, this newly-formed community police was a real help. "They established check posts in far-flung areas where there was no presence of the police and informed us about the movement of militants. Yes, some of them were a problem, but when militancy decreased we asked these SPOs in Badabher and Mattani to report to police stations. They were deployed with regular policemen and proved to be very capable."




Now, after eight years of service, these SPOs face an uncertain future. Militancy has taken a hit in recent times and chances are that the force will be disbanded in a few years. The police have provided an incentive to the members by offering them extra marks for good conduct should they give exams under the National Testing Service and seek regular employment in the police.

A senior police officer proposes another alternative. "I think we can use them elsewhere and the most perfect place for them is to be recruited for the security of the China-Pakistan Economic Corridor," he suggests, warning that inaction would render 10,000 people jobless.

Published in The Express Tribune, February 25th,  2016.