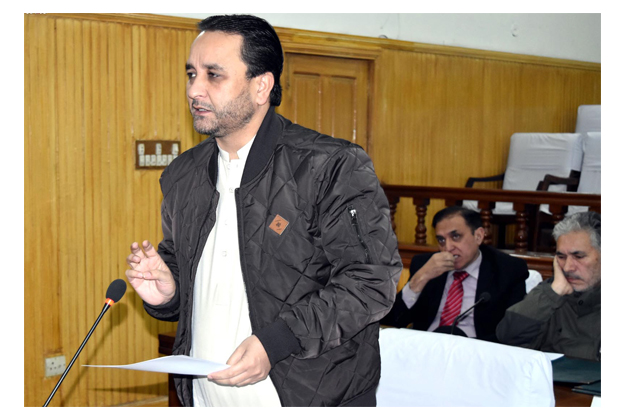 ---
GILGIT: Calling the regional legislative assembly a "puppet," lawmakers walked out in huff to join a shutter-down strike organised in the region against high taxes on Wednesday. The development came 10 minutes after the start of second day of assembly proceedings, chaired by Speaker Fida Muhammad Nashad.

Short proceedings

"This house is powerless so it is better for us to join the public on the streets," Opposition Leader Shah Baig said before the walkout. He was also joined by other lawmakers sitting on opposition benches.

Baig was referring to a shutter-down strike organised by an alliance of political, religious and nationalist organisations against the withdrawal of a rebate on duties in the region.

The debate was kicked off on a note on strikes, by nationalist leader Nawaz Khan Naji who suggested the house adjourn the session to join the "popular movement against illegal taxes." He said, "Personally I am not opposed to taxes but these should not be imposed by people who are not from among us." He was referring to the federal government.




Rani Atiqa concurred and emphasised the need to elect representatives for G-B Council, a body—chaired by the prime minister—which has jurisdiction over subjects like taxes.

Nashad attempted to placate angry lawmakers, saying the house supported their stance. That did not stop the lawmakers from exiting the hall, prompting the speaker to declare their walkout "unfortunate" and "wrong."

The lawmakers then suggested Nashad spare a full day for debate on the tax issue that has led to transport and business strikes in the recent past. The speaker fixed Thursday for the debate.

Pointing fingers

Minister for Food and Agriculture Janbaz Khan criticised the speaker for "giving undue favour to lawmakers of the opposition".

"You beg them to attend the session and also give them extra time to make long speeches," Janbaz said, addressing Nashad, before asking deputy speaker to bring the angry opposition back to the house.

The speaker parried by saying he knew his job description well. However, the answer was not sufficient to keep the lawmaker from attacking Nashad.

Education in Diamer

A lawmaker from Diamer, Haider Khan, complained about the lack of attention towards education in Diamer.

"G-B will regret it if Diamer becomes a security issue for others," Haider said, referring to the exclusion of the valley in the plan for making a university campus in G-B.

Published in The Express Tribune, February 25th,  2016.
COMMENTS
Comments are moderated and generally will be posted if they are on-topic and not abusive.
For more information, please see our Comments FAQ