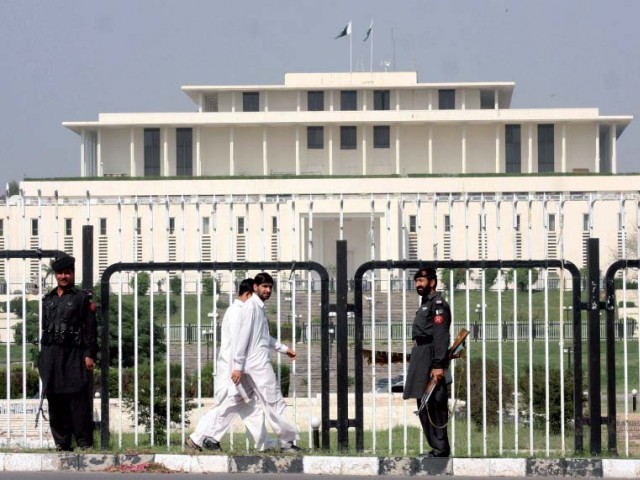 ---
ISLAMABAD:



Ruling party members on Tuesday pushed through a parliamentary panel the Islamabad local government bill amid dissent votes from opposition members.




The National Assembly Standing Committee on Interior which met at the Parliament House under the chairmanship of Rana Shamin Ahmed Khan passed the bill with a majority of seven votes to six from opposition members.

Lawmakers of opposition parties including Muttahida Qaumi Movement (MQM), Pakistan Tehreek-e-Insaf (PTI), Pakistan Peoples' Party (PPP) and Jamaat-e-Islami (JI) voted against the bill.

The opposition opposed an amendment introduced to the ICT Local Government Act 2015 through an ordinance that provides enhancement of the deputy mayor's seats in the Islamabad Metropolitan Corporation from one to three.

The opposition questioned the reasons behind the move, but lawmakers belonging to the treasury failed to satisfy the opposition. The lawmakers were of the view that increase in deputy mayor's seats would enhance the non-development expenditure of the corporation.

Replying the queries from the opposition as to what prompted the government to increase the number of deputy mayors, an official of interior ministry told the meeting that the mayor had to devolve power to his deputies and that the number was increased because there was a clear rural and urban divide in the capital.

PTI's Arif Alvi questioned why the government did not appoint a deputy prime minister, as the Prime Minister was faced with a huge burden of work. He also asked why the number was increased to three, instead of two, keeping in view the rural and urban divide.

He asked what functions the government had devolved to the deputy mayors. MQM's Asif Hasnain asked what kinds of perks and privileges the deputy mayors would enjoy.

Officials of the interior and law ministries could not give satisfactory answers to the lawmakers' queries.

However, the additional secretary said that the corporation had yet to frame its rules about perks and privileges of the mayor and his deputies.

"Under the existing practice, the mayor enjoys perks equivalent to a grade 20 officer, and deputy mayor/s is equal to a grade 19 officer," an interior ministry official said.

Published in The Express Tribune, February 24th, 2016.
COMMENTS
Comments are moderated and generally will be posted if they are on-topic and not abusive.
For more information, please see our Comments FAQ