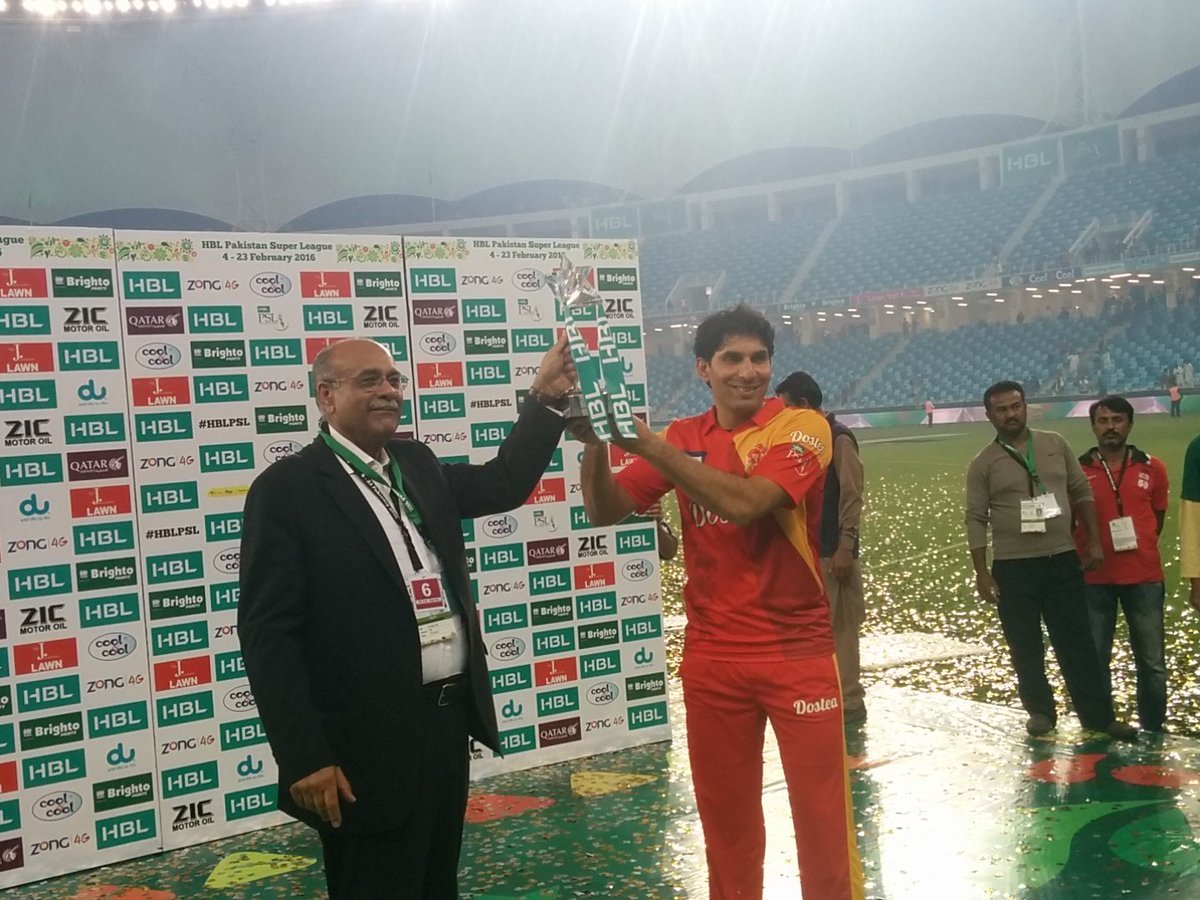 ---
Islamabad United were crowned the inaugural champions of the HBL Pakistan Super League after they beat Quetta Gladiators in the final by six wickets at the Dubai International Cricket Stadium on late Tuesday.

Misbah opted to bowl first after winning toss and the Gladiators, riding on the back of half-tons by Ahmed Shehzad (64) and Kumar Sangakkara (55) scored 174-7 in their 20 overs.

In their chase, Dwayne Smith (73) and Brad Haddin (unbeaten 61) gelled to put up an 85-run partnership under pressure for the second wicket.

Team peaked at the right moment: Wasim

The team diretor for Islamabad, legendary left-arm pacer Waism Akram, expressed his happiness in the following words.

"I am thrilled, we all are thrilled," said Wasim. "The team peaked at the right time. You do need experience and you do need young talent as well in this format. This is just the start of the [PSL] and it will get better with time."

Islamabad coach Dean Jones, meanwhile, said: "Its not only about the older guys, its also about the younger guys who will have learnt a lot from this experience."

United's Pakistani right-arm pacer Muhammad Sami said the confidence given to him by the team was helpful. : "I am absolutely happy to win. The team management gave me a lot of confidence in the start and I was able to deliver. All the boys are happy."

Islamabad's best bowler in terms of wickets Andre Russell also revealed his formula of success. "Winning has been following me; Big Bash, Bangladesh Premier League and now the PSL. When you are enjoying your game, success follows you," he said.

Meanwhile, Prime Minister Nawaz Sharif congratulated Pakistan Cricket Board (PCB) on successful arrangement and execution of PSL.

He extended congratulations to all participating players and teams for playing enthusiastically through out the tournament.

The PM appreciated the role and efforts of PCB chairman Shaharyar Khan, PSL chairman Najam Sethi and all those who played a role in successfully arranging the event.

Post-match presentation

Najam Sethi: "Winning and losing is a part of the game. The wishes of the Pakistani fans have come true in the shape of PSL. The world is watching that Pakistan is a peaceful country and they are loving and caring. Pakistan has shown today that they can do anything in the world. I promise you that we will take this PSL to Pakistan with more effort and hardwork."

Best umpire trophy goes to Joel Wilson.

Best fielder, leading run-scorer and best batsman of the tournament awards go to Umar Akmal.

Andre Russell receives the best bowler of the tournament.

Most Valuable Player of the award goes to Ravi Bopara.

Spirit of Cricket award goes to Lahore Qalandars.

Best bowler of the award goes to Andre Russell once again.

Man of the match of the PSL final is Dwayne Smith for his 73-run innings: "I was a little disappointed with my bowling. I went there and played freely on a very good pitch. From the time I came into the team, I was optimistic that we will win the tournament."

Sarfraz Ahmed has been called to receive the runners-up winning purse of $200,000: "Heartiest congratulations to Islamabad United. We scored good but it was their day. It was a big occasion for me to play in the final. Now we are preparing for the Asia Cup. I have learned a lot from KP, Sanga and Moin Khan. I want to thank the crowd and the Quetta fans; I also want to thank the Quetta chief minister for coming in."




Misbahul Haq: "Team played professionally. 175 is big target in the final under pressure. Haddin and Smith played brilliantly. The plan was to get a boundary in every over. We didn't want to lose a lot of wickets inside the first ten overs. The bowlers also did well to restrict Quetta as they looked to go past 200 at a point. We were missing PSL for three years and we knew that it will be a hit. Sethi's effort and PCB's efforts are commendable. I want to thank the owners of the team and the Islamabad United fans. All of them are a part of this victory."




ISL 175-4 (18.3 overs)

The winning shot played by Misbahul Haq himself, captain of the Islamabad United.




OUT! Top edge and Khalif Latif is caught. Captain Misbah walks in now.

FOUR! Nearly felt like a maximum over midwicket but Khalid couldn't hit it perfectly.

Anwar Ali.




ISL 169-3 (18 overs)

Ten runs off the over. Islamabad dug out is already celebrating their victory.

Zulfiqar Babar in for his last over. Welcomed with a SIX over deep midwicket by Haddin.




ISL 159-3 (17 overs)

FOUR! Slashed towards extra cover. Khalid Latif with a muscular shot.




FOUR! Khalid Latif goes straight over the umpire's head. Islamabad nearing the target with ease.

BOWLED! Inside edge and Russells' stumps blink red. Cheema strikes at an important time. Khalid Latif is the new man in.




Aizaz Cheema comes on to bowl his last over.




ISL 146-2 (16 overs)

SIX! This is how you expect Russell to get off the mark. Over covers and a spectator takes a good catch.

OUT! Smith is caught by KP at point. Is there some drama at the end of this PSL final? Andre Russell is in now.




FIFTY up for the Australian wicketkeeper-batsman Brad Haddin.

Zulfiqar Babar now.




ISL 136-1 (15 overs)

Only six runs off the over.

Aizaz Cheema in for another important over. Quetta need a few quick wickets here.




ISL 130-1 (14 overs)

SIX! Haddin again. This time its midwicket on the last ball of the over.




Zulfiqar Babar now. Nothing working for Quetta at the moment.




ISL 120-1 (13 overs)

SIX! As Alan Wilkins said, "It has gone miles." Slow and Smith waited and smacked it as hard as there is possible.

SIX! Two steps forward and Haddin sends the ball into the Islamabad dug out.




Elliot.




ISL 103-1 (12 overs)

SIX! This one has gone a mile into the stands. Haddin with an epic straight shot.




Muhammad Nawaz in for his third over. He has been economical, only five runs off his two overs.




ISL 94-1 (11 overs)

FOUR! Hit powerfully straight past the bowler and Sanga slips while collecting it.




FOUR! Bowled into his feet and Smith pulls a boundary out of the hat towards square leg.




Aizaz Cheema is back. Can he strike for Quetta?




ISL 83-1 (10 overs)

Only four runs off the Nawaz over.




ISL 79-1 (9 overs)

Grant Elliot is hit for a FOUR and SIX by Smith and Haddin respectively.




ISL 68-1 (8 overs)

Only one run off the over.

Left-arm spin from both ends now as Muhammad Nawaz comes on.



ISL 67-1 (7 overs)

FOUR! Full-toss and Haddin finds the extra cover boundary.




SIX! Leggish and Smith pulls off a ridiculously genius leg glance.




Zulfiqar Babar has been brought on as soon as Sharjeel is gone.




ISL 55-1 (6 overs)

BOWLED! Flighted by Nathan and Sharjeel loses it in the air.




SIX! Smith with a swing of bat over midwicket.




Nathan McCullum again.




ISL 46-0 (5 overs)

FOUR! Short, on Sharjeel's legs and he flicks it towards square leg.




First play-off's hero for Quetta, Aizaz Cheema, has been brought on by Sarfraz.




ISL 40-0 (4 overs)

FOUR! Inside edge and Smith survives to earn a boundary.




Nathan McCullum continues.




ISL 32-0 (3 overs)

SIX! Length ball and Smith goes big over midwicket.




Anwar Ali in for his second over.




ISL 24-0 (2 overs)

Nathan McCullum gives two boundaries in his over as well. Smith is the man who accounts for both boundaries.

Anwar Ali opens the bowling for Quetta and gets a beating from Dwayne Smith and Sharjeel Khan. Two boundaries by Smith and a gigantic six by Sharjeel.




QUE 174-7 (20 overs)

Last ball... Elliot goes over mid-off for a SIX!

In the block hole and Elliot could just manage it back toward the bowler. No run.

OUT! Anwar clubs a short ball towards cover and it is caught brilliantly.

Two taken by Anwar.

SIX! Anwar connects this time and he goes big over midwicket.

Single by Elliot on the first ball.

Andre Russell with the last over.




QUE 159-6 (19 overs)

Anwar Ali making a mess of the penultimate over. Comes out to Sami and he bowls it wide. Three dots on the trot; oh wait, make it four.

FOUR! Short again but this time flat-batted towards midwicket by Anwar. Misses the next short one by Sami. Make it two, another short ball and missed again.




Dot on the first ball and Anwar Ali comes forwards and misses the short ball.

Muhammad Sami bowls the penultimate over.




QUE 155-6 (18 overs)

Only five runs and a wicket off the over. Irfan delivering for Islamabad when they needed it.

OUT! Top edge and the captain Sarfraz Ahmed (3 off 4) is caught at point. No damage done by the wicketkeeper-batsman.




Muhammad Irfan brought back to bowl his last over. Can he restrict Quetta? Grant Elliot and Sarfraz Ahmed face him.




QUE 150-5 (17 overs)

OUT! Shehzad goes for a scoop but mistimes it into the hands of short fine leg fielder.




SIX! So easy on the eyes. Shehzad just flicks it towards leg.




Muhammad Sami is back.




QUE 140-4 (16 overs)

FOUR! Shehzad cuts it past point for a boundary. He is on song for Quetta in the most important match of all.




BOWLED! Badree with a brilliant comeback. Nawaz misses a quicker one completely.




SIX! Nawaz goes over midwicket.




Samuel Badree is back for his last over.




QUE 129-3 (15 overs)

FOUR! Another one. Shehzad guides a fuller delivery towards square leg.




FOUR! Shehzad gets his FIFTY. A Sanath Jayasuriya like leg flick towards square leg.




OUT! Sanga caught at long-on. A brilliant innings comes to an end. Muhammad Nawaz is the new man in.




Andre Russell.




QUE 117-2 (14 overs)

SIX! This time he goes towards long off. Who said PSL was not entertaining enough? FIFTY up for Sangakkara.




FOUR! Bring him out of retirement; Sanga with an exquisite smack towards extra cover.




FOUR! Pulled by Sanga, it wasn't that short but he somehow managed to send it towards square leg.




Andre Russell is back.




QUE 101-2 (13 overs)

SIX! Sanga pulls a maximum out of nowhere. If you have seen him play over the years, you know this is his favourite one. Over extra cover with a free flowing swing of arms.




Muhammad Sami comes on to bowl.




QUE 90-2 (12 overs)

FOUR! Sanga nearly killed Aleem Dar with a powerful straight drive. The balls swooshed past Aleem as he fell on the ground to save himself.




FOUR! Sanga steps forward and punishes Khalid for the drop.




So Imran Khalid has the ball now.




QUE 78-2 (11 overs)

FOUR! Inside edge and it runs to the fine leg boundary. Sanga accounts for it.




DROPPED! Imran Khalid puts down Shehzad. It was a sitter and he just made a mess out of it.




FOUR! Short and Shehzad pulls it towards midwicket. He moves to 38.




Misbah needs a wicket and he calls Muhammad Irfan for it.




QUE 68-2 (10 overs)

FOUR! This time it was short and Shehzad pulled it between midwicket and square leg.




FOUR! Shehzad sweeps and gloves the ball towards fine leg.




Two dots followed by a single as Sanga faces Badree now. He goes leg side for another single.

Imran Khalid is back.




QUE 58-2 (9 overs)

Seven runs off the over.

Badree welcomed with an edge by Shehzad which runs down to the third man boundary. Quetta have started to find the boundary more often now.




QUE 51-2 (8 overs)

FOUR! Classy from Sanga. Short and he waited on it to cut it brilliantly towards wide third man boundary.




Sanga takes a hit on the helmet. No damage done luckily.




Andre Russell into his second over. He is delivering good pace.




QUE 44-2 (7 overs)

FOUR! Sangakkara cuts and the third-man fielder, Khalif Latif, misfields. Welcome boundary for Quetta.




Three off three.

Samuel Badree operates now.




QUE 36-2 (6 overs)

Good over for Islamabad, three runs and wicket off it.

OUT! Make that 14 wickets. KP flicks it towards deep midwicket. A brilliant catch by Asif Ali and a big wicket for Islamabad. They are dominating Quetta here. Sri Lankan veteran Kumar Sangakkara walks in to join Ahmed Shehzad.




Andre Russell in now. He is the highest wicket-taker for Islamabad with 13 scalps.




QUE 33-1 (5 overs)

Six runs off the first five balls. KP faces the last ball by Sami... Only a single taken.

Right-arm pacer Muhammad Sami brought on to operate by Misbah.




QUE 26-1 (4 overs)

FOUR! Shehzad repeating the script. Two steps forward and clearly struck past mid-off.




FOUR! Shehzad dances forward and goes relatively straight past the mid-off fielder.




Samuel Badree with his leg-spin now.




QUE 14-1 (3 overs)

Irfan displaying some aggression against KP. Throws it right back at him as KP charges forward for a straight drive. KP smiles back!




SIX! Irfan? Who Irfan? KP pulls a short ball over square leg.




Irfan again.




QUE 5-1 (2 overs)

Four runs off the over only. No boundary off the first two overs and this if the final. Pressure on Quetta for the time being.

Left-arm spinner Imran Khalid shares the new ball with Irfan.




QUE 1-1 (1 over)

OUT! Edged and Brad Haddin dives to his right. Quetta lose their first, Islamabad strike in the first over. Bismillah Khan departs for a duck as Kevin Pietersen walks in.




Ahmed Shehzad is going to to open the innings with Bismillah Khan. Muhammad Irfan has the new ball. Its the final of the PSL. Nerves for everyone. Sarfraz Ahmed can be seen reciting the holy Quran on the sidelines. Everything comes down to this match for both teams.


Walk in the Gladiators #ShanePakistan #QuettaGladiators pic.twitter.com/nBYa0haGpP

— Quetta Gladiators (@TeamQuetta) February 23, 2016


National anthems being played at the Dubai International Cricket Stadium; UAE followed by Pakistan.


The special guests meet the two sides! #IUvQG #HBLPSLfinal pic.twitter.com/Sa1oyb59EW

— PakistanSuperLeague (@thePSLt20) February 23, 2016


Misbah has won the toss and he has elected to bowl first against Quetta.




A spidercam view of both the team lined up to meet the dignitaries.


The special guests meet the two sides! #IUvQG #HBLPSLfinal pic.twitter.com/Sa1oyb59EW

— PakistanSuperLeague (@thePSLt20) February 23, 2016
Owner Nadeem Omar comes to cheer up the Gladiators #QuettaGladiators #PSLKaPehlaBadshah #ShanePakistan pic.twitter.com/yOid3iWNdc

— Quetta Gladiators (@TeamQuetta) February 23, 2016
Eid ke joray! The commentary team looking at their best as they present on the spider cam! #HBLPSLFinal #PSLkePeeche pic.twitter.com/OMqSog7vpp

— PakistanSuperLeague (@thePSLt20) February 23, 2016
Here come the teams! @TeamQuetta start their practice! #HBLPSLfinal #PSLkePeeche pic.twitter.com/1KyHFk1eNK

— PakistanSuperLeague (@thePSLt20) February 23, 2016
Islamabad is United! The @IsbUnited side in practice and interaction with the fans! #HBLPSLfinal #PSLkePeeche pic.twitter.com/RPbz1nmJCC

— PakistanSuperLeague (@thePSLt20) February 23, 2016
Jashn-e-PSL #HBLPSL #HBLPSLfinal pic.twitter.com/t71pskLQ2t

— PakistanSuperLeague (@thePSLt20) February 23, 2016


https://twitter.com/Ponty100mph/status/702104110909227009


All set for the final tonight!!it's a great achievement frm @TeamQuetta.1 last big effort tonight come on boyss💪🏻💪🏻 pic.twitter.com/1DCRmyoAip

— Ahmad Shahzad 🇵🇰 (@iamAhmadshahzad) February 23, 2016
Quetta and Gladiators: The underdog story