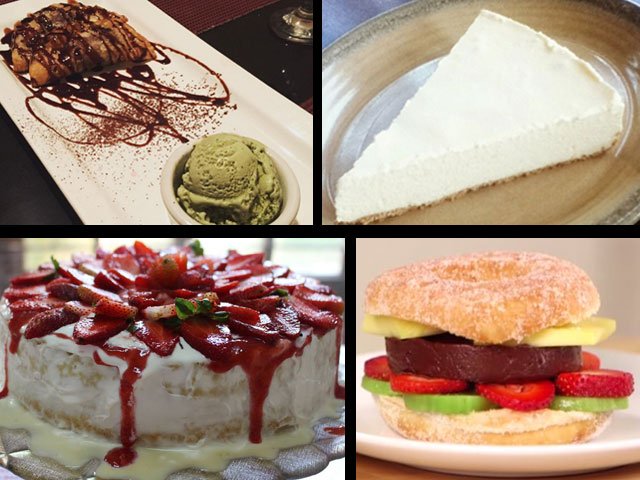 ---
KARACHI: Karachi has no shortage of good desserts, but how many have you really tried?

Here are six desserts that you have to try in Karachi.

1. Nando's Cheese Cake




Although Nando's is famous for its flame grilled chicken, its desserts deserve a special mention. Many have gushed over the restaurant's delicious chocolate cake but the cheesecake has been in the shadows for far too long.

Unlike any other we've tried before, Nando's cheesecake is smooth and creamy, with a hint of lemon and chilled to perfection. It comes very close to Cheesecake Factory's innovations, with its perfect consistency and sublime taste.

For the size of their slice, Rs360 seems a little steep, but its quality definitely makes up for the quantity.

Just desserts: The rise of East Asia's pudding places

2. Okra's Crème Brûlée




You can feel the perfection of the Crème Brûlée from the moment you crack open its sugary coat. The creme has been whipped to perfection. Not to mention, the contrast between the brittle caramelised topping and the smooth, creamy custard will leave you in awe. With this simple concoction, you fully embrace the taste of the creme, without any fruity distractions.

Rs445 is pricey, but like anything at Okra, it's worth it.

3. Fuchsia's Crispy Chocolate Wontons




A rare find in Karachi, Fuchsia' chocolate wontons are something you must try. Complimented with a scoop of Japanese green tea ice cream, Fuchsia's Crispy Chocolate Wontons are simply divine. With the perfect blend of hot melted chocolate enveloped in a fried wonton and cool, creamy ice cream on the side, this delicacy surely won't disappoint.

Though, Rs425 is pricey, judging by the size of the dessert.

4. Domino's Chocolate Calzones




At the reasonable price of Rs249, you can make a late-night call to Dominos to satiate your cravings. Freshly baked crunchy dough, filled with melted chocolate and sprinkled with powdered sugar; this dessert doesn't disappoint. Even better, it gives you an excuse to order some pizza.

What's better is Rs249 is the price for four pieces but eight cost cheaper (Rs399).

5 sinfully delicious chocolate desserts in a mug

5. Burger O'Clock's Nutella Burger




This food invention is genius. It's a burger made from glazed donuts sandwiched together, and stacked with a generous layer of Nutella and fruits -- and not just your every day fruits, but pineapples and Kiwis to be specific. Note: the burger is best eaten once the chocolate has melted.

Since the Kiwis are fresh, and the Nutella is nothing short of excessive, Rs 350 seems fair for this sweet burger.

6. Auntie Munaver's Strawberries and Cream 3 Milk Cake/Tres Leche




Auntie Munaver specialises in all kinds of party food, but her winning piece has to be the Strawberries and Cream Tres Leche cake. Light as a feather and spongy, this dessert takes the cake (pun intended). The sponge is succulent, and the strawberries and cream are fresh.

The three-milk cake comes with a variety of toppings, including coconut, peach and chocolate.

At Rs2000, we think this cake is a steal, considering the size and deliciousness.