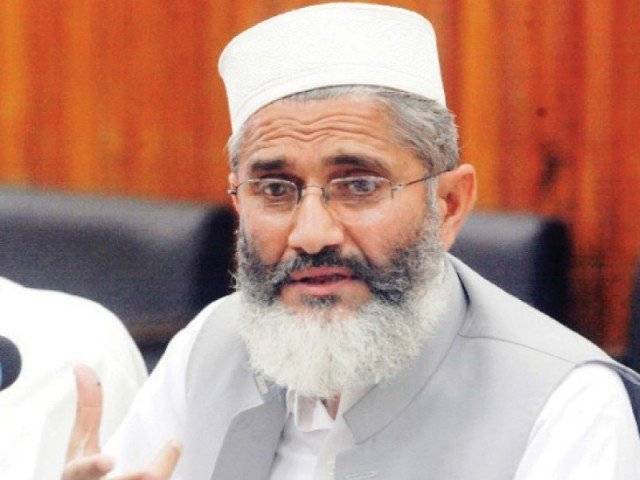 ---
QUETTA: The head of the Jamaat-e-Islami (JI) on Sunday dismissed the notion that the Islamic State group or Da'ish posed any threat to Pakistan, warning that "Da'ish -style political terrorists sitting in the power corridors" constituted a bigger threat.

Such political terrorists have pushed the country to the brink of destruction over the last 68 years, according to Senator Sirajul Haq, who is the central president of the Jamaat-e-Islami.

No Da'ish footprint in Pakistan, says FO

Speaking to a party gathering in Dera Allahyar, he said that the rulers were looting the public welfare funds in the name of commission and the proof of it lay in the transfer of $375 billion to foreign banks.

He said his party a campaign would be launched from Karachi to Chitral in March against corruption in the country, calling upon the rulers to stop excesses against the people of Balochistan.

The senator said that the non-provision of electricity to Jaffarabad from Uch power plant was tantamount to darkness under the lamp itself. He said that despite production of 990 megawatts of electricity from the Uch power plant, local residents were not receiving electricity.

In rare admission, Pakistan recognises growing presence of Islamic State

Sirajul Haq said that every child of the nation is reeling under the debt of the IMF, adding that inflation and poverty are the order of the day. He said the only solution to eliminating poverty in the country is to introduce Islam's equitable social system. The senator called upon the federal government to give Balochistan 7.13 per cent share of the national economy.

He said that although the Pakistan Peoples Party came into power four times, it could not fufill its promise of roti, kapra, and makan.

Published in The Express Tribune, February 22nd,  2016.
COMMENTS (2)
Comments are moderated and generally will be posted if they are on-topic and not abusive.
For more information, please see our Comments FAQ