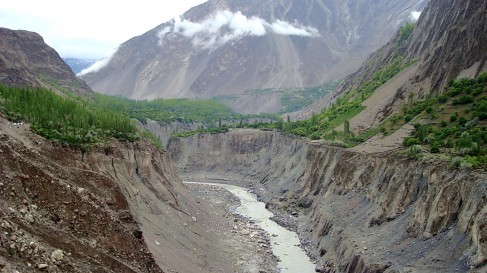 ---
GILGIT:
The region of Gilgit-Baltistan has morphed into a new geographical unit.
Some questions – like what does its special constitutional status mean? – still evade answers. But everyone is surprised at the abrupt flurry of political activity which occurred there during elections.
Everyone in Pakistan's political arena, including Prime Minister Yousaf Raza Gilani and the opposition leader, Nawaz Sharif, visited the region to campaign for candidates of their parties in the November election.
"I cannot understand what lured top national leaders to suddenly jump into our politics," wonders Mubarak Khan, a student. "This is unprecedented." Mian Iftikhar Hussain, Faisal Saleh Hayat, Maulana Fazlur Rehaman, Chaudhry Shujaat Hussain, Chaudhry Pervaiz Elahi, Mushahid Hussain Sayed, Marvi Memon, Nisar Memon, Wasim Sajjad, Chaudhry Manzoor, Qamar Zaman Kaira, Javed Hashmi, Wasim Akhtar [MQM] were some leaders of mainstream political parties who took part in rallies in Gilgit and Skardu.
The PPP emerged as the single largest party in elections held on November 12, last year. Mehdi Shah became the first chief minister while Dr Shama Khalid assumed the post of governor.
The last governor of Gilgit was Maj-Gen Gandhara Singh, who took office before the subcontinent's partition. Until 1994, no political party ever thought of taking people of this land-locked region into confidence, who signed an unconditional accession deed with Pakistan in 1947 after overthrowing the Dogra raj the same year.
A political package was introduced in 1994, creating for the first time the Northern Areas' Legislative Council composed of elected members headed by a deputy chief executive.
Although PPP leaders have been in the majority in the council, they have not been able to make any major contribution. Things were different during the past when leaders of all Gilgit-based parties had to run their election campaigns on their own. Be it the PML-N or the Jamaat-i-Islami or the Jamiat Ulema-e-Islam, everyone contested elections on self-help basis.
Hardly any central leader from mainstream political parties took an interest in what was happening with their party in this part of the world. The Nawaz Sharif government, which had succeeded the PPP in 1997, continued with the setup, without introducing any changes in it.
Then came the Musharraf regime, during which the status of the legislative council was elevated, but this reform, too, failed to attract mainstream parties to the region. Only a PML-Q senator came to Gilgit to launch his party's campaign, which ultimately bagged majority of seats. In 2009, the turning point came when the PPP government introduced another constitutional package, elevating the region's status close to that of a province.
Portfolios of chief minster and governor were created for the first time. Some ethnic and nationalist parties, like the Muttahida Qaumi Movement and the Awami National Party, and the Tehrik-i-Insaaf made their entry into the region.
"MQM is an ethnic Karachi-based party, but look at it! It is fielding its candidates in Gilgit and Skardu. What stake does it have in Gilgit?" asked a politician who twice served as an adviser in the region's assembly. However, MQM managed to win a seat from Skardu.
"Where were these parties when people of the region were deprived of even their basic rights," said an opposition leader. Mian Iftikhar, the ANP's spokesperson, told journalists that the deteriorating law and order situation in the Khyber- Pakhtunkhwa had delayed his party's early entry into Gilgit's politics, while MQM's Altaf Hussain said his party was now reaching out to people everywhere in the country, adding that his party's plans for expansion were foiled by various elements at different times.
Regional nationalists parties inside and outside Gilgit made a hue and cry over the constitutional package, saying it would undermine the Kashmir cause, while mainstream opposition parties had termed it a hollow set-up without power. "Whatever others say, I believe it is the PPP that has once again come to the people's rescue," commented a lawyer in Gilgit.