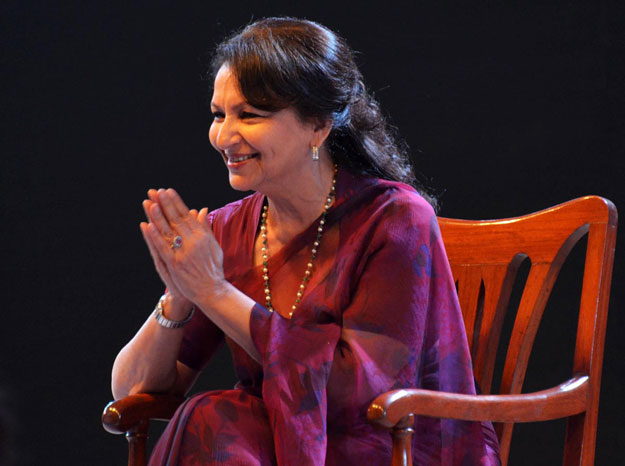 ---
Renowned Indian actor Sharmila Tagore opened the Lahore Literary Festival on Saturday, in a session titled Safar to a packed marquee at the Avari Hotel.

"It has been a battle for you to be here today," said Haroon Hameed, CEO Dawn Media, who was in conversation with the actress.

Bringing together great minds: Literature festivals bridge gap between Karachi and Manchester

Draped in a striking maroon sari, Tagore spoke about her life, career and her delight at being in Lahore. She said that it was the first time she had come to Pakistan crossing at Wagah on foot. She recalled how she stepped in to the hotel to the sounds of old Indian songs in the background and books from Chughtai, which, she said, were examples of how similar the two countries are.


PHOTO: Malik Sajjad/ONLINE
Talking about her childhood, Tagore said she lived in a joint family system. "Everyone lived in my grandfather's house". She was exposed to a diverse group of characters from a very young age – her uncle was from the Congress party, while her cousin was a communist. The debates around the dinner table were, of course, endless.

She said her liberal upbringing in Calcutta also stood at odds with the sense of morality prevalent in Bombay when she moved there later in her career. "The heroines wore white, sipped coca cola and did not smile," said Tagore talking about what was expected of heroines in the city. It was during this time that Tagore posed in two-piece swimsuit on the cover of Film Fare (before her movie An Evening in Paris was released) much to the shock of the Indian public at large.

She said at the time she had been naive and it took her time to understand what society was like. "I got a lot of flak for it," she said candidly but added that she did not have any regrets. However, once she came to an understanding of the different sense of morality in Bombay, she made a conscious effort to change her image. "I wanted to be taken seriously," she said.

Tagore also discussed her association with director Satyajit Ray, popular for his Bengalis films and introspective subjects. She said he did not value money, and that his films were a work of art.  The romance in Ray's films resonated with audiences largely because of their "essential humanism", she added.

KLF remembers the father of literature festivals

She went on to day his work was not about politics and that as a writer and director, he had been more interested in exploring the impact of politics in ordinary people. She said his movies were about everyday ordinary struggles. "There were no villains and heroes in his movies," she said.

Tagore was only 13 years old when she worked with a big name like Ray, although at the time she wasn't aware of the significance of it.

"I worked in a film before I had even watched a film," she said, referring to an earlier comment where she had said children watching films was frowned upon in their house. She said her father had instantly said yes to Ray's offer because he knew of his international acclaim.




Tagore said she felt one of her best works was Devi, directed by Ray. The film, according to her, dealt growing religious orthodoxy and the emergence of rational thinking. "Ray had to defend the film saying it is not against Hinduism but against orthodoxy," she said.

After Anupam Kher, Nandita Das drops out of Karachi Literature Festival

Feminism, women issues discussed at LLF

The session titled Feminism in Global politics started with a lifetime achievement award being presented to Mussarat Mirza, a renowned artist, here in Lahore during the Lahore Literary Festival at Avari Hotel.

The session was sponsored by the European Union Ambassador to Pakistan H E Jean-Francois Cautain who gave the opening address.

He said initially when he had been asked by the organizers to sponsor the session, he was not sure because the EU does not really involve itself in cultural activities.

"I've been here today and I understand now why they wanted to me to sponsor it," he said.

Cautain also spoke about the presence of women in the EU parliament saying that the number of seats reserved for women had increased, while posing some questions for the panel asking how feminists viewed the institutions already established by a patriarchal setup.

The discussion was opened by Rachel Holmes, a writer, by saying that Feminism was the oldest democratic movement in the world.

"You can agree or disagree with it," she said. She also talked about the feminist movement being non-violent. "Even the British violent suffragette did not kill anyone even though they used bombs," she said.

Mona Eltahawy, a Cairo-based feminist and writer talked about her experience during the movement against Hosni Mubarak.

She said it was a false notion that men who are revolutionaries or activists are feminists. She rejected this idea saying that while they had marched with men against Mubarak but when women were attacked by the military through 'virginity tests', the men did not stand with them.

"The fight now is against the Mubaraks in the bedroom and the street corners who oppress women," she said.

Mona elaborated her stance by saying that as a person holding both Egyptian and American nationality her fight was against every 'brotherhood' that used religion to control women.

Anita Anand, journalist and author of 'Sophia: Princess, Suffragette, Revolutionary', spoke of the historical Suffragette movement.

She talked about Black Friday in 1911 when women were very close to gaining the right to vote but the bill had been cancelled by the then prime minister. She said women marched towards the parliament and faced violence and sexual assault at the hands of the police.

"Women were groped, their clothes were torn and they were thrown into crowds of men," she said.

Another speaker Dina Siddiqi talked about the imposition of western ideas which stressed saving brown women from their men.

She said this idea had existed during colonial times but had reemerged after 9/11, adding that UK Prime Minister David Cameron's comments about education for Muslim women to empower them prompted the idea that women as a race were not civilized.

She said instead they needed to work towards creating structures that prevented violence against women.

The speakers spoke candidly, addressing the issues of women sexuality openly which was applauded by the audience.
COMMENTS (6)
Comments are moderated and generally will be posted if they are on-topic and not abusive.
For more information, please see our Comments FAQ