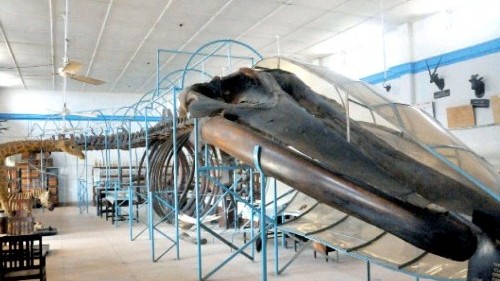 ---
KARACHI: The city might be losing its marine life museum to a fight between provincial and federal departments.

The country's largest collection of marine species and fauna is preserved at the Natural History Museum at the Karachi Fish Harbour. Several kinds of sea life found in the Arabian Sea have been preserved along with skeletons of different kinds of fish, including a 74-feet blue whale.

However, a dispute of authority between the provincial and federal government is increasing the likelihood that Karachi will soon lose the museum to Islamabad. The museum was built in 1948 by people who had migrated from Mumbai and brought precious marine artefacts with them.

They had laid the foundation of the museum in an old building, previously known as the Seafood Café. In 1973, when the fisheries department, under which the museum operated, was brought under the provincial government, the museum was given to the ministry of environment, which was under federal control.

However, the museum's assets and land were transferred to the provincial government, leaving it without funding, though the museum continued to exist on land belonging to the Karachi Fish Harbour Authority.

In 2001, the Karachi Fish Harbour Authority wrote to the environment ministry, saying that the federal museum built on the authority's land was illegal.

They demanded that the museum either be moved or that it should pay the authority rent. However, the environment ministry vehemently opposed this proposal. Then in April 2009, the Fish Harbour Authority again asked the ministry to pay around Rs2.3 million in dues and vacate their premises.

Some museum officials wrote to the city government, requesting that the museum should be kept in Karachi. They suggested that the museum be shifted to a different place, such as the Safari Park, where students and researchers could both benefit from the ongoing studies on marine life.

However, the city government has not attended to the issue as yet. Meanwhile, the proposal to move the museum to Islamabad has met strong disapproval by the fishing communities who have taken to the streets outside the museum and are protesting the suggestion.