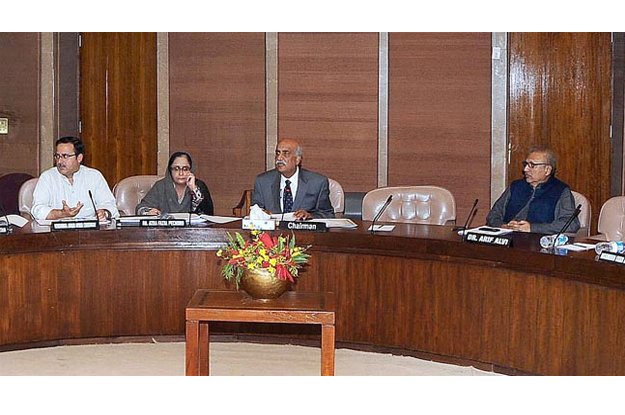 ---
ISLAMABAD:


As it took up the infamous National Insurance Company Limited (NICL) scam for the first time on Wednesday, the Public Accounts Committee (PAC) of the National Assembly shifted the blame squarely on bureaucrats, seemingly to protect the politicians who allegedly played a role in the multibillion-rupee scandal.

While PAC Chairman Khursheed Shah may have sought to avoid highlighting the political aspect of the case due to his affiliation with the Pakistan Peoples Party (PPP) – the late PPP leader Makhdoom Amin Fahim was most notably implicated in the scam – other members of the committee, including those from the ruling Pakistan Muslim League-Nawaz and the Pakistan Tehreek-e-Insaf, also opted for silence on the matter.

During the discussion, former NICL chairman Ayaz Khan Niazi, executive director (finance) Mohammad Zahoor, general manager (audit) Ather Naqvi, general manager (real estate) Zahid Hussain and general manager (law) Ijaz Ahmed Sheikh featured in all the dirty deals.

As part of the multibillion-rupee scam, NICL purchased properties in Lahore, Karachi and Dubai at highly inflated prices in violation of official regulations to the extent that one seller, Mohsin Habib Warraich literally earned over a billion rupees within a week. Warraich sold land he had purchased for Rs20.1 million to NICL for Rs1.045 billion. Since then, he is wanted by the National Accountability Bureau and has disappeared in the UK.

With cases pertaining to the scam still pending in courts, the PAC could not take any major decision other than asking for a fresh departmental inquiry and action against officials involved in the tainted deals.

"Every person must be terminated from service," Mehmood Khan Achakzai said, claiming that bureaucrats would always protect their colleagues.

PTI's Arif Alvi pointed out that there was no departmental inquiry with regard to illegal payments for purchase of property in the Dubai International Finance Center for Rs1.699 billion. The committee directed the commerce ministry to evaluate the worth of the property for a decision on whether to keep, sell or rent it out in three months.

As NICL still reels from the havoc wrought by former officials, the qualification of its new chairman also raised suspicion. PML-N's Junaid Chaudhry referred to media reports that new NICL Chairman Ameen Bandukda had defaulted on Rs16 million in commitments and that his company had defaulted on another Rs102 million.

The reports prompted PAC Chairman Shah to question the commerce secretary on the appointment procedure. "We sent letters to the State Bank after the news about Bandukda came to light and were told that while he had some overdue payments, he did not default," the secretary said.


Published in The Express Tribune, February 18th, 2016.
COMMENTS
Comments are moderated and generally will be posted if they are on-topic and not abusive.
For more information, please see our Comments FAQ