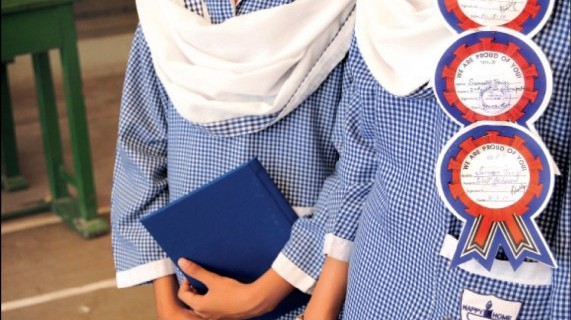 ---
KARACHI: Whenever 15-year-old Shahrukh Shah sees any of his school teachers shopping at Defence Sunday Bazaar, he affectionately runs to greet them.

He sits at his father's vegetable stall every Sunday and feels no hesitation in admitting to it at school. "I want to become an engineer," Sharukh said proudly as he spoke to The Express Tribune on report day Wednesday. And as a student of class VII at Happy Home School, he may well be able to make his dream come true. "We take pride in the fact that we do not just cater to the elite and represent students from all cadres and classes of society," said the school's vice principal, Dr Maleeha Ahmed, as teachers reviewed the student performance with their parents.

"Besides grades, we also judge our students on attendance, improvement, reading and other extra curricular activities" said principal Ghazala Nizami. An O Level student from Happy Home School recently did his alma mater proud when he made it to the 'Top in Pakistan' list for Urdu in the Cambridge International Examinations. "This could not be achieved without the hard work of our teachers. We compete with BVS, Mama Parsi, St Patrick's, City, Habib Public, Beaconhouse and the same lot for which our teachers are regularly trained in-house," Ms Nizami added.

More than 40 teachers have served the institute for over 20 years, she said, adding that they were lucky to have some of the most dedicated teachers in the city. And according to her, the students are not too far behind in terms of dedication. "Our students go to Safia Khan Memorial New Town Government Girls School to work voluntarily, to open the library, issue books, organise events such as essay writing and sports days etc." she said.

The government school was adopted by Happy Home to help less privileged students purchase books, subsidise fees and provide tutorial guidance. "We have a unique system whereby students can take second hand books of their new class by giving in their old books at the library and also give annual fee concessions for about Rs1,300,000 to needy students,"Ms Nizami said.

"My three children studied at this school and while my eldest son is in college, two of my children still study here. I always received financial support from the school," said Anjum, a parent on report day. "We also have a special training programme for the disabled students at our school. There were 16 such students who were identified by our staff and we created a special Learning Difficulties Department for them after which 14 students made remarkable progress and were promoted this year," said Ms Nizami.

With seven primary, secondary and Cambridge branches across the city, Happy Home School is growing by the day, not just in size, but also in performance. "Our science and arts sections are linked to Stoke Ash Community School in Suffolk, England, under the link school programme of the British Council," said Dr Ahmed.

"Our philosophy is not just to educate a child but to also provide roots in character building and to make responsible and caring individuals out of them," Ms Nizami concluded.
COMMENTS
Comments are moderated and generally will be posted if they are on-topic and not abusive.
For more information, please see our Comments FAQ