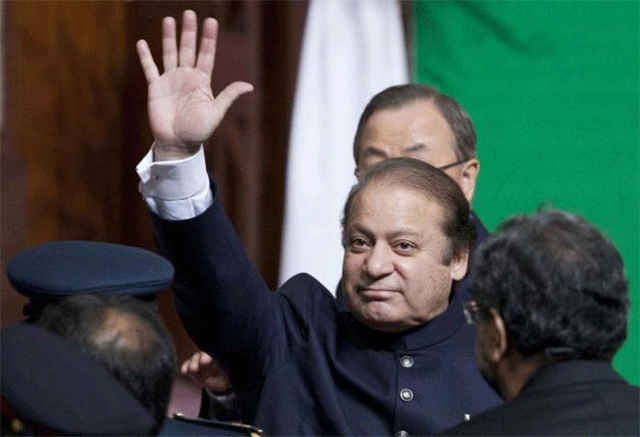 ---
BAHAWALPUR:



Prime Minister Nawaz Sharif has hit out at the National Accoun­tability Bureau (NAB) for recent raids on government offices and residences of government officials, asking the top corruption watchdog to act 'responsibly'.




NAB, which operates under the National Accountability Ordinance 1999, is tasked to eliminate corruption from Pakistan through a holistic approach involving awareness, prevention and enforcement.

Investigators assaulted: NAB takes notice of official's manhandling by accused family

"NAB needs to take up cases only after thorough initial investigation. No one should be harassed without verification and solid proof," said the prime minister while addressing a gathering of PML-N's local government  representatives in Bahawalpur on Tuesday.

Nawaz said he would also take up the matter with the NAB chairman. "If any person is persecuted, then the government will take action."

Moreover, he said continuity of policies was vital for progress while claiming that Pakistan had seen 'unprecedented development' during all his tenures as prime minister. "Had our government completed its second tenure, the overall situation of Pakistan would have been starkly different," he said referring to the military coup that toppled his government in October 1999.

Nawaz said his administration has always strived to serve the people and recalled his previous two tenures in which, according to him, a number of megaprojects had been initiated.

Referring to his exile during the military rule of Gen Pervez Musharraf, the prime minister said he was forced to 'stop serving the people' for 14 long years. "However, I ask you to see the difference and learn from history."




He blamed previous governments for backwardness in Pakistan. "The previous governments failed in their duty of serving the masses. It was criminal negligence on their part as they failed to address the chronic issue of load shedding," he said.  Nawaz said governance was not a bed of roses but "we are committed to serving the people of Pakistan".

The prime minister said when his government came to power in 2013 the country was facing 10-18 hours of power outages that was negatively impacting the industrial and agriculture sectors. However, he said, due to his government's efforts the situation has improved. "And we will eliminate load shedding by the end of our tenure." Referring to the victory of the ruling party in the local government elections, the prime minister said he was pleased to see that the PML-N government had maintained its strong support base in the masses halfway through its constitutional tenure.

Illegal land allotment case: SHC grants time to NAB, investigation officer to file replies

The prime minister also lauded the support extended by China in a number of development projects, including the multibillion-dollar China-Pakistan Economic Corridor (CPEC), which, he said, would be a game-changer.  He said he also desired to link Pakistan with the Central Asian Republics, adding that a network of motorways would connect all remote areas of the country. "Despite attempts by some miscreants, the government has completed a motorway in Balochistan."

The prime minister also mentioned the three major power projects in which the government saved billions of rupees by lowering the cost. These projects would produce 3,600MW of electricity and would be operational by next year.

He said Transparency International had also acknowledged that all these projects were being undertaken in the most transparent manner. He said Chinese companies were building power projects in Pakistan at special concessionary rates, just because of their deep friendship with Pakistan.

The prime minister also credited his government for initiating the landmark deal with China for the production of JF-17 fighter aircraft.


Published in The Express Tribune, February 17th, 2016.
COMMENTS (13)
Comments are moderated and generally will be posted if they are on-topic and not abusive.
For more information, please see our Comments FAQ