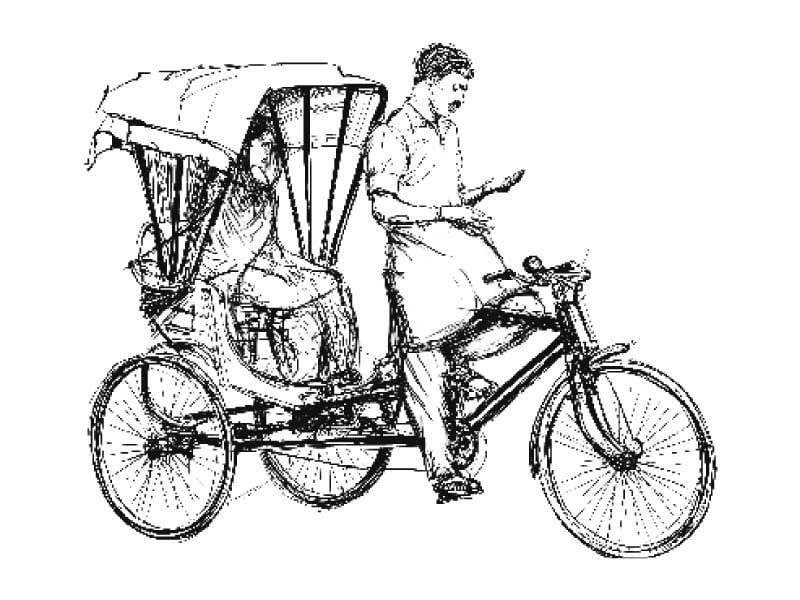 ---
DI KHAN:



Raising five boys and two girls, Abdul Rashid has his hands full. He lives in a small mud house in Potta village, located on the west side of DI Khan city. Rashid, who is 45, gets up early every morning, gets on his cycle-rickshaw, locally called rera, and pedals to DI Khan city, looking for passengers.




For all his legwork, Rashid comes home   at night with a mere Rs400. "Since the vehicle is rented, "I pay Rs50 to the owner of the cycle-rickshaw; then I spend over Rs50 on food and other daily expenditures. I am not left with a lot for my family at the end of the day," Rashid told The Express Tribune. "Many times, my family is forced to borrow food and other things we might need on a daily basis from our neighbours," he added.

Unregistered rickshaws still pose threat

His wife and him are so poor that they cannot even afford a mud house of their own; they live on a small portion of a landowner's property.

Rashid, who is one of the Saraiki speaking locals, has had few opportunities which could have catapulted him to a less painful and less gruelling place in life. He was not able to get an education and knows he does not want his children to have the same future. Rashid's eldest son is a fifth grader at a government school. But the rest of his children are attending a seminary. "I cannot afford to send all of my children to school, so I am happy they are at least getting some education at the seminary," Rashid told The Express Tribune.

"We cannot [afford to] celebrate Eid or other occasions," Rashid said. It has been months since the family last ate meat and enjoyed a satisfying meal, shared the father of seven. "We eat just to stop the hunger pangs," he added.

Just the road ahead

Rashid, who has been driving the cycle-rickshaw for the last 25 years, is so worried about making ends meet that he has not kept up with politics.

"I did not even vote," Rashid said, "And I am not interested in doing so either. I have to work every day. I don't have time to do anything else."

Up in arms: Protesting rickshaw drivers besiege DCO's office

Although thousands of such cycle-rickshaws can be seen trudging across the city, they are only used to carry luggage now. People prefer travelling in Qingqi rickshaws as they are faster and more comfortable than the manpowered cycle-rickshaws, like the one Rashid uses to make a living.

"When I was young, I not only rode the cycle-rickshaw, but also fixed a tape-recorder to, listening to songs of Attaullah Esa Khelvi." But Rashid is too worn out to feed his soul; "Now I can't find the energy to do anything for fun."

Despondent and exhausted, Rashid said, "Now, after cycling people day and night, I have developed chronic pain in my legs. I am not as fit as I used to be." He paused for a second, before he voiced the thought that is always weighing down on him, "I worry what if I fall ill? What will my family do then?"

Rashid is not alone; there are many who still pedal hard just so they can feed their families. Their stories can be read in the sweat and blood that tracks DI Khan city.

Published in The Express Tribune, February 17th, 2016.
COMMENTS
Comments are moderated and generally will be posted if they are on-topic and not abusive.
For more information, please see our Comments FAQ