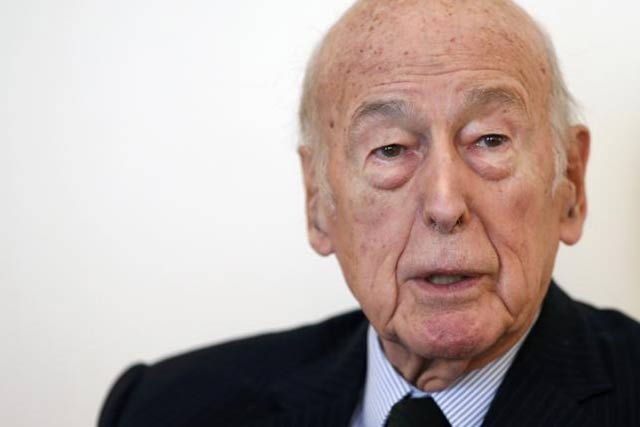 ---
BRUSSELS: Elder statesmen who built and shaped the European Union have a clear message for Britain as it prepares for a referendum on whether to stay in the bloc: "We love you. Don't leave us now."

Valery Giscard d'Estaing, father of the European Monetary System that was the forerunner of the euro single currency, said that despite its long-standing semi-detached approach to Europe, keeping Britain in was well worth the trouble.

Britain will stay if EU more flexible, says PM Cameron

"I strongly hope they stay," the former French president, who turned 90 on February 2, told Reuters in an interview in Paris.

Giscard took office a year after Britain joined the European Economic Community in 1973 and, despite building close relations with then West Germany, he has always been an Anglophile.

"Britain has an ancient and very brilliant history, the good citizenship of its population, an old and deeply authentic democratic tradition and expertise in international trade," the veteran center-right statesman said.

Europe was perfectly able to accommodate a member state that wanted to be in the big single market but did not wish to join the euro or be drawn into closer political union with continental powers, Giscard said.

Etienne Davignon, 83, the Belgian statesman and business leader who served in the European Commission under its only British president, Roy Jenkins, said the EU could adapt its structure to allow the euro zone to integrate further while keeping Britain in the EU's single market.

"This is not an impossible question to resolve: how you go further without harming those who are left behind," Davignon said in a separate interview in Brussels.

"This is a legal organisation and it's perfectly possible to organise this."

The former Commission vice-president, who restructured and modernised Europe's steel industry in the 1980s, said Britain had made a major contribution to the EU by promoting the development of the single market and free trade.

"Britain is an honest member. What is decided they implement. What they don't like, they argue on," Davignon said.

British PM's letter to EU will have 'a bit more detail': spokesperson

Both statesmen said a British vote to leave the EU in a referendum expected as early as June would be a lose-lose proposition for all sides.

"At a tangent"

Giscard, who has met every British leader from Edward Heath - the only one he described as a "true European" - to David Cameron, said geography dictated the nature of Britain's ties with continental Europe.

"From the outset, Britain positioned itself somewhat at a tangent to the European system," he said. "The current efforts by David Cameron's government run along the same lines."

Most of the issues that the Conservative British leader was trying to address in a renegotiation of membership terms, due to culminate in an agreement at a Brussels summit later this week, were "false problems" that could easily be settled, he said.

For example, the EU had recognised since the 1991 Maastricht treaty that the objective of "ever closer union" did not mean Britain would have to join the single currency. It was Britain that had chosen to admit European migrant workers as soon as the bloc enlarged in 2004, and London could amend its welfare laws if it wanted to change the benefits they receive, he argued.

As for Britain's fear that the City of London financial center could have regulation imposed on it by the euro zone, he said: "The problem doesn't arise in reality because euro zone countries have no intention of regulating non-euro countries."

The only "red line" in any deal should be that Britain and other outsiders are not allowed a right of prior approval on the closer integration of the euro zone, Giscard said.

At a time of global political disorder and instability around Europe's borders in the Middle East and Africa, a British exit from the EU would spread disorder into Europe, dealing a blow to the standing of the bloc and its single currency.

It would also damage British economic interests, he said.

UK's Cameron to give strongest warning over possible EU exit

"London's prosperity is very much built on its financial activity, and breaking or weakening that link would certainly have a negative effect on the prosperity of London as well," Giscard said.

Giscard, who served as president from 1974 to 1981, went on to head the convention that drafted an ill-fated European constitution in 2003, which was voted down in referendums in France and the Netherlands in 2005.

He is still active in public life as he enters his 10th decade, his mind as razor-sharp as ever, and keen to revive European integration, which he acknowledges has broken down.

He plans to address the Oxford Union debating club at Britain's ancient university in early March to encourage Britons to see the advantages of EU membership.

His longtime partner in European leadership, former West German Chancellor Helmut Schmidt, died a few weeks ago. They maintained regular ties for decades after leaving power.

Keen to speak a few words of English during the interview, he said: "To break up a system that works will have a negative impact. The British will wonder 'What are we going to do now?' and Europeans will say 'It's too bad the British left'."

Turning to the future of the EU, Giscard said he was sure there would be initiatives after next year's French and German elections to reinvigorate the drive towards political union.

"The momentum can be revived, first of all by a British decision to stay in the union," he said.

Core euro zone countries centered on the EU's six founding members - France, Germany, Italy, Belgium, the Netherlands and Luxembourg - could commit themselves to a fiscal union with common tax rates on companies, individual income and capital within five years, he suggested.

Davignon said the real problem was that euro zone countries did not know how to move forward. He called recently for European nations to swear a new "Tennis Court Oath", modeled on the vows of the founders of the French Revolution.

"Each country has to decide for itself how far they want to go. But the present ambiguity is bad for everybody," he said.
COMMENTS
Comments are moderated and generally will be posted if they are on-topic and not abusive.
For more information, please see our Comments FAQ