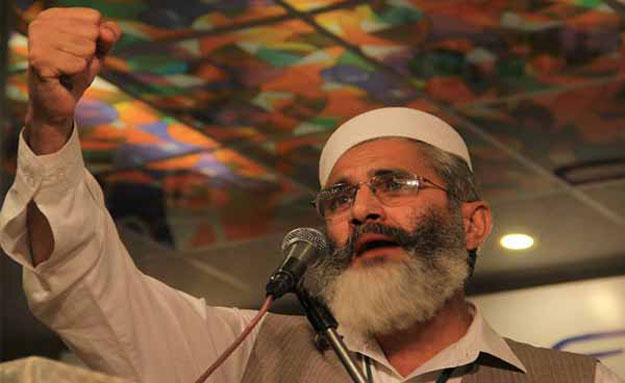 ---
ISLAMABAD: After nearly two decades, Jamaat-e-Islami (JI) is preparing to hold a series of long marches, reigniting its fervor for the 'politics of agitation'. This time round, however, the campaign is against corruption -- financial, moral or institutional.

But while the strategy may seem a little antiquated, the party aims to carry out the campaign with a relatively liberal outlook.

"Corruption is at the top of the country's most pressing issues today," JI Ameer Sirajul Haq, told The Express Tribune in an interview. "The country's institutions are on the verge of collapse. And when they fail, the government will look to sell them."

Jamaat-e-Islami to mount drive against corruption




"We don't believe selling state entities is a solution to this issue," he said. "We need to improve the way they are managed instead."

Haq sees corruption as to root of why the country's institutions are failing. But financial corruption, according to him, is only part of the problem.

"Yes, financial corruption is present in every institution," the JI ameer said. "But there is also moral corruption. There is also electoral corruption when the spirit of the Constitution is violated with impunity."

"We want to improve the present electoral system," Haq said. "The current system negates our Constitution. The Constitution clearly states no corrupt person can contest elections, but corrupt individuals not only contest, but win elections," he added.

"This is not politics. This is a business. And we oppose this."

Haq held up the recent by-elections in Lahore and Lodhran as examples where contestants spent billions of rupees while campaigning. "Democracy could not be strengthened in Pakistan because of such corruption," he said. "And financial corruption, in the meantime, has left our economy in tatters."

JI leader warns govt against execution of Taseer's killer

The JI ameer said his party had been raising its voice against corruption for the past two and a half years. But since the rulers paid no heed to it, the party has decided to mobilise the public, he said.

Haq did not reveal the exact details of the JI's planned mass movement, but said the campaign would be carried out in phases and culminate in a final showdown.

"We have planned many things for this movement which we will announce at a news conference this week. We will also lay out our roadmap and plan of action on March 1," he told The Express Tribune.

Haq said JI will lay down a timeframe before the government for taking concrete action against corruption. "Once this deadline expires, we will go for decisive action."

Asked as to what this 'decisive' action will be, the JI ameer said he is not in favour of any step which will lead to any unconstitutional move. "If we force the government to pack up through unconstitutional measures, the same precedent will be used to de-seat subsequent governments."

Talking about his party's new liberal outlook, Haq said JI will welcome anyone with clean credentials, "irrespective of religion or sect."

In retaliation: JI leader to file defamation suit against FIA

"I don't want to divide society along religious lines. I am against calling non-Muslims in Pakistan 'minorities' because this expression creates a sense of depreciation. They are all Pakistanis," he said when asked if JI will take along non-religious groups in its campaign.

"Unless a person labels themselves non-Muslim or liberal, I am no one to call him anything like that. If I do this, I'll turn the majority of this country, which is Muslim, into a minority," Haq said. "Someone lacking knowledge of Islam is a different thing. You can say less people are practicing Muslims," he added.

But when asked about why religious parties have been comparatively less successful in elections, Haq presented a different argument.

"I believe every party in Pakistan that accepts this country's Constitution is a religious party. The basic principles of our Constitution are that sovereignty lies with Almighty Allah and that the teachings of Quran and Sunnah are supreme. Whoever accepts these principles cannot be called non-religious. But they don't follow the constitution," he remarked.

Haq added that Pakistan's politics are dominated by the elite and feudal class, preventing the common man from stepping into the assemblies. "We want to change this by brining awareness amongst masses. The first step in this regard is binding political parties to hold intra party elections under ECP's supervision. Only those parties should be allowed to contest polls that organise genuine intra-party elections," he said.

"In today's modern era, ballot is the best way to secure allegiance of people."

When asked how his party's planned campaign is different from Pakistan Tehreek-e-Insaf's 'dharna' politics of 2014, Haq said: "They started by calling for vote audits in four constituencies, then they talked about 11, then they stated demanding the prime minister's resignation."

"We will not talk about any individuals. We will be talking about the system. Change of faces does not matter. We are against the status quo," he added.

Published in The Express Tribune, February 15th,  2016.
COMMENTS (14)
Comments are moderated and generally will be posted if they are on-topic and not abusive.
For more information, please see our Comments FAQ