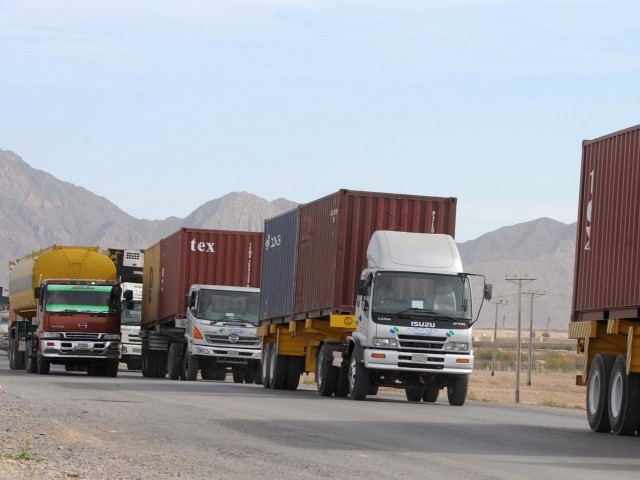 ---
KARACHI:



Will Iran emerge as Pakistan's major trading partner after the lifting of international sanctions?




Perhaps, it will. But as the old English saying goes, there's many a slip 'twixt the cup and the lip.

In an ideal world, the removal of international sanctions from a resource-rich neighbouring country should result in a sudden spike in the volume of bilateral trade. But international trade depends on financing from banks on both sides of the border. And in the short term, at least, Pakistani banks are expected to remain wary about doing business in Iran despite the lifting of many international sanctions.

According to State Bank of Pakistan (SBP) Governor Ashraf Wathra, Pakistan's banking channels with Iran will be reopened soon. But the re-establishment of banking channels between the two countries does not mean Pakistani banks setting up branches in Iran and vice versa, he added.

Realising Iran-Pakistan trade potential

In an email to The Express Tribune, the chief spokesperson for the central bank explained that by reopening banking channels, the governor meant restarting banking transactions among the banks of the two countries for usual business activities. This may involve renewal of "correspondent banking" relationships among commercial banks on both sides for the settlement of transactions, he added.

Many banks operate in foreign countries through correspondent banks, as the latter carry out transactions, take deposits and handle paperwork on behalf of foreign financial institutions.

"However, this may not be construed as immediate opening of more (bank) branches on either side," the chief spokesperson said.

The reason Pakistani banks will remain unable to open branches in Iran is that international sanctions on the neighbouring country are being lifted only partially.

Nature of sanctions

Iranian financial institutions have been prohibited from carrying out transactions with American banks since 1995. However, US regulators initially allowed their financial institutions to handle dollar transactions for clearing purposes as long as they avoided debiting/crediting an Iranian account directly.

But the US Treasury Department tightened restrictions eight years ago by prohibiting all Iranian banks from using the US currency for any oil-related banking transaction.

Although the United States is now lifting many sanctions that would, at least in theory, allow international banks to finance trade with Iran, the global superpower is leaving some sanctions in place.

According to the Financial Times, the United States is maintaining sanctions that penalise anyone doing business with companies connected to Iran's Revolutionary Guard (IRGC), which has "extensive and often opaque" economic interests.

"The remaining sanctions will also prohibit most transactions conducted in US dollars," it said.

No dollar transactions

SBP Governor Wathra told a press conference recently that while Iran-related payments in the euro, yen and other currencies can be expected, it will "not be possible" for Pakistani banks to transact in the US dollar at this point in time.

Clearing and settlement of foreign currency transactions among banks take place in the country in whose currency the trade transactions are denominated. In case Pakistani banks opt for dollar-based transactions, the SBP spokesperson noted, they would need clearing in the United States, which involves "chances of fund freezing".

"Therefore, it is understood that the dollar-denominated transactions would remain minimal, or even non-existent, as long as US sanctions are not completely withdrawn," he said.

Many Pakistani banks were contacted for comment, but none were forthcoming about their willingness to finance trade with Iranian companies.

Sources said the government has asked the SBP to draw up an "interim credible payment mechanism" with Iran, as Pakistani banks are reluctant to carry out trade financing.

Pakistan must improve ties with Iran, says Abida

However, the SBP spokesperson did not immediately confirm if the SBP is indeed in touch with the Central Bank of Iran (CBI) to devise the interim banking mechanism.

Published in The Express Tribune, February 15th,  2016.

Like Business on Facebook, follow @TribuneBiz on Twitter to stay informed and join in the conversation.