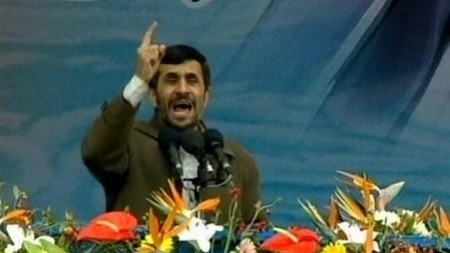 ---
UNITED NATIONS: Iranian Prime Minister Mahmoud Ahmadinejad is expected to put the United States and Israel on the spot for stockpiling nuclear weapons when he addresses the opening session Monday of a conference reviewing the 189-nation Non-Proliferation Treaty.

He said before leaving Tehran for the NPT meeting at UN headquarters in New York that "the biggest threat to the world today is the production and stockpiling of nuclear weapons." And yet for the past 60 years "we have no disarmament or non-proliferation and some countries have even procured the nuclear bomb during this period," Ahmadinejad said in a clear reference to the United States and Israel.

But US President Barack Obama came to office promising to restore US credibility on non-proliferation. Administration officials point to initiatives such as an arms control agreement with Russia in April as significant progress. In a sign the US-Iranian standoff is about to spill over at the NPT conference running from May 3-28, US Secretary of State Hillary Clinton warned Sunday that Iran will try to divert attention from its violations against laws controlling the spread of nuclear weapons.

The NPT review is an attempt to tighten up the non-proliferation regime, which is based on monitoring national nuclear programs as well as promoting both disarmament and the peaceful use of atomic energy.

Clinton told the NBC television network Sunday that she thought the Iranians were going "to try... confuse the issue," that their country is under UN sanctions to rein in its nuclear program to allay fears it seeks the bomb. "They have violated the terms of the NPT" by hiding sensitive nuclear work and continuing to enrich uranium, a potential weapons material, Clinton said. "We're not going to permit Iran to try to change the story from their failure to comply" or upset efforts "to get the international community to adopt a strong Security Council resolution that further isolates them and imposes consequences for their behavior," she said.

Both Ahmadinejad and Clinton will address the NPT conference's opening session Monday.

Security is tight in New York, especially after a car bomb scare Sunday that was a reminder of the dangers of terrorism. Iran is under three rounds of sanctions to get it to stop enriching uranium, even though it insists its nuclear program is a peaceful effort to generate electricity.

The United States is seeking a fourth, more stringent, round. Iran is seen as a test case for non-proliferation as its getting the bomb could set off an atomic arms race in the Middle East. Israel, India, Pakistan, and North Korea have all gone nuclear since the NPT came into effect in 1970. The original nuclear weapons states were Britain, France, China, Russia and the United States.

Another stumbling block in New York will be Egypt's insistence, backed by non-aligned states, that there should be an international conference on creating a nuclear weapons free zone in the Middle East. The 1995 review conference had called for such a zone. Review conferences are held every five years. Israel is not a member of the NPT and is believed to have some 200 atom bombs.

It says there must be peace in the Middle East before setting up a weapons-free zone. The NPT bargain is that nuclear weapons states move towards disarmament while other states forswear the bomb in return for peaceful nuclear energy. But some nations insist the bargain has broken down. This will make it hard to agree on measures such as universalising the NPT or even adopting a final document at the month-long review.
COMMENTS
Comments are moderated and generally will be posted if they are on-topic and not abusive.
For more information, please see our Comments FAQ