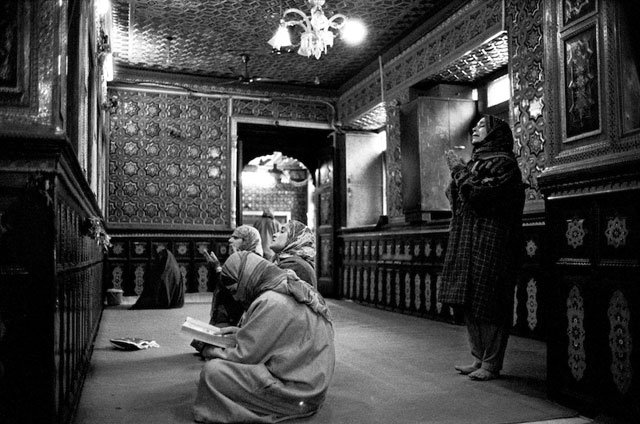 ---
In a world increasingly gripped by fear and rising apprehensions against Islam, Belgian photographer Francois Struzik dares you to see things differently.

In his exhibition titled 'Voyage Sacre', Struzik takes us on a journey through, Kosovo, Morocco, India, Kashmir, Bangladesh and Pakistan. Though his interactions in these countries are completely diverse, the photographer's eyes seek the deeply human side rather than the unusual or different.




'Voyage Sacre' is a long journey in a varied cultural space -- "diverse and contradictory." Spread across the gallery in Alliance Française, printed in black and white, the photographs are engaging, almost melancholic that will force you to stay back a little bit longer before you move on to the next photo.

Almost always, in each photo, there is an expression, a ritual, a belief, a human, and an atmosphere that draws you in.

Exhibition: Artists bring to canvas social issues, culture, memories

Despite cultural differences in the countries, Struzik sought to highlight the humanity we all share. "We should go beyond prejudices," he said.

"Islam is seen as holistic in Europe. I want to show it is much more complex," he added.




"While media tends to simplify things, it is our responsibility to say 'no, it is not that simple," he continues.

Struzik does not want to tell people what to think; he just hopes to incite a curiosity with his images. He wants people to 'think more' and 'think again'.




Struzik, who is also a photojournalist, has worked for various press magazines and international organisations such as Unicef, World Food Program and Terre des hommes. He is currently working on a book featuring his photos from the past ten years.




Struzik's exhibition was running at the Alliance Française from February 8 to 14.
COMMENTS
Comments are moderated and generally will be posted if they are on-topic and not abusive.
For more information, please see our Comments FAQ