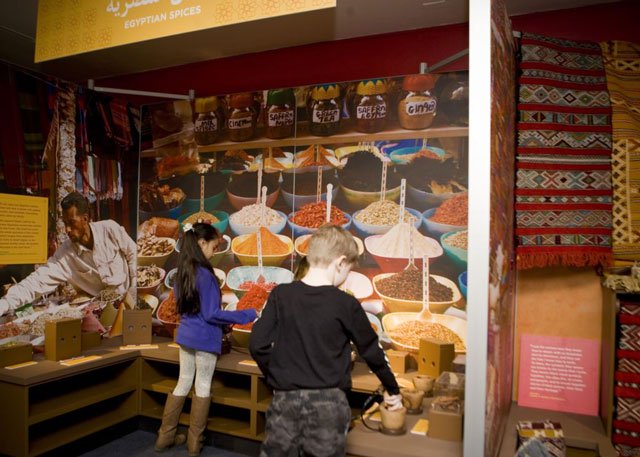 ---
A children's museum in the heart of the United States' mega city of New York lets children explore the A-to-Z of Muslim cultures.

"America to Zanzibar: Muslim Cultures Near and Far" is a ground-breaking interactive museum exhibit at the Children's Museum of Manhattan (CMOM).

Established in 1973, the museum allows children to open their minds by experiencing positive images about people from different lifestyles and different parts of the world.

British Muslim man taken off honeymoon flight 'because he has a beard'

"The addition of Muslim cultures exhibit allows families an opportunity to discuss unity and diversity within the same tradition, which is crucial for developing young minds," said the the museum's executive director Andrew Ackerman.




The CMOM is a hands-on-cultural destination for families committed to nurture the next generation of global citizens.

"Those attitudes really form very early in life," Ackerman said. "So part of our role as a children's museum is to open their minds and experiences with very positive images about people from different lifestyles and different parts of the world, so that negative stereotypes don't take root."

Across from the courtyard, next to a life-size 900-pound camel, is the "American home" living room, made up of clothing, artwork, photos and books donated from American Muslims of all walks of life. On the coffee table, there is an app that teaches you how to write and say "My name is …" in 24 languages spoken by Muslims in New York.




Olympic fencer, a Muslim, settled on a 'sport without alteration'

The city's mayor, Bill de Blasio, has praised the exhibit as an "important cultural resource," calling New York Muslim residents a "vital part" of the city's diverse communities.

"Children will have the chance to learn about Muslim cultures in an engaging and thoughtful way," de Blasio said. "We only grow stronger when we embrace and celebrate the multitude of cultural backgrounds that make up New York City."

Ackerman describes the exhibit, and the museum as a whole, as a microcosm of "the real heart and soul of America": a place of hope; a safe haven for families.

After the September 11 terrorist attacks in 2001, he felt a brief moment of uncertainty about the museum's future.

Elderly Muslim man was beaten to death on way to mosque in UK, court told

"We didn't know if people would come," he said. "But we were so crowded. Parents were saying, 'We trust you. You're going to let us be who we are, and we're going to shut the TV off. We're going to just be families.'"

"That is something we'll never forget. That's what we do every day," he added.

This article originally appeared on Voice of America.
COMMENTS
Comments are moderated and generally will be posted if they are on-topic and not abusive.
For more information, please see our Comments FAQ