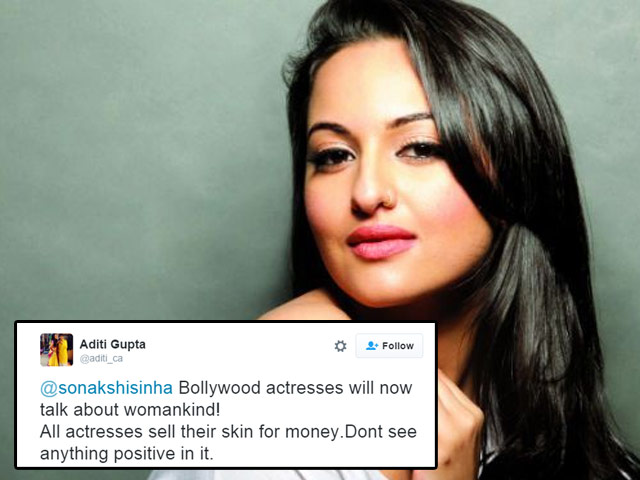 ---
Sonakshi Sinha does not mess around on Twitter. One guy found out the hard way.

It all started when Sonakshi held an ask-me-anything session on Twitter and one user unabashedly asked her when she would wear a bikini to show her 'curves'. Enraged, the Bollywood actor gave him a piece of her mind.




Bollywood actresses speak up against cyber bullies

As expected, Mr Goyal shrunk back into his hole -- something Sonakshi called him out for in a later tweet. But it didn't end there as another Twitter user Aditi Gupta caused Sonakshi more heartache by saying "all actresses sell their skin for money."






Sonakshi Sinha gets fat-shamed after calling India 'BAN-istan'

And although Sonakshi immediately expressed her disgust at the statement, it was her former co-star Varun who intervened and stepped in to speak on behalf of the Rowdy Rathore actor.




He even asked his followers to shame the woman




Although it resulted in a lot of bashing for the woman, another woman called out Varun for cyber-bullying, prompting the actor to apologise for his behaviour.


COMMENTS (8)
Comments are moderated and generally will be posted if they are on-topic and not abusive.
For more information, please see our Comments FAQ