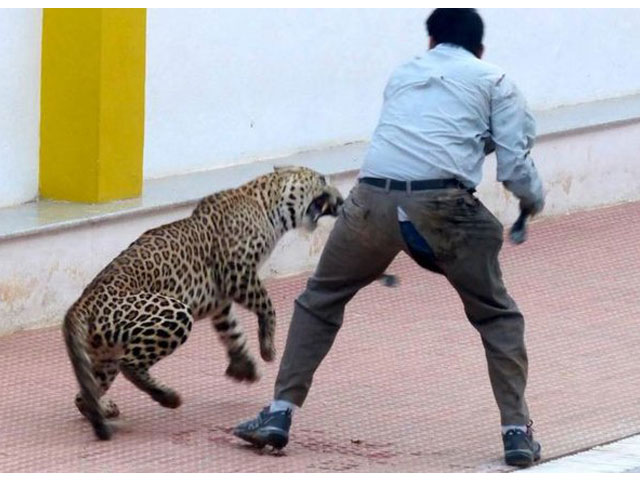 ---
At least six people in Bangalore, India, were injured while attempting to capture a male leopard that entered a local school on Sunday.

In a nearly 10-hour long effort to corner the dangerous animal, the leopard mauled a scientist along with five others before being eventually tranquilised , BBC reported.

The eight-year-old male leopard was spotted, in CCTV footage, strolling inside the Vibgyor International School in the capital city of India's southern Karnataka state. The video also showed him attacking a man near a swimming pool.

PHOTO: National Geographic captures Mumbai's daring leopards

Conservation scientist Sanjay Gubbi and forest department employee Benny Maurius were injured as they tried to corner the animal, reports said.

"It was a long struggle to capture the leopard. Although it was injected with tranquilisers it could be captured only around 20.15 local time when the medication took full effect," senior police official S Boralingaiah said.

Wildlife official Ravi Ralph said the leopard possibly strayed into the school from a patch of forest not far from the school.

Meanwhile, the captured animal has been moved to a national park and the six victims, including a cameraman from a local TV channel, have been treated for minor injuries.

Killing cows: Leopard attack suspected

A recent wildlife census estimated that India has a leopard population of between 12,000 and 14,000. Leopards and other big cats have been known to stray into populated areas, and conservationists have warned that such confrontations may increase as humans encroach on animal habitats.

Last year, a male leopard spent five hours with its head stuck in a metal pot in a village in the northern state of Rajasthan.



This article originally appeared on BBC.
COMMENTS (3)
Comments are moderated and generally will be posted if they are on-topic and not abusive.
For more information, please see our Comments FAQ