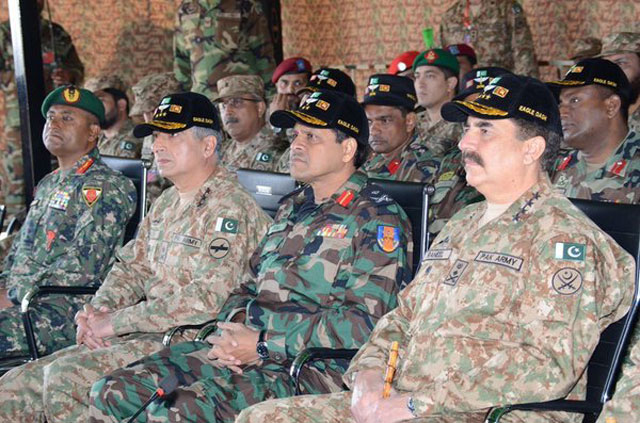 ---
Army chief General Raheel Sharif has said terrorism is a global phenomenon and required a coordinated, global response.

According to the ISPR, General Raheel visited on Thursday the National Counter Terrorism Center (NCTC) to witness exercise "Eagle Dash-I" between Pakistan, Sri Lanka and Maldives in Pabbi, Nowshera district of Khyber Pakhtunkhwa.


Joint Ctr Terrorism Exercise Pak-Maldive-Sri Lanka Armies.Pak Army training foreign troops in state of Art Facility pic.twitter.com/zccCXja2fa

— Gen(R) Asim Saleem Bajwa (@AsimBajwaISPR) February 4, 2016


Congratulating the participants for displaying high level of professionalism and combat skills, army chief underscored that such exercises consolidate special relationship between the forces and help eliminate terrorism from the region.

UK war games: Gen Raheel lauds army team's victory

"Terrorism is a global phenomenon and terrorists have no country, religion or sect. Hence, a coordinated global response from us all [is required]."

"Pakistan has been victim of terrorism for over a decade and sacrificed a lot but at the end we have turned the tide primarily due to resilience displayed by the whole nation and professionalism of our armed forces," added the COAS.




General Raheel said Pakistan was "willing to share our experiences with the world for the benefit of humanity and as an obligation towards international peace".

He said Pakistan Army had taken the initiative of providing counter-terrorism training to police and other law enforcement agencies in Pakistan in an effort to enhance their capacity in dealing with terrorism.

Foreign military delegates from Afghanistan, Sri Lanka, Maldives and South Africa witnessed the exercise.

Pakistan Army wins gold in Exercise Cambrian Patrol in UK

The two-week trilateral exercise focused on counter-terrorism operations and sharing of field combat experience of the three armed forces, the ISPR said.

Owing to the successes of Operation Zarb-e-Azb, a large number of friendly countries had requested Pakistan Army to organise training for their troops at the state of the art NCTC, added the statement.

So far Pakistan Army has conducted joint exercises with Saudi Arabia, Bahrain, China and Jordan to enhance their combat efficiency.
COMMENTS (1)
Comments are moderated and generally will be posted if they are on-topic and not abusive.
For more information, please see our Comments FAQ