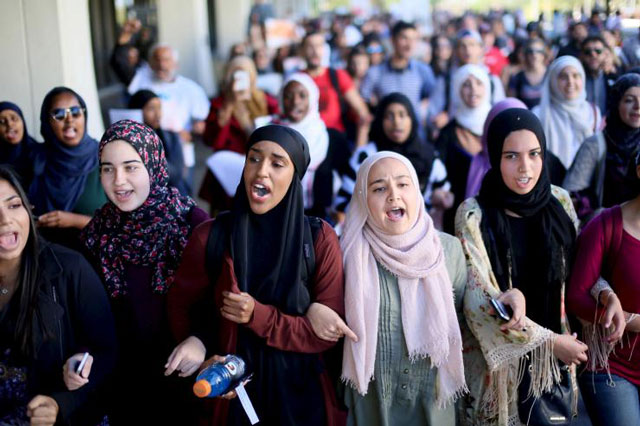 ---
The rise of Islamophobic sentiments in the United States is forcing Muslim Americans, who have so far been a fairly splintered group, to vote for their shared religious identity instead of ethnicity.

According to a recent survey conducted by the nation's largest Muslim civil rights and advocacy organisation, Council on American-Islamic Relations (CAIR), 73% of Muslim voters in the US say they will go to the primary elections and that 67% will vote for Democratic Party candidates.


#CAIR Releases Results of Muslim Voter Survey Ahead of Primary Elections

73 percent of Muslim voters say they... https://t.co/CSXHcbsoRb

— CAIR National (@CAIRNational) February 1, 2016


Not surprisingly, the survey report showed that the most US Muslim voters considered the growing Islamophobia as the most important issue for them which had been previously ranked as third in a similar CAIR survey in 2014.

Half in US think 'some' Muslims are anti-American: poll

Further, more than half of the respondents said they would support the Democratic Party's candidate for US presidency, Hillary Clinton, in the upcoming polls. The results of the survey reveal that 51.62% Muslim voters support Hillary Clinton, 22.03% support Bernie Sanders while only 7.47% will vote for Republican candidate Donald Trump.

The group claimed that it carried out the survey in at least six American states with the highest Muslim populations in January using an independent automated call survey provider and asked the following questions:

1. "Do you plan to vote in your upcoming state primary election?"




2. "Which political party do you plan to support in your upcoming state primary election?"




3. "Based on your party support which candidate do you plan to vote for in the upcoming state rimary election?"




4. "What is the most important issue to you in the 2016 presidential election?"




In a statement, CAIR Government Affairs Manager Robert McCaw said: "The increase in the number of Muslim voters who say they will go to the polls in their primary elections indicates a high level of civic participation that may be driven at least in part by concern over the rise in Islamophobia nationwide."

Obama, in mosque visit, says an attack on Islam is an attack on all faiths

About 30% of the Muslim voters rated Islamophobia as the most important issue going in 2016. Around 67% of those the surveyed identified as Democrats while 15% expressed their support for the Republican Party.

While Trump, who has drawn global outrage after making anti-Muslim comments, could only muster the support of 7.47% Muslim voters. However, he is still strikingly five points ahead than his Republican contender Ted Cruz.
COMMENTS (3)
Comments are moderated and generally will be posted if they are on-topic and not abusive.
For more information, please see our Comments FAQ