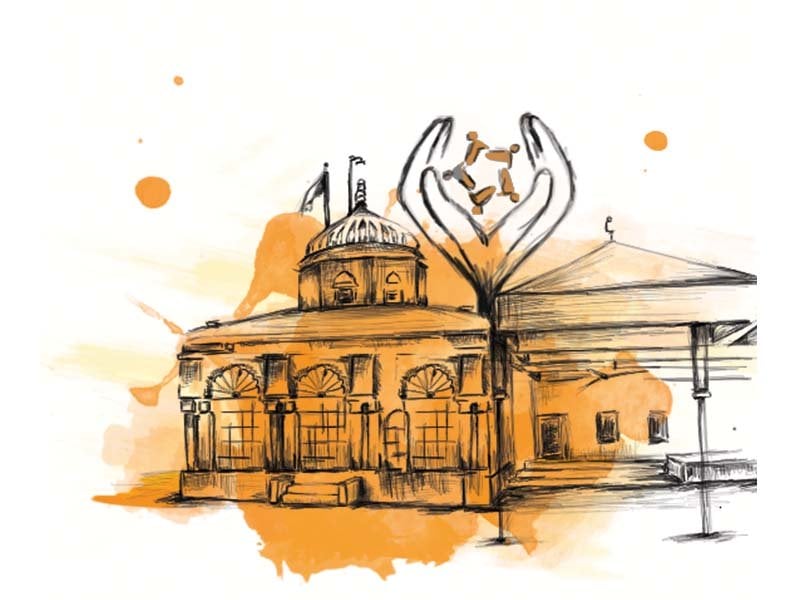 ---
ISLAMKOT, THARPARKAR:



Though the name would suggest otherwise, Islamkot in Tharparkar district has nearly an equal population of Hindus and Muslims. The well-kept ashram of Saint Shree Neenuram bears testament to this apparent interfaith harmony. And as soon one takes off their shoes and sets foot inside the compound, the serenity is tangible.




The echo of bhajans, Hindu devotional songs, reverberates inside the 45-year-old ashram, which was built in memory of Hindu Sadhu Shree Neenuram, a man revered for his undying humanity. Hawaldar Narindas, who stands guard at the gate, leads me to Baba Lachman Das, the present caretaker of the ashram.

"You must be aware that Sufis, mystics and Sadhus do not follow any dogma," says Baba Das, an ardent follower of the saint who has been taking care of the ashram for over two decades. "Their only religion is that of humanity, and so was Shree Neenuram's," he adds while listening calmly to the melodic drone of bhajans, a stream of light from the adjoining room illuminating his face in the otherwise dark but open veranda.

"Neenuram had a strong passion for humanity in his heart," he says of the saint, who is said to have passed away in 1973. "There were five things he would do on a daily basis: Feed the birds, feed the people, offer water to passers-by, give water to animals, and help any needy or helpless being."

Baba's grandson Niresh Kumar has just returned to the ashram after visiting shopkeepers in the vicinity. He explains where the money to fund these selfless deeds came from. "He (Shree Neenuram) would visit the local shopkeepers of the area and collect a rupee or two from each one. He would then feed and help people with that money," says Kumar, who does the same to this day. "We have added two more things to our agenda. Every year, we get 200 patients with eye problems treated. We also have a functional charitable hospital named after Shree Neenuram."




But Shree Neenuram was not just a philanthropist. He was also known for his spirituality. Kumar narrates a story of Sufi mystic Faqeer Murad, who came to the Sadhu with goitre, a swelling of the neck resulting from enlargement of the thyroid gland. "It was huge and he was in pain, but all the physicians had given up hope," says Kumar. "Shree sent him to a hospital but he came back without getting any treatment. It is said that Neenuram then recited some verses and blew upon his neck. In two days, the disease disappeared." To this day, every year around the time of the annual celebrations, Faqir Murad dances the night away, claims Kumar.

As I begin to bid adieu, Baba insists I have a cup of tea before leaving. I hesitate, saying an entire group of journalists is waiting outside. However, Baba dismisses my protest saying, "We have tea for everyone." Sure enough, enough cups of tea make their way towards the coaster parked outside. There's comforting warmth in the milky tea, the kind that doesn't scald the tongue. It does, however, leave a lingering aftertaste, much like the lingering humanity of Shree Neenuram which knew no religion.

The writer is a staff correspondent who visited Tharparkar as part of a trip organised by Pakistan Council of Media Women

Published in The Express Tribune, February 4th,  2016.
COMMENTS
Comments are moderated and generally will be posted if they are on-topic and not abusive.
For more information, please see our Comments FAQ