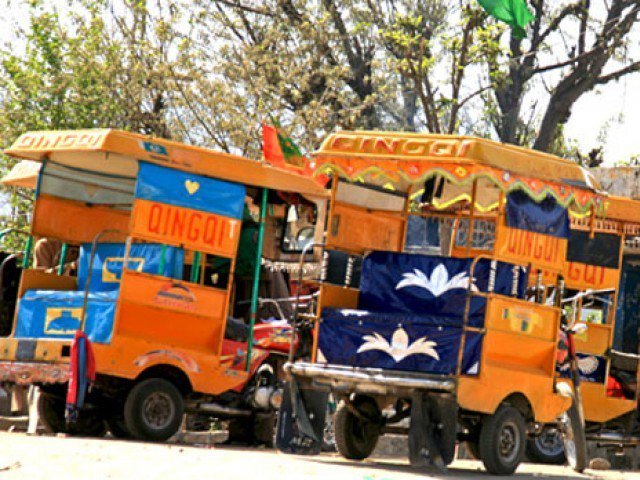 ---
FAISALABAD: Scores of motorcycle rickshaw drivers on Saturday staged a protest demonstration against the district administrations decision to ban Qingqis in the city.

The demonstrators gathered at Chenab Chowk with bread hanging from their necks and closed the spot to vehicular traffic. Muhammad Akhtar, one of the protestors, said all the drivers hailed from extremely humble backgrounds. He said they had no source of income except ferrying passengers to and fro. "The district authorities have proscribed motorcycle rickshaws across the city and police have been imposing heavy fines on us," Akhtar said. The protestors said the imposition of the ban was akin to telling the drivers and their dependants to commit suicide.

Another driver Shaukat Ali said DCO Nurul Amin Mengal's unilateral decision to ban motorcycle rickshaws in the city had brought the drivers and their dependants on the verge of starving to death. The demonstrators raised slogans against the introduction of the ban and demanded it to be immediately revoked. A heavy police contingent later managed to disperse the protesters after threatening to baton charge at them.

The People's Labour Bureau (PLB) separately flayed the introduction of the ban. PLB functionaries said senior bureaucrats including the DCO used luxury sedans to travel. They said it was unrealistic to expect such individuals to have empathy for the disadvantaged.

They said the ban would force the drivers to take to criminal activities. The PLB functionaries said the DCO should have tried to use public transport in the city before introducing the ban.

On the other hand, the business community welcomed the ban and demanded its effective implementation. Faisalabad Chamber of Commerce and Industry (FCCI) president Muhammad Nawaz said the alarming rise in the number of motorcycle rickshaws was to be blamed for road accidents and traffic jams.

Praising the introduction of the ban as a step in the right direction, he said the decision would facilitate movement of businessmen and commuters across the rural-urban spectrum and ensure smooth flow of business.

Nawaz praised the DCO for imposing the ban and exhorted traders and others to support the ban in the greater interest of the public.

Published in The Express Tribune, January 31st, 2016.