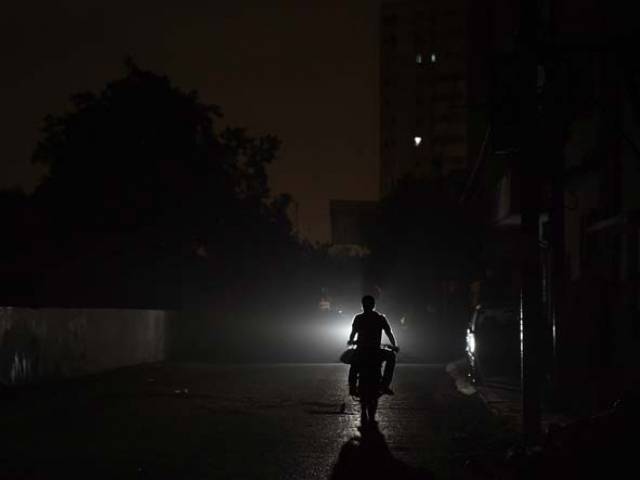 ---
HYDERABAD/ KARACHI:



A pre-dawn electricity breakdown on Friday left several districts in Sindh, including Karachi, without power for hours, disrupting routine life. This was the third major power outage within a month in Pakistan. The earlier two had affected only the northern regions.




Officials claimed high levels of humidity tripped a national grid transmission line that caused the blackout. A water and power ministry official said at least 90% of Karachi was affected after a power line tripped because of dense fog.

"Disruption at the 500kV EHT line caused the Karachi blackout. Teams are working to restore power as soon as possible," K-Electric – the private electricity supplier in Karachi – shared in a statement on its official Twitter page. "The tripping should not be attributed to any lack in the infrastructure rather it was caused by high levels of humidity."

According to the KE spokesperson, the 500kV extra high tension wires tripped around 5:45am, stalling over 60 grid stations. "The entire Karachi, including its adjoining areas, was affected," he said, adding that it takes time to restart generation.

"We prioritise strategic locations like the Karachi Water and Sewerage Board, airport and major hospitals in resuming our supply," he added.




While the KE claimed to have restored  power supply to the entire city before 4pm, residents of many areas complained of longer outages.

Sanjida Azam, a resident of Gulistan-e-Jauhar, said power had been restored in her area at around 3pm but there had been three more prolonged outages since then.

Samin Salam from Nazimabad also complained the power was restored but there had been breakdowns after every 30 minutes.

The power distribution company in Hyderabad said its 42 grid stations were shut down for three hours from 6am.

Hyderabad Electric Supply Company (Hesco), which powers 14 districts of Sindh, said the power outage from the national grid affected 70% of the area under its jurisdiction.

Hesco spokesman Sadiq Kubar said the power supply was restored after 9am.

Reports from other districts suggested the power outage lasted between 6 and 12 hours till late in the evening.

Published in The Express Tribune, January 30th,  2016.
COMMENTS
Comments are moderated and generally will be posted if they are on-topic and not abusive.
For more information, please see our Comments FAQ