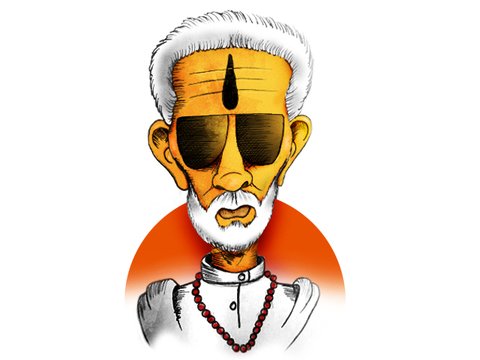 ---
Dear Diary,

Very rarely do the people of the Indus pay tribute to as divisive a figure as I on their birth anniversaries.

Among those who eulogised me on the occasion was the prime minister who reminisced about the many memories he has of me (on Twitter). Extremely magnanimous of him. Takes one to spot one.

Most just remember me as the bigot of Bombay (read Mumbai). Some, mostly dwelling in the insular world of Bollywood, as a benevolent autocrat. A coterie of imbeciles, on the other hand, as Hindu Hriday Samrat — The Emperor of Hindu Hearts.

Shiv Sena activists ransack Pakistan-India exhibition in Dehradun

But alas, love me or hate me—one simply cannot ignore me. Not many a people have been able to leave an indelible imprint on arguably the nation's foremost state. I, the samrat, have been there, done that and gotten a trishul for it. It is no small feat my dear readers, to wrest power from the communists, imbue a communal colour to a cosmopolitan urban agglomeration and entrench ethnocentricity in parochial politics over the span of a single lifetime.

PS: Who the hell does this "award-winning" writer Nayantara Sahgal think she is when quipping that she's waiting for Khujaraho's nude statues to be covered? Like uncle (Jawaharlal Nehru) like niece. Bloody sickularists. Every Trisha, Dhanush and Hari knows that rising intolerance does not fittingly encapsulate lynching, pillaging, intimidating and slaughtering others. I mean they are simply misunderstandings.

Hindu extremists attack PIA office in New Delhi

In other news, the Pakistani ghazal maestro my sainiks chucked out of Bombay (read Mumbai) is being courted across the land. Just look at his temerity. After being unceremoniously barred from performing in the city he is all set to make his Bollywood debut in Ghar Wapsi! As if we have already not had enough of Award Wapsi!

Ecstatic to see Uddhav finally come of age though. The son is most definitely following in the footsteps of the father. Has any other mainstream politico called for the implementation of the Uniform Civil Code and the construction of the Ram Mandir in Ayodhya since the National Democratic Alliance (NDA) ascended to power? Crestfallen with the typical Sanghi conduct of our senior coalition partner. Canvass for votes in the name of development and relegate the "core issues" while the rank-and-file pine to see the Hindu Rashtra rise. I know I know Uddhav forgot to mention Article 370 but give him some leeway. Everyone knows that the only dispute we have with Al-Bakistan is over the status of Azad Jammu and Kashmir.

Separately, if news reports are to be believed, the two lead actors of Rohit Shetty's Dilwale are dejected with the poor response of the public to the film. Well, what goes around comes around. Does the reigning badshah of Bollywood think he can get away with passing remarks on rising intolerance?

Shiv Sena demands cancellation of Kasuri's book launch in India

Just for the record, we were not opposed to Dilwale per se just as we are not opposed to Mahira and Fawad Khan for being Pakistanis. There was a deliberate attempt on part of the film's makers to elicit a reaction. After all, what is rang de tu mohe gerua if not a pot shot at the Hindu right. That is exactly what we have been aspiring to do since long—colour India—I mean Hindustan saffron!

Yours truly,

Bal.

The article is a work of satire and fiction.