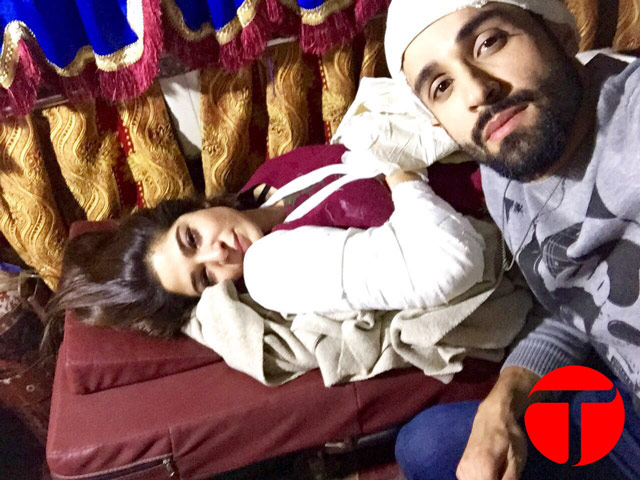 ---
KARACHI: They say your entire life flashes before your eyes the second before you die. Of course, 'they' are the people who lived to tell the tale. And for Ayesha Omar, this held true.

"My entire life flashed in front of my eyes as I held onto my seat waiting to be hit by a truck," says Ayesha as she sat down for her first interview since her horrific accident last month, which left her with a broken collar bone.

Ayesha and fellow actor Azfar Rehman were travelling to Hyderabad from Karachi when, in an attempt to avoid collision with an oncoming trailer truck, their car was hit by another truck from behind before it went on to hit the oncoming truck anyway.




Ayesha Omar, Azfar Rehman injured in car accident near Karachi

"It's so strange; in my head, I always knew that I must not travel to Hyderabad. I have been invited to attend events in the city every month over the past 10 years and I would always turn them down. Until now, of course," Ayesha says in an exclusive interview with The Express Tribune.

"I was afraid that I would either be kidnapped, mugged or have a terrible accident," she says, adding that the fear stemmed from hearing a lot of horror stories of the dangerous routes of interior Sindh.

The actor was on her way to a clothing brand's store launch, which she says she only agreed to attend because her good friends Azfar and actor-VJ Anoushey Ashraf were also invited. "I thought it would be a fun day trip. We'd chit chat on the drive. Interestingly, I had to shoot Bulbulay (her hugely popular sitcom) the next day. And we have never cancelled a shoot ever before. But, somehow, my team and I figured out a way for me to take time out. Everything fell into place a little too smoothly."

Things seemed too good to be true. Ayesha, who is a big believer of intuition, says, "Bad things happen when I ignore my intuition. And this was no exception."




She goes on to recount the day of the accident. She had finished her Bulbulay shoot early and left for Hyderabad with Azfar. It was just Ayesha, Azfar and his driver in the car (Anoushey had left earlier on her own as she had to host the red carpet). "That's another thing. I always travel with my driver in my own car. But I hadn't met Azfar in a very long time so I thought it would give us a chance to catch up."

The fun road trip came to an abrupt end when their car met with the accident near Jamshoro. "Just as it was happening, I realised it would be a bad accident. I thought either I would die or get badly injured. And then, my entire life flashed before me. Thoughts about my family, all the things I have yet to accomplish gripped me," she said before jokingly adding, "I thought to myself 'I am not even married yet, I don't even have kids'."

But fortunately, the collision wasn't as bad as Ayesha expected. "I was shocked to discover that I was still alive. It's a real miracle that we survived. We were later told that there have been 11 accidents at the same spot over the past two months. And not everyone involved was as lucky as us."

Actress Sana Khan killed in car crash

Azfar's driver remained unhurt while Azfar received a gash on his head and Ayesha broke her collar bone. "There was so much panic and frenzy. It appeared that we were in the middle of nowhere. I was in so much pain, I could barely move.  The police had arrived but there was no sign of an ambulance; so, Azfar convinced them to take me to a hospital in the police car. "I was crying from the pain. The police officer driving the vehicle told me to recite the kalma so I started doing that loudly. And that really helped."




Ayesha was taken to a government hospital, which, she said, was essentially a run-down clinic with no facilities. There were neither any beds there, nor any pain killers and obviously, no doctors. "A post-graduate medical student came in after a couple of hours and took a look at me. We managed to get an x-ray and that's when we discovered I had broken my collar bone. So my arm was put in a cast."

What is truly appalling is that when Ayesha called the clothing brand – whose event she was meant to attend – they refused to send help. "We contacted them but they weren't very helpful. They said, 'Acha accident ho gaya hai? Pehla ap event pay aain. Yahanjo 2,000 log Ayesha ka wait kar rahay hain unn ko shakal dikha dain (You had an accident? Comer here first and show yourself to the 2,000 people waiting for Ayesha)."

"Maybe they have had a bad experience in the past with other celebrities. We don't know. They sent someone to take pictures of us as 'proof' that we had actually been in an accident. And then asked us to return the money they had given us to attend the event while we were still at the hospital in Jamshoro," the actor said, while refusing to disclose the clothing brand's name.

She adds, however, that despite the unpleasant encounter with them, she is glad they managed without their help. "I am so thankful to all the local people who gathered there. They were so sweet. They are all huge Bulbulay fans; so, although I was in such a terrible state they wanted to take pictures. They probably thought I wasn't that badly hurt because there was no blood.

"They were also trying to calm me down. Someone would bring me juice, someone else would get me water. Someone brought biscuits for me. One person told me I was really lucky because another actress – who was brought to the same hospital – was killed in an accident that happened at the same spot our car collided with the trucks."

The person was referring to Sana Khan who was killed in a car crash while on her way to Hyderabad in 2014.




Ayesha was definitely lucky to have survived the crash, and she is quick to credit that to Azfar. "If he wasn't there I wouldn't have made it back. Thank God, I was with him and not with my own driver or the clothing company's driver. He was there for me, he is my hero."

Ayesha Omar talks about traumatic near-death experience

And she wasn't even being dramatic about the 'hero' title. Even though Azfar needed stitches for the gash on his head immediately, he ignored his own condition for Ayesha's sake.

"He has been there in the toughest times of my life. Ten years ago I was in London shooting a serial and going through a very bad emotional time in my life and he was there. We have done numerous projects together. And most of my out-of-country projects have been with him. And when I was going through one of the most traumatic experiences of my life, he was there with me," she says.

Speaking to The Express Tribune, Azfar says, "Ayesha is extremely close to me. She was in so much agony; nothing else mattered at that point. My only wish was to somehow go back to our normal lives."

He added that he can't thank God enough for protecting them. "It was a life-altering incident. We had no one there to help us. I stopped a car passing by but they said they didn't have enough space in their car to take us to a hospital. With Ayesha lying there in so much pain, I felt helpless."

Strangely, he adds, even though he always carries two phones, both of them were dead and that's when he realised maybe God was testing him. "I am very religious. When I saw both my phones were dead I said to myself 'yeh azmaish ka waqt hai' so I recited the kalma and got on with it."




After getting Ayesha to the government hospital in Jamshoro, Azfar began working on getting her back to Karachi. And like Ayesha, he was incredibly disappointed with the clothing brand's lack of empathy. "What kind of people ask for a refund from someone who is in such a terrible state? They didn't care that Ayesha had broken her bones or that I had blood gushing down my head or that we were stuck in the middle of nowhere."

Azfar then contacted the Hyderabad General Hospital and managed to hire – what he thought was an ambulance – that would bring them to a hospital in Karachi.

Despite all the panic and despair, he manages to dig out an amusing story though.

"On our way back, I asked the person driving the ambulance if he was with Edhi. He said he wasn't. Then I asked him if his was a 1122 ambulance. He wasn't with them either. Turns out, he was a just a regular transporter who would convert his van into a hearse, ambulance or a passenger vehicle depending on the requirement."

The actor went to state that he often tells his friends he might not be there during their happy moments but they would always find him standing besides them when the going gets rough.

Ayesha Omar: Naturally talented, effortlessly chic

Ayesha also discloses that she would soon go back to Jamshoro to meet her fans who gathered at the hospital as soon as they heard about her accident. "They weren't letting us go when we set out for Karachi. They wanted to take pictures and wanted me to meet their families. So, I promised them I would return when I am better. And I will. I am also planning to make a donation to the hospital."




Both Ayesha and Azfar say they are overwhelmed with the support they have received from their colleagues and fans. "I didn't think people would care. But I am so grateful for all the love," Ayesha says. Azfar reiterated he couldn't thank God enough. "I have thanked Him so many times I can't tell you. And I am also grateful for all the messages I have received from my colleagues. Not just my friends but even my competitors or those who you'd consider to be my rivals got in touch and sent their good wishes."

If there's one thing Ayesha's learnt from her near-death experience, it is to "have faith. Have faith in God and everything will fall into place," she says. "You don't have to worry about anything. God will take care of you."
COMMENTS (4)
Comments are moderated and generally will be posted if they are on-topic and not abusive.
For more information, please see our Comments FAQ