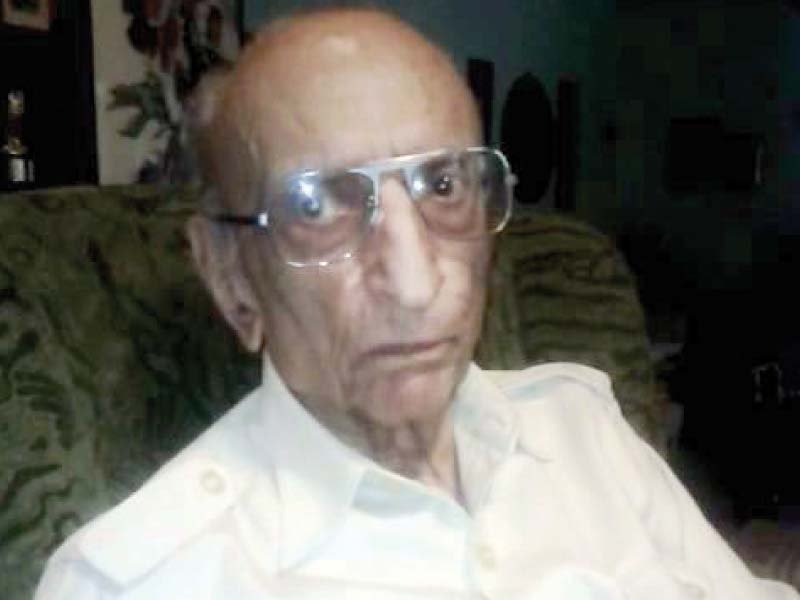 ---
ISLAMABAD: It is rare for a diplomat less so an ordinary individual to know nearly a dozen languages. Such an unusual gift gave Sahabzada Yaqub-Khan (SYK), as Henry Kissinger of the United States of America (US) put it, an "unfair advantage" in the arena of diplomacy.

For this and many other talents, the longest serving foreign minister of Pakistan excelled in the art of diplomacy as much as in his military career.

Indonesian ambassador to Pakistan dies 11 days after Naltar crash

He passed away aged 95 on Tuesday, January 26, 2016. He is survived by his wife Tuba Begum Khaleeli, who he married in 1960, and two sons Abdus Samad Khan and Mohammad Najib Khan.

Those of us who grew up during the decade of 70's and afterwards might not know him as a former general of the Pakistan Army who resigned as military commander of the eastern wing of Pakistan for refusing to quell the riots there after the elections of 1970.  On the contrary, he repeatedly advised the then president Yahya Khan to resolve the issue through political means and avoid a military operation.

As his advice went unheeded he resigned his post on March 5, 1971 arguing "can we in the last quarter of the 20th century attempt to assume an imperial role?" It cost him his military career but his stance was vindicated soon after his retirement besides sparing him the ignominy of presiding over the surrender ceremony that general Niazi, having been the one to sign surrender documents, never recovered from until his death. His was the only voice of sanity in those turbulent times. He was relieved by general Tikka Khan who did the bidding of those in power and the result was no different than was predicted by Yaqub-Khan.

"Seldom can history have proved a man right so quickly as Pakistan's military effort collapsed and the country submerged under a rubble of shame and despair," wrote Abida Sultaan - heir-apparent to the erstwhile state of Bhopal and a close friend of Sahabzada Yaqub- Khan - in her memoirs testifying to Khan's uncanny foresight, humaneness and political sagacity.

The engaging conversationalist that he was, she wrote eulogising his linguistic prowess, he was well versed with French, Italian, German and Russian languages alongside the oriental ones - Urdu, Persian and Bengali and frequently quoted Ghalib, Hafiz and Tagore from his immense repertoire. He was an accomplished Polo player and a Squash enthusiast. His aristocratic background, military training, imprisonment during the war and extensive knowledge of history, philosophy and literature made him a citizen of the world - comfortably straddling both East and the West.

He was declared best-dressed diplomat for many years by the Washington diplomatic corps.

Outbreak of war is failure of diplomacy, he observed once. He proved his point while serving as ambassador in the United States during the late 70's. He in the words of President Jimmy Carter almost single handedly talked the Muslim group into peacefully surrendering 134 hostages in Washington. The Americans were obliged and praised his bravery, negotiation skills and calmness and dignity of his bearing that brought about the end of crisis within 39 hours.

After a decade of ambassadorial assignments in such important capitals as France (twice), Washington and Moscow he succeeded the very able Agha Shahi as a foreign minister.

PM recommends Sitara-e-Pakistan for diplomats killed in Gilgit crash

The world's major powers' interest in Afghanistan - the " cockpit of Asia" as it was known in the Great Game parlance - and Pakistan' s role of a front line state against the USSR invasion made Khan's job all the more difficult.

He performed his role to the satisfaction of many if not all the actors involved. He successfully negotiated the Russian forces' withdrawal from Afghanistan but was removed by the Junejo government a little before the Geneva Accord that was signed on April 14, 1988. The outcome of the negotiations with the USSR would have been different if SYK were there, opined the then US ambassador to Pakistan Robert Oakley.

In 2002 when the world was preparing to launch the Operation Enduring Freedom, he in a lecture in Islamabad outlined a solution for the Afghanistan problem which if heeded would have yielded positive results. He blamed the short political attention span of the western democracies for the turmoil in Afghanistan. "The void after the withdrawal of the Russian forces was filed by rustic radicals. People left Afghans to the devices of regional warlords. Taliban were unwisely isolated and denied an opportunity to moderate their policies. They were high jacked by alQaeda , he pointed out.  "Long-term sustained support to rebuild Afghanistan was essential to replace the culture of conflict with culture of peace. Without this, long term objective of world peace will elude us." And elude it does till today.

Through his vast knowledge, interest in international affairs and having seen the ravages of wars he knew that military action is an easier option but it does not reform society, appreciating at the same time the pull the vast resources of the Caspian basin and adjoining areas exerted on the powers like China, Russia and the US He was rather for war against hopelessness and injustice.

Recognising that back in the Cold War era Pakistan had no choice but to join the American bloc, for present he suggested for Pakistan to stay clear of interfering in Afghanistan's affairs and rather join the world community to help it help itself. His words "Afghanistan will radiate stability or instability. And where hope resides, extremism and cruelty can never take root" ring true even today.

Sahabzada had the reputation of an intellectual as well. US President Richard Nixon was pleasantly surprised to listen to his lecture entitled "Diplomacy as a problem in epistemology." President Nixon in a letter wrote to him he was told that Khan was "the most astute geopolitical thinker alive. Having met you, I believe this was an understatement,"

In the famous lecture, the erudite diplomat argued about the historic wrong perceptions of reality leading to wars and bitter relations between nation-states. Each state or nation, he observed, inhabits a cosmos of its own. The geocentric view in diplomacy is limiting, impeding the quest for objectivity. This epistemology, he highlighted, offers challenge to diplomacy and diplomats in a world that is either at the brink of tragedy or possibly at the threshold of limitless possibility.

"In each bilateral dialogue, each side has a vital national interest which must be safeguarded. This is the hard core but around this the negotiating positions could be supple and adaptable to circumstances. There could be six ways to tie a baby diaper. The mistake we are often tempted to make is to take rigid position on negotiating positions as we do on hard core interests. The resulting impasse often leads to a breakdown of talks.  This may help advancing dialogue and peace and understanding in a battered and embattled world," he went on to argue.

Poet Jamiluddin Aali passes away in Karachi

When as result of the 1988 elections Benazir Bhutto assumed charge of the government, he was part of the baggage along with Ghulam Ishaq Khan that she inherited from the so called 'establishment', many with the ability to decode the incomprehensible echoes in the power corridors said. Khan reportedly was surprised at the Pakistan Peoples' Party government's offer to him to continue in his office.

Later during the Gulf War he advised prime minister Nawaz Sharif to support Saudi Arabia despite "uninformed criticism and emotional clamour" at home. "Foreign policy is the test of a nation's character. Rhetoric and emotions can blur vision and lead to grave miscalculations," he is reported to have observed. "False confidence warped the vision of Iraqi leadership and blinded it to the perils it faced." In retrospect, Khan's advice proved not only a diplomatic bingo, it saved Pakistan from falling for a popular but failed cause.

His diplomatic skills and by extension his political ideals  (that he espoused during his stint in erstwhile East Pakistan) were put to test for last time by General Musharaf when he deposed the elected government of Nawaz Sharif in 1999. Musharaf needed the support of the powerful western countries and he knew none but the veteran Sahabzada can do this job.

Upon his request, Sahabzada did a whirlwind tour as his envoy to the western world to convince them that the coup was inevitable and that it was a temporary one. When probed by an American journalist as to why he was supporting a non-democratic move, he parroted the much touted refrain -mouthed by Musharraf himself many a time -that democracy comes naturally to the western world and that the Pakistanis will get there but in time. The raconteur extraordinaire further related an anecdote that when someone in France yelled "Death to all fools." General De Gaulle said, "this is a vast project." implying that the hope to eliminate corruption, the main charge trumpeted up against the dismissed government, thorough successive democratic experiences is a long haul and impracticable for a country like Pakistan hence justifying military interventions.

Khan was born on December 23, 1920 in the erstwhile princely state of Rampur in the United Province of India. Educated at royal Indian military college Dehra Dun, in 1940 he was commissioned in the British Indian army. During the World War II, he was taken prisoner in the famous siege of Tobruk for a year and a half in Italy. He escaped only to be recaptured by the German forces for another year and a half. He was rescued by the American troops in April, 1945. He learnt languages by interacting with his fellow prisoners and reading literature in those languages. He quoted from Nietzsche's "Thus Spake Zarathustra" and Goethe much to the surprise of his German captors.

Death of two poets in 2015 leaves void in Pashto literature

He returned a changed man. Upon his return he was selected as an adjutant to Lord Wavell and later commandant of bodyguard to the first Governor General of Pakistan.  Rapidly climbing the promotional ladder in the army, he served in important positions such as vice chief of general staff (1958) commandant Staff College (1960) and chief of general staff (1965).

After ambassadorship for a decade (1972-82), the next nine years saw him as foreign minister (FM) for half a dozen governments - both military and civilian. He returned to represent the sixth government as FM in 1996 - this time an interim one headed by Ghulam Mustafa Jatoi.

He spent two years as United Nations secretary general's special envoy for Western Sahara from 1992 to 1994. As an associate member of Academy of Kingdom of Morocco he succeeded the nobel laureate Dr Abdul's Salam in 1999.

The 95-year-old soldier-diplomat since his retirement had been leading a quieter, reflective life in the US with little interest to write his memoirs. Thankfully, "Strategy, Diplomacy, Humanity, Life and Work of Sahabzada Yaqub Khan" compiled by Dr Anwar Dil is a book that through the express blessing of Sahabzada sahib sheds light on important aspects of his professional and personal life. It is a collection of essays, lectures and speeches by Khan himself, impressions of him by his colleagues, friends and close relatives, and correspondence of world dignitaries addressed to him.

The Aga Khan University conferred on him an honorary Doctor of Letters degree in 2001 for his services as Aga Khan University board of trustees founding chairman for 17 years since its formation in 1984. "The degree has been awarded to only three individuals in 18 years history of the university, said university chancellor Prince Karim Aga Khan at the award ceremony. It has been a great joy and privilege to benefit from Sahabzada Yaqub-Khan's exceptional intellect, his skills of diplomacy and his wise council. No better way to sum-up the person named Sahabzada Yaqub-Khan.

Published in The Express Tribune, January 27th, 2016.