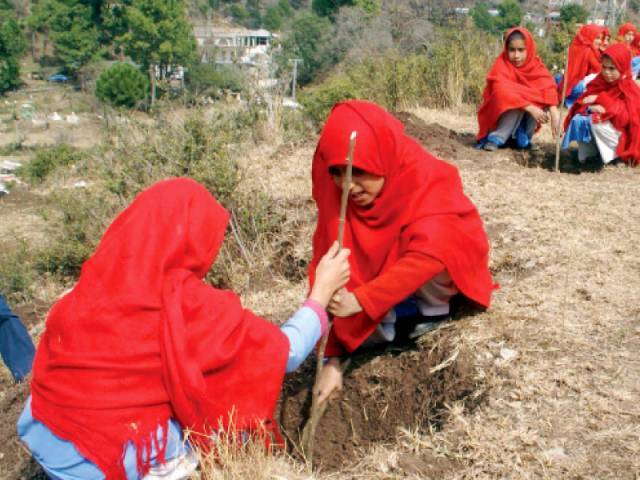 ---
HARIPUR: Robina Gul has swapped her needle for a trowel. Until recently, the villager from northern Pakistan got by making clothes for family weddings and religious festivals, but now she is encouraging other women to set up tree nurseries like hers that can earn them a handsome monthly income.

Gul is growing some 25,000 saplings of 13 different species crammed into the small courtyard of her two-room house in Najaf Pur, a village of around 8,000 people in the Haripur district.

"It gives me immense pleasure to look after the saplings as this has changed my whole life," said Gul, 35. "It has become a hobby for me and a source of income too." She set up the nursery at her home in March last year under an agreement with the provincial forest department.

The government provides around a quarter of the start-up cost for poor households to set up a tree nursery, with a subsidy amounting to Rs150,000 each over a year.

They first get black polythene bags from the forest department to fill with mud and manure, followed by seeds and training on how to sow them and tend to the trees. "I am now getting over Rs12,000 per month (from the subsidy), just by looking after the saplings in my home," Gul said. "I have also acquired the skills I need to grow different seedlings, and this will help me earn enough even after the project is wound up."

The provincial government is planning to spend Rs21 billion from its budget through to May 2018, when its term ends, on a project called the Billion Tree Tsunami launched in February 2014 by Pakistan Tehreek-e-Insaf Chairman Imran Khan.

Involving women

Zobia Gul, a community development officer in the forest department, mobilises women and educated girls in remote areas to play an active part in society by setting up nurseries. "Most of the families in the rural part of the province are conservative," she said. "Here comes the role of the female forest officials in reaching women in their homes and informing them about the project."

Published in The Express Tribune, January 26th,  2016.