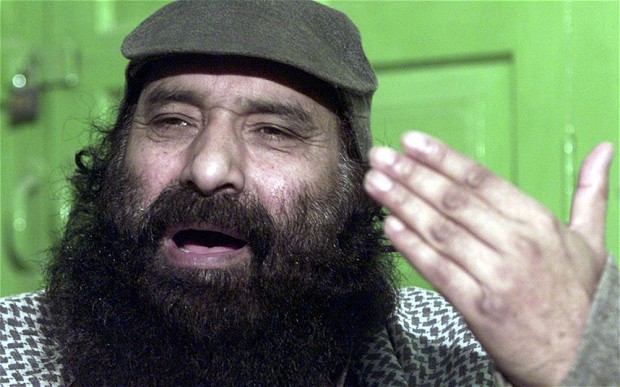 ---
MUZAFFARABAD: The chief of alliance fighting for an end to Indian rule in divided Kashmir openly condemned on Wednesday a crackdown by the government against another group India blames for an attack on an air base.

Syed Salahuddin, the chairman of the United Jihad Council (UJC), an alliance of groups based in the Pakistani-administered Kashmir, had claimed responsibility for the assault in Pathankot on January 2.

The claim of responsibility was met with a sceptical response among India's security establishment, which blames another group called Jaish-e-Mohammed.

Jaish-e-Mohammad seminaries shut down across Punjab

Last week, security forces arrested the head of Jaish-e-Mohammed as well as several other leaders of the group and shut down offices and seminaries linked to the outfit.

"We are at a loss to understand whether they (the government) are concerned about the interests of the country that feeds them or that of its enemy?," Salahuddin told a news conference, referring to the government's crackdown.

"Pakistan is not only an advocate but also a party to the longstanding Kashmir dispute and therefore the Pakistani people, government and media should play the role of a patron rather than of an adversary," he said, while speaking at the Press Club in Muzzafarabad.

Pathankot attack: India says patience running thin over 'Pakistan inaction'

Following the January 2 attack on the Indian air base, the United Jihad Council had warned that their attacks "can engulf all of India" if the issue of Kashmir's divided rule is not resolved.

Since the attack in Pathankot, the government has said it is clamping down on Jaish-e-Mohammed, which India has long accused Pakistan of tolerating, while it investigates Indian assertions that the attack was the work of the militants based in Pakistan.

India has demanded that Pakistan take action against the group and last week announced that the two countries would reschedule talks between their foreign ministers while the investigation into the air base attack was carried out.
COMMENTS (39)
Comments are moderated and generally will be posted if they are on-topic and not abusive.
For more information, please see our Comments FAQ