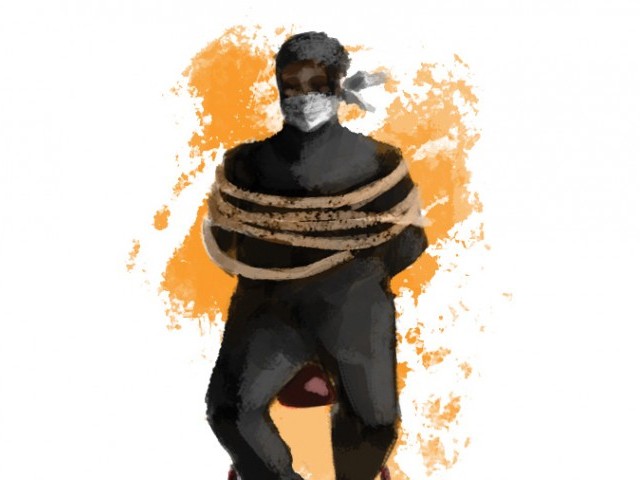 ---
RAWALPINDI:



Heinous crime, especially cases of kidnapping for ransom and murder, increased alarmingly in Rawalpindi during last year, police report says.




The regional police chief has also admitted the failure of the law enforcement. As many as 21 cases of kidnapping for ransom were sent to the courts for trial in 2015. In most cases criminal gangs are involved. However in some cases close relatives, neighbours, or servants were found to be involved, says an official requesting not to be named.

SHO, police officials kidnap three men for ransom in Karachi




According to police, 21 cases were filed with two anti-terrorism courts. The cases of kidnapping for ransom are prosecuted under anti-terrorism law. There are two anti-terrorism courts (ATCs) covering four districts — Rawalpindi, Attock, Chakwal, and Jhelum.

Under the law, two penalties can be given to the kidnappers – death sentence or life term imprisonment.

Talking to The Express Tribune, Basharatullah Khan, a senior lawyer dealing with terrorism cases, said kidnapping for ransom was a heinous crime and the high number of such cases was a cause for concern.

Responding to a question, Khan said such cases were tried in ATCs, with the purpose of having speedy trials.

Sharing his experience, Khan said there were certain groups involved in kidnapping for ransom. In some cases, the suspects were either found in jails or out of the country at the time the crime was committed.

Conspiracy exposed: Kidnapping, ransom and blackmailing

He further said that in some cases, the complainants are compelled to compromise with the kidnappers, if the kidnapped persons are released safely.

He said that kidnapping for ransom was not a compoundable offence, and that the trial court could not set free the accused on the basis of a compromise. He added that in cases where witnesses decline to record statements against the accused, the court is left with no choice but to acquit the accused.

Commenting on the rising number of such cases, City Police Officer (CPO) Israr Abbasi said that the lust for quick buck has been a major driving factor behind the crime. He said in most cases, criminal groups were found involved in kidnappings. However, in some cases, close relatives, neighbours, or servants were found to be involved.

About use of modern technology in tracing the kidnappers, Abbasi said that if the kidnappers or the victim were in Pakistan, the police could locate their hideouts. But if the kidnappers flee to Afghanistan, FATA, or restive areas of Balochistan, it becomes harder for police to locate or arrest the kidnappers.

Street crime

Regional Police Officer (RPO) Wisal Fakhar Sultan Raja has expressed concern over a rise in street crimes, murders, and robberies in the region.

Kidnapping for ransom: Organised crime reaches capital

In a letter addressed to the CPO and other officers, Raja warned them of disciplinary action if they failed to take action against outlaws.




A copy of the letter available with The Express Tribune sent to all police superintendents, deputy superintendents, and station house officers on January 16, the letter, reads: "A sharp increase has been noticed in street crime and robberies at gunpoint because of which citizens are feeling insecure. This is earning a bad name for the police".

He asked the officers to evolve a comprehensive strategy to bust carjacker gangs by deploying honest, intelligent and brave officials at public places. He suggested that the undercover policemen may better judge the suspects and their movements before making the arrests.

Raja said criminals involved in street crimes and purse snatching usually include two to three men pillion riding on a single motorcycle. The RPO suggested placing special pickets and conduct random checks to arrest such gangs.

Street crime in the twin cities

He also mentioned that policemen in civil dresses should be deputed at the airport to curb gangs involved in looting passengers in the guise of law enforcement officials.

Published in The Express Tribune, January 18th, 2016.
COMMENTS
Comments are moderated and generally will be posted if they are on-topic and not abusive.
For more information, please see our Comments FAQ