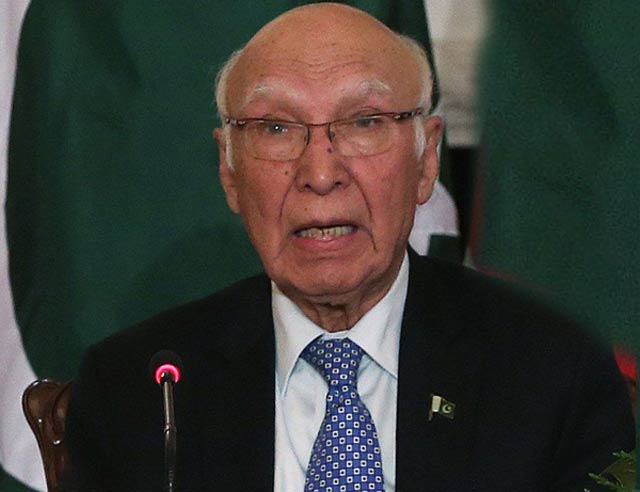 ---
ISLAMABAD: The prime minister's top foreign policy aide on Friday rejected US President Barrack Obama's statement that Pakistan will remain in turmoil for decades.

"Whatever the US president said about instability in Pakistan and Afghanistan are his predictions and have nothing to do with ground realities," the Prime Minister's Adviser on Foreign Affairs Sartaj Aziz told reporters after addressing a seminar on the China-Pakistan Economic Corridor (CPEC).

He further said Obama did not single out Pakistan but mentioned several regions within which Pakistan and Afghanistan were also included.

Aziz conceded that Pakistan is in a region that has been facing instability for years, but he insisted that Pakistan is fully capable to overcome the current security challenges.

"We are determined to defeat terrorism and bring stability," he said.

In his last State of the Union Address, President Obama warned that even without terrorist groups such as Islamic State (IS) or Da'ish, instability will continue for decades in many parts of the world including in the Middle East, Afghanistan, Pakistan and parts of Central Africa and Asia.

"Some of these places may become safe havens for new terrorist networks; others will fall victim to ethnic conflict, or famine, feeding the next wave of refugees," Obama had said.

CPEC: visionary concept

Meanwhile, the PM's adviser termed the Chinese President Xi Jinping's concept of 'One Belt One Road' a visionary idea.

"I believe that important features of the two Silk Roads – proposed by Chinese leadership – are openness and beneficial cooperation. Thus 'One Belt and One Road' initiative enables all countries and regions to share the bounties of economic development, based on win-win cooperation," he said.

He said by linking China with Arabian Sea and the Persian Gulf, the CPEC will optimise trade potential and enhance energy security of China, Pakistan and the wider region.

Published in The Express Tribune, January 16th, 2016.