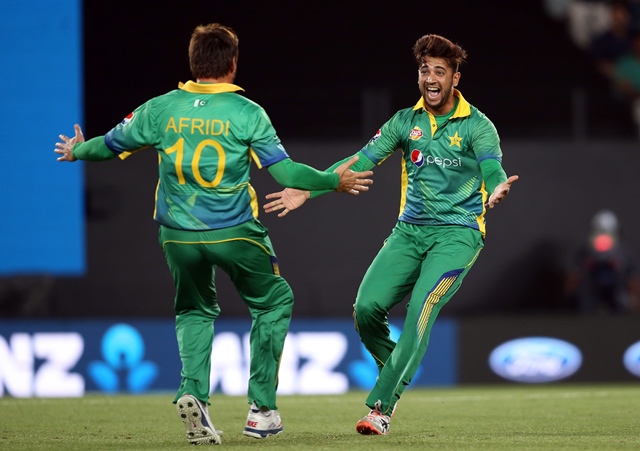 ---
Pakistan beat New Zealand by 16 runs in the first of the three-match T20 series courtesy captain Shahid Afridi's all-round performance.

Pakistan were sent in to bat first by the Kiwis as Muhammad Hafeez's 61 off 47 inspired them to a total of 171-8.

New Zealand, despite having a pacy attack, were helped by a spinner Mitchell Santner. He bowled four overs for 14 runs and bagged two scalps.

In their reply, New Zealand were comfortably set to win the match as Colin Munro hit 56 off 27 balls. Kane Williamson supported him and held one side of the wicket till the very end with 70 off 60 balls but he was not able to guide the team past the winning line.

After being 89-1 in 9.5 overs, the Kiwis ended the match with 155 runs on the board with all batsman back in the pavilion.

Man-of-the-match Pakistan captain Shahid Afridi: I think it was a great start in batting. Hafeez played an awesome inning. We arrived two days ago. Boys were not used to of the pitch and conditions. After some overs they went after the bowlers once they understood the pitch. I was very confident that we could defend 170 with this line of bowlers. I must credit fast bowlers. Amir and Gul did a great job on their comeback. NZ are playing great cricket. We are capable of winning against any team in the world. We are playing game by game. New game, new plan. Each and every game is important for the team.

Kane Williamson: Pakistan played well. We bowled well in the previous match. We started well in batting but lost momentum in the middle. We wanted to take pace off the ball. We would have liked to bowl more spinners. From our perspectives these are small steps towards improvement. It is tough to regain momentum with a quality bowling attack like Pakistan on the other side.


Excellent team effort wonderful win for team Pakistan.👏👏👏conrats @SAfridiOfficial for MOM gr8 knock by @MHafeez22 👏👏👏

— Azhar Ali (@AzharAli_) January 15, 2016
Wow... Pakistan hit the ground running #NZvPAK Well done Bhais!!!!

— Russel Arnold (@RusselArnold69) January 15, 2016
Well done Pakistan. Great team effort & led well by @SAfridiOfficial

— Azhar Mahmood (@AzharMahmood11) January 15, 2016
Congratulations to team Pakistan on a tremendous win #PakvsNZ #BleedGreen

— Kamran Akmal (@KamiAkmal23) January 15, 2016


Teams

Pakistan: A Shehzad, M Hafeez, S Maqsood, S Malik, U Akmal, *S Afridi, +S Ahmed, I Wasim, Wahab Riaz, U Gul, M Amir

New Zealand: M Guptill, *K Williamson, C Munro, C Anderson, G Elliott, +L Ronchi, M Santner, T Astle, A Milne, M Henry, T Boult




NZ 155 all out (20 overs)

OUT! Boult caught at mid-off.

OUT! Kane Williamson caught by Hafeez at deep square leg.

Wahab Riaz to bowl the last over.




NZ 152-8 (19 overs)

OUT! Matt Henry caught at covers by Afridi. Amir gets his first taste of a wicket after making a comeback for Pakistan.

FOUR! Matt Henry finds the midwicket boundary.

Muhammad Amir in for the penultimate over.




NZ 142-7 (18 overs)

FOUR! Yorker and edge runs down to the fine leg boundary.




BOWLED! Vintage Umar Gul for you. Yorker and Astle is walking!

FOUR! Over covers, Williamson earns a boundary.

Umar Gul to bowl now. 39 off 18 needed.




NZ 133-6 (17 overs)

FOURx2! Williamson punishes Amir.




DROPPED! Sohaib Maqsood this time. Drops a catch that he didn't even have to move for. It went right into his hands and right out of it! Astle the lucky man.


WELCOME BACK AMIR! TWICE!

— Ahmer Naqvi (@karachikhatmal) January 15, 2016


Muhammad Amir is back for his third over.




NZ 122-6 (16 overs)

FOUR! Wide and full on off, cut past point and backward square leg. FIFTY up for Kane Williamson.

SIX! Paddled over fine leg by Williamson.




Wahab Riaz is back.




NZ 109-6 (15 overs)

OUT! Afridi makes up for his first dropped catch. I guess Pakistanis don't like it coming easy. He runs backwards and takes the catch with a jump, falls on his face but doesn't let go off the ball.




Umar Gul is back for the last five overs. Pakistan were 104-3 at this point.




NZ 107-5 (14 overs)

OUT! Luke Ronchi is caught in covers by Ahmad Shahzad.




BOWLED! Grant Elliot pulls it onto his wickets. Lala strikes! Amir must be grinning right now!




Shahid Afridi in for his last over.




NZ 107-3 (13 overs)

FOUR! Williamson earns a lucky boundary. Comes down the wicket and edges it past the keeper towards third man boundary.

Imad Waism in for his last over.




NZ 98-3 (12 overs)

FOUR! He shuffles and moves out of the crease. The extra cover region is completely empty.

Shahid Afridi is back for his third over. Can he make up for the dropped catch with a wicket here?




NZ 92-3 (11 overs)

Three runs and a wicket off the over. Imad's comeback after injury has been impressive.

CAUGHT AND BOWL! Imad Wasim bowls, Anderson hits it back, he say thank you and Anderson takes the long walk back.




Imad Wasim in for his third over.




NZ 89-2 (10 overs)

BOWLED! Munro edges it onto his wickets.

SIX! Short and over midwicket. Munro get to his FIFTY!

Wahab Riaz in for his second over.




NZ 80-1 (9 overs)

Six runs off the over.

Shahid Afridi again.




NZ 74-1 (8 overs)

SIX! And this Auckland for you. A top-edge flies over the fence. Munro nearing his fifty and that too very fast.




Wahab Riaz has the ball now. Can he turn the tables on New Zealand, especially Munro.




NZ 63-1 (7 overs)

SIX! Munro goes on one knee and Afridi is made to watch the ball clear the boundary.

Shahid Afridi brings himself on.




NZ 48-1 (6 overs)

SIX! This time he jumps guides the short delivery over the head of the keeper.




SIX! Munro goes straight this time.




FOUR! Hammered past the covers fielder. Munro again!

SIX! Slow from Gul and Munro powers it over midwicket. Its a 94m giant.

Umar Gul bowls his second. Afridi is shuffling his bowlers like he shuffled that easy catch.




NZ 25-1 (5 overs)

Five runs off the over. Pakistan not letting the grip go off the match.

Imad Wasim is back.




NZ 20-1 (4 overs)

DROPPED! Afridi drops Williamson off Amir. How can he do that? He just dropped the match. This event will be written in history as the most crucial moment. Three big names involved. Two captains and one returning bowler.

FOUR! Munro goes straight off Amir.




Muhammad Amir is back for his second over. Williamson and Munro to face.




NZ 13-1 (3 overs)

Umar Gul returning for Pakistan as well! This series is turning out to be a game changer in Pakistan cricket history.


NZ 9-1 (2 overs)

RUN OUT! Martin Guptill is out without even scoring a single run.




Imad Wasim gets the ball for the second over. Smart move from Afridi?




NZ 8-0 (1 over)

FOUR! Amir hovers on leg side and Williamson edges it towards the fine leg.




Martin Guptill and Kane Williamson open the batting for New Zealand.

Muhammad Amir is back! After five odd years, the left-arm youngster has adorned the green jersey for Pakistan.




PAK 171-8 (20 overs)

Wahab Riaz and Umar Gul to end the proceedings for Pakistan.

OUT! Slow and short, Imad Wasim caught at mid-off after scoring 18.

Single off the first ball.

Matt Henry.




PAK 167-7 (19 overs)

Single, dot, double, double, single and OUT! Sarfraz caught while trying to clear the straight boundary.




Adam Milne for the penultimate over.




PAK 161-6 (18 overs)

SIX! A tad short and Imad spins on one foot guiding the ball over the square leg boundary.




FOUR! Reverse shot by Imad. Beats the short fine-leg fielder.

OUT! Shahid Afridi caught by Williamson at mid-off. He scored 23 off just 8 balls. Finally Sarfraz Ahmed is in at number eight.




Trent Boult is in.




PAK 147-5 (17 overs)

OUT! Umar Akmal caught by Munro at covers. He departs after scoring 24 off 14 balls. The vice-captain Sarfraz Ahmed is held back and Imad Wasim has been sent in. Lets see how that turns out to be!




SIX! Umar Akmal goes maximum over long-on.




DROPPED! A great running effort by Kane Williamson by he couldn't keep it in.

Adam Milne.




PAK 134-4 (16 overs)

Two singles on last two balls. Umar Akmal to face the next over.

SIX! Wide on off, edges but Afridi still clears the third man boundary. This is massacre!




FOUR! Afridi on song here. Extra cover again.

FOUR! Full and slashed by Afridi towards extra cover. His mis-hit can clear the boundary in the Kiwi conditions.

SIX! Boom boom entry by Shahid Afridi. Just flicked and it travels the distance.




Matt Henry now. Starts with an over-head wide.




PAK 111-4 (15 overs)

OUT! Brilliantly caught by Trent Boult at backwards square leg. Hafeez walks back after a well-played 61 off 47 balls.

FOUR! Short and Hafeez hits it cleanly towards cow corner.




Adam Milne is back too.




PAK 104-3 (14 overs)

FOUR! Umar Akmal joins the party with a flick towards leg side.

FOUR! Hafeez chips it over extra cover.




Trent Boult is back in the attack.


PAK 94-3 (13 overs)

Astle finishes with two wickets from four over giving away just 14 runs.

FIFTY up for Muhammad Hafeez. Well crafted innings by The Professor.

Santner in for his last over.




PAK 90-3 (12 overs)

SIX! Slog sweep by Hafeez. Easily clears the boundary.




Astle in for his third.




PAK 80-3 (11 overs)

OUT! Malik launches one high. Astle gets his second. The frustration gets to Malik. Elliot catches it easily on the long-off boundary. Umar Akmal walks in.




Santner now.




PAK 77-2 (10 overs)

FOUR! Malik cuts it past point this time. Malik has finally deciphered the Astle code.




SIX! Malik comes out of the pitch and dispatches it over long on.




Todd Astle again.




PAK 63-2 (9 overs)

Five runs off the over. Boundaries have dried up for Pakistan since the introduction of spinners.

Santner in for his second over.




PAK 58-2 (8 overs)

Four runs off the over.

Debutante Todd Astle now.




PAK 54-2 (7 overs)

Two runs and a wicket off the over.

STUMPED! Maqsood walks out onto him on the very first ball and misses it. Piece of cake for the keeper.




Santner in with his left-arm spin.




PAK 52-1 (6 overs)

FOUR! Cut past point this time by Hafeez. He is on fire right now!




SIX! Straight as an arrow by Hafeez. As straight as you can go. Full marks for perfection.




FOUR! This time Hafeez punches it over covers.




FOUR! Hafeez goes through covers. Classic textbook shot.




Corey Anderson is brought into the attack.




PAK 34-1 (5 overs)

OUT! This time he is caught at mid-on. Elliot takes an easy catch. Shehzad departs.




SIX! Shehzad with a six over long-on. Clears his front foot yet again.




FOUR! Shehzad again clears his front foot and slashes a short delivery towards midwicket.




The pacy Adam Milne is brought into the attack by Williamson.




PAK 23-0 (4 overs)

FOUR! Hafeez dances down the pitch and goes for the unguarded extra-cover boundary.




FOUR! Hafeez with a cheeky shot. Cutter on off and he chips it over fine-leg. Uses the bounce effectively.




Trent Boult is back.




PAK 11-0 (3 overs)

FOUR! Shehzad clears the front foot and finds the midwicket boundary. Slammed over the in-field.




The run-out confusion still lingers with Hafeez on the crease.

Matt Henry starts his second with a wide!




PAK 6-0 (2 overs)

FOUR! Todd Astle chases the ball as its cut past covers. Ball beats him to the boundary.




Has Pakistan come out of its run-out conundrum? We will find out soon!

First runs on the board for Pakistan and that from a wide ball by Boult. Quick single by Shehzad on the third ball.

Trent Boult to fire some lightning bolts now.




PAK 0-0 (1 over)

Maiden over to start a T20. Hafeez getting his eye in. This is Auckland for you ladies and gentlemen.

Muhammad Hafeez and Ahmed Shehzad are opening the batting for Pakistan. Matt Henry has been given the ball to open the bowling for New Zealand.

Amir is back. But he will be in action in the second innings when Pakistan bowl to defend the target they set for New Zealand. Meanwhile, lets see what the batsmen have in store for us.




TOSS: New Zealand won the toss and elected to bowl first.




So the wait is over, and Muhammad Amir is back in the green jersey, after more than five years.

Surely his fans can't wait to see him going hard at the batsman.


New Zealand Squad

KS Williamson (captain), CJ Anderson, TD Astle, TA Boult, GD Elliott, MJ Guptill, MJ Henry, TWM Latham, MJ McClenaghan, AF Milne, C Munro, L Ronchi†, MJ Santner, LRPL Taylor

Pakistan Squad

Shahid Afridi (captain), Aamer Yamin, Ahmed Shehzad, Anwar Ali, Iftikhar Ahmed, Imad Wasim, Mohammad Amir, Mohammad Hafeez, Mohammad Rizwan, Saad Nasim, Sarfraz Ahmed†, Shoaib Malik, Sohaib Maqsood, Umar Akmal, Umar Gul, Wahab Riaz