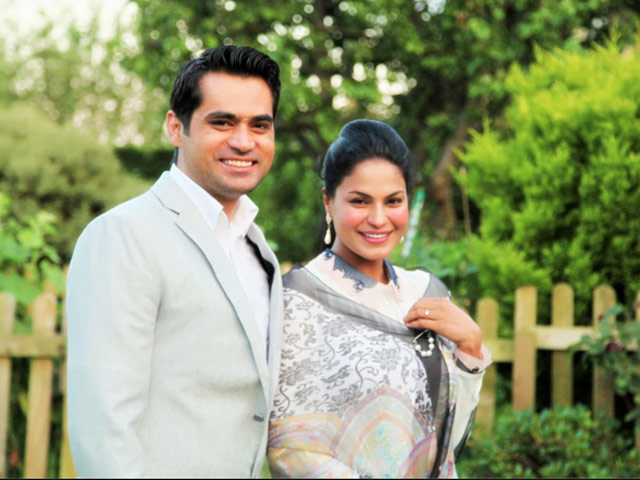 ---
LAHORE: Infamous Lollywood actor Veena Malik arrived has finally returned to Pakistan, touching down in Lahore on Monday with her husband and two kids.

According to a source, Veena plans to participate in human rights campaigns and other goodwill social activities. The actor has planned a visit to Peshawar's Army Public School (APS), and also plans on producing a song for APS victims.




Veena Malik plans her comeback

The controversial actor also expressed a desire to resume her acting career, but ruled out appearing on the big screen.

Veena left the country last year after being issued a jail term for 'malicious acts' of blasphemy. The actor, who has been living with her husband and children in the UAE, disclosed several failed attempts to return to Pakistan due to 'death threats'.

Upon her arrival, Veena said she would consider taking up drama offers she had previously declined, while also looking into unfinished projects.

According to a source close to Veena, the actor will also hold meetings with religious scholars to "learn more" about Islam in a bid to earn a better reputation and fix her tainted image.

[fbpost link="https://www.facebook.com/asadbashirr/photos/a.407038325975653.101692.124831017529720/1006048139407999/"]

Veena Malik meets Malala in Dubai

That's not it. The actor also plans to launch her own film and drama production company with the help of her husband.

This is not the first time Veena is returning to the country. The star made a comeback in 2014 after she entered into a controversy in 2011 over semi-nude photos with an ISI tattoo on her arm.

After causing a stir -- and facing immense criticism -- she returned in 2014 with a commitment to restart her film activities. However, her return would be cut short after a programme with anchor Shaista Lodhi led to blasphemy charges against the actor.

"Some things in connection with Veena's visit are secret. But she will start her showbiz career with dedication and she is also hosting a TV programme. She is among the top actresses of Lollywood and has some good opportunities related to film projects and hopefully she will start her own film company," said Sohail Rashid, Veena's public relation officer.

[fbpost link="https://www.facebook.com/asadbashirr/photos/a.157011810978307.36583.124831017529720/1120749137937898/?type=3&permPage=1"]

It's a girl! Veena Malik gives birth to second child

"Veena was busy with her family life and that's the reason she took a break but now she thinks that it is the right time to return to the country," he added.

In regards to Adnan Sami's Indian citizenship, Veena expressed her undying patriotism and love for Pakistan. "Mera jeena marna Pakistan ke saath hai which is why, I have returned to Pakistan despite living abroad for 3 years," said the actor.
COMMENTS (6)
Comments are moderated and generally will be posted if they are on-topic and not abusive.
For more information, please see our Comments FAQ