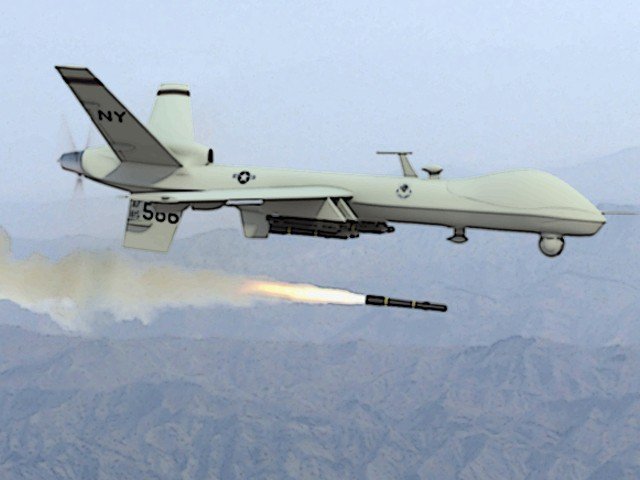 ---
PESHAWAR: A son of former deputy chief of banned militant outfit Tehreek-e-Taliban Pakistan (TTP), Maulvi Faqir Mohammad, is said to have been killed on Sunday in the latest US drone strike near the Afghanistan border.

Maulvi Faqir Mohammad's son was among 10 militants who were killed in the drone strike at the Shegal area of Kunar border province of Afghanistan, sources revealed to The Express Tribune.

Former TTP leader Shahidullah Shahid killed in US drone strike

The sources further stated that Maulvi Faqir Mohammad remained the deputy chief of the banned militant outfit under the leadership of former TTP chiefs, Baitullah Mehsud and Hakimullah Mehsud.

However, soon after the killing of Baitullah in a US drone attack in 2009, he along with his other relatives, had sought shelter near the border region.

Although the identities of the remaining bodies could not be ascertained, locals of the Shegal area believe they were of Afghan militants who had pledged allegiance to the Islamic State (IS) extremist group.

US conducts drone strike in eastern Afghanistan

Although there are signs that the popularity of IS is growing in Afghanistan, including a radio station that broadcasts IS propaganda every morning, the Taliban remain a far more potent force.

Meanwhile, at least eight militants associated with the IS have reportedly died in another US drone strike in the Afghan province of Nangarhar on Sunday. Sources said around four US drone strikes have been reported within the period of just two days.

Unmanned war: 29 killed as US steps up drone strikes

On Saturday morning, at least 29 suspected militants had been killed in a series of US drone strikes in the border areas of Pakistan and Afghanistan. A remotely-piloted US aircraft targeted a compound of militants in Mangrooti village of Shawal Valley on the border with Afghanistan, administration officials said.
COMMENTS (1)
Comments are moderated and generally will be posted if they are on-topic and not abusive.
For more information, please see our Comments FAQ