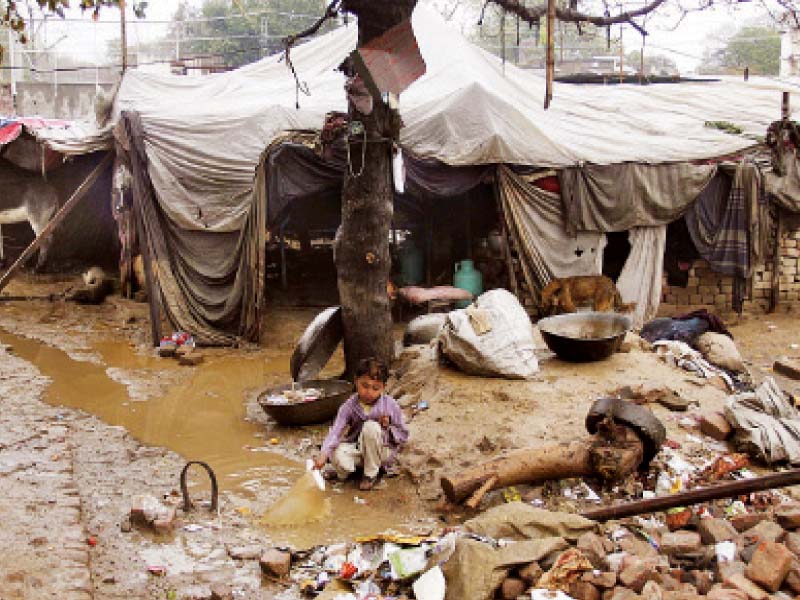 ---
KARACHI:



Urban developers attribute the growing menace of katchi abadis (slums) to the failure of the planners to take into account all aspects of living in the city.




The new DHA City is being constructed with no space planned for drivers, house maids and other domestic staff of its residents, pointed out Urban Resource Centre's joint director Zahid Farooq, who has been involved with the issue of katchi abadis in Karachi since 1992. This will lead to the development of new katchi abadis there, he added.

'Maid' is not a synonym for 'Slave', Pakistan!

Farooq was speaking at the office of the Association of Builders and Developers (Abad) on Friday where representatives of different organisations in the housing sector from around the country gathered to discuss the fate of millions of individuals who reside in katchi abadis in Pakistan.

What happened in Islamabad a few months back regarding the relocation of the katchi abadis was due to the city planner who accommodated the politicians, bureaucrats and other affluent people but forgot to house their maids, said Farooq. The same, according to him, has been happening in Karachi.

From a security point of view citizens wanted to live with people of their own ethnicities, castes and creeds, due to which Karachi has been divided into different portions, Farooq explained. "Mega cities don't run like this," he pointed out, adding that it was still ambiguous who has the authority to deal with the issue of katchi abadis.

I-11 katchi abadi: SC orders govt to stop demolishing houses

Fifty-five per cent of Karachi's population is residing on an asset worth billions of rupees but is of no use to its residents, according to housing expert Zaigham Mahmood Rizvi.

Former Abad chairperson Mohsin Sheikhani said that the issue of katchi abadis has been lingering due to bad governance. The ministry of katchi abadis, he said, must not promote them but instead try to rehabilitate them.

The Supreme Court has ordered all provinces and the Capital Development Authority give their input as to how the problems of katchi abadis and rehabilitation of inhabitants of these settlements can be addressed. It questioned why Articles 9, 14, 25 and 38 of the Constitution have not been enforced in the last 42 years to ensure peoples basic rights.

The managing director of the House Building Finance Corporation (HBFC), Pervez Said, to a question on whether the HBFC could provide interest-free loans for the low-cost house housing schemes, replied that without any subsidy it was not possible to finance the katchi abadi sector.

Resettlement first: Slum dwellers protest drive against kachi abadis

Sindh's katchi abadi coordination director Imdad Lashari said that it has to be assured that utility companies do not install meters in new katchi abadis, thereby recognising them as established housing areas. He said that a committee needed to be formed, with the help of which 1,000 houses should be built by Abad and in rural areas a low-cost housing scheme also needs to be introduced. "We have to have a political will to do so," he said.

Abad chairperson Hanif Gohar said that they have already worked out a proposal for the low-cost housing scheme that has been sent to Prime Minister Nawaz Sharif. The katchi abadi ministry, according to him should provide the land for the project. He also requested a comprehensive survey of all existing katchi abadis in the province by the National Database and Registration Authority.

Published in The Express Tribune, January 9th, 2016.