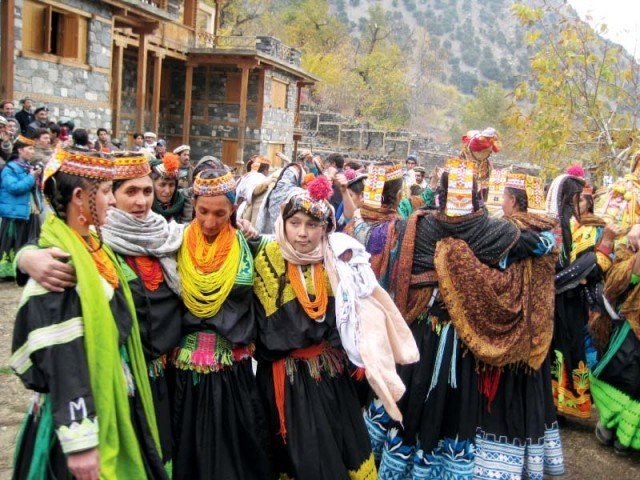 ---
CHITRAL: Braving freezing temperatures, the Kalash tribe gathered in Bumburet Valley for the death celebration of their revered spiritual leader Mirza Mas who passed away on Sunday. He was one of the most renowned religious figures among the tribespeople.

Tribespeople from around the area gathered to pay tribute and bid their farewells to the highly regarded individual. The elders spoke of his contributions to the Kalash tribe.  Locals slaughtered 60 sheep and two bulls to feed their guests. A popular dish called Jush was one of the main items on the menu.

Religious zeal: Residents of Kalash valleys celebrate Chomos

A Bumburet resident said Mirza Mas's body had been placed in Jastakan in Anesar.

Men and women danced around the dead body as per local tradition. In the culture of the tribespeople, there are three days of dances following the death of a man and shots are fired in his honour. The body is adorned with a necklace of cash, and weapons, as well as other necessities, are placed beside it.

'Earthquake was Allah's wrath for Kalash community's immoral ways'

Mirza Mas will be buried on Tuesday (today) amidst heavy firing and the music of drums. Kalash funerals call for heavy spending on the passing of any tribesman. This proves difficult for poorer families which have to take loans or sell property for the rituals. That is one of the main reasons many people have been stripped of properties and walnut trees.

Published in The Express Tribune, January 5th, 2016.
COMMENTS (1)
Comments are moderated and generally will be posted if they are on-topic and not abusive.
For more information, please see our Comments FAQ