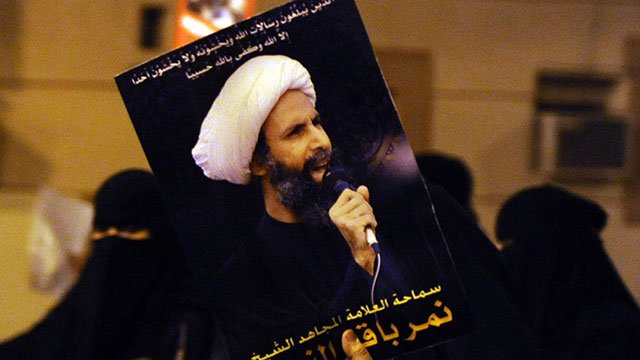 ---
RIYADH: Saudi Arabia executed 47 people on Saturday for terrorism, mostly suspected al Qaeda members but also a prominent Shia cleric, Nimr al-Nimr, Interior Ministry said in a statement broadcast on state television.

The conservative Islamic kingdom, which usually executes people by public beheading, detained thousands of militants after a series of al Qaeda attacks from 2003-06 that killed hundreds, and has convicted hundreds of them.

Hundreds rally in Saudi for death row Shias: witness

However, it also detained hundreds of members of its Shia minority after protests from 2011-13, during which several policemen were killed in shooting and petrol bomb attacks.

Several of he Shias have been sentenced to death.

Iran summons Saudi diplomat

Iran summoned Saudi Arabia's charge d'affaires in Tehran on Saturday to protest the execution of Nimr al-Nimr, a prominent Shia cleric in the kingdom, Iranian state television said.

Nimr was executed alongside three other Shias and dozens of alleged al Qaeda members, sparking anger among Saudi Arabia's minority Shias.

Iranian cleric predicts fall of Saudi government over Nimr execution

Saudi Arabia's main regional rival, Shia Iran, has warned that executing Nimr "would cost Saudi Arabia dearly".

"I have no doubt that this pure blood will stain the collar of the House of Saud and wipe them from the pages of history," Ayatollah Ahmad Khatami, a member of the Assembly of Experts and a Friday prayer leader, was quoted as saying by the Mehr news agency.

"The crime of executing Sheikh Nimr is part of a criminal pattern by this treacherous family ... the Islamic world is expected to cry out and denounce this infamous regime as much as it can," he added.

Saudi Arabia preparing to behead and crucify 21-year-old Shia activist

Saudi Grand Mufti Sheikh Abdulaziz Al al-Sheikh appeared on television soon after to describe the executions as just. The executions are Saudi Arabia's first in 2016. At least 157 people were put to death last year, a big increase from the 90 people killed in 2014.
COMMENTS (28)
Comments are moderated and generally will be posted if they are on-topic and not abusive.
For more information, please see our Comments FAQ