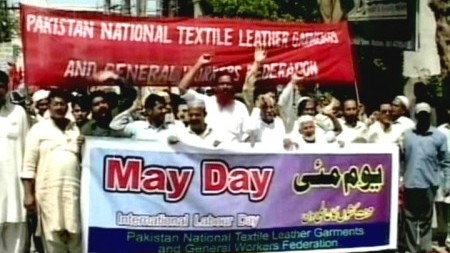 ---
ISLAMABAD: Addressing a labour day convention in Islamabad, Prime Minister Yousaf Raza Gilani announced the new labour law 2010, and said that the Universal Registration System will help workers reap maximum benefits.

Gilani said the minimum wage will be raised from Rs 6,000 to Rs 7,000. The new labour policy will be implemented from June 1.

He said all industrial and agricultural companies will pay their employees via cheques or directly through bank accounts. Additionally, an old age retirement fund would be introduced for labourers over 50 years of age.

The prime minister said a Labour Information System will be formed, as committees would be set up at all levels to implement the new labour laws.

He congratulated all labourers, and said the labour policy 2010 was the fulfillment of Benazir Bhutto's vision.

Meanwhile, rallies were taken out, seminars arranged and speeches given to observe Labour Day in different cities of Pakistan.

In Lahore, Jamaat-e-Islami, Khaksar Tehreek, Labour party,  and several labour unions took out rallies at Mall Road to express solidarity with the labour class.

Pakistan Wapda Hydro Electric Labour union took out a major rally in Hyderabad. The rally was taken out from Labour Hall and ended at press club Hyderabad.

Several labour unions took out over fifty rallies in Faisalabad. The major demonstration in the city was arranged by the Pakistan Workers Federation at the Zila Council Chowk.

Labourers demanded the government to implement labour laws and ensure registration of all workers with the Social Security Department.