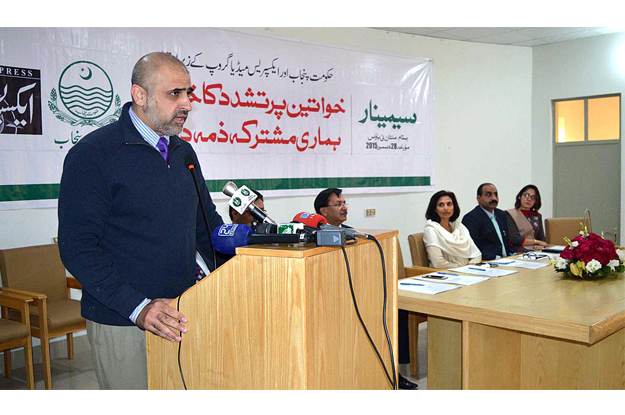 ---
MULTAN: "If you cannot afford to treat women in your family with dignity, leave them to the provincial government…we have crisis centres and sufficient facilities to rehabilitate them and accord them the respect which is their due," MPA Sultana Shaheen of Pakistan Muslim League-Nawaz said on Monday. "The Punjab government will be a mother to them."

Shaheen was one of the speakers at a seminar on Curbing Violence against Women a Collective Responsibility. The event was organised by several civil society organisations, the district administration and the provincial government at the Multan Tea House. Express Media Group was a media partner and sponsor for the event. More than 600 lawyers; NGO representatives; members of the district police and administration; and journalists attended the seminar.




RPO Tariq Masood Yaseen, another speaker, teared up recalling fond memories of his mother. "There is no substitute for the relationship of love, honour and respect we have for our sisters, mothers, daughters and other women relations…the status they hold in the society is the highest."  He said the Punjab Police had been directed to mark any cases of violence against women as top priority. The crisis centre would be headed by a woman superintendent, he said,

The government has a zero-tolerance policy on violence against women, Special Monitoring Unit Member Bilal Sufi said. More legislation for the protection of women is in the works, he said. Special courts will be constituted in this regard. They will pass verdicts on cases pertaining to violence against women in 90 days, he said.

DCO Zahid Saleem Gondal said the complaint and crisis centres will be the focal point of contact for victims. He said the centre in Multan was being constructed at a cost of Rs130 million. "I will not head or sit as a chief guest in any programme for the rights of women till the crisis centre is complete…till then, I will only be a participant in the audience."

He said, "Whenever I see women who have been victims of barbaric social practices, I feel like a criminal." This menace will be uprooted from the society soon, Gondal said.

MPA Fauzia Viqar, chairperson of the Punjab Commission on the Status of Women, said the centre could be considered the equivalent of Rescue-1122 for female victims of violence. "They will be provided immediate response and attention." She said special ambulances and transport for victims will be arranged.

She said the policy address issues pertaining to the inheritance law. Wages of domestic employees will be made equal to that of industrial employees, separate women's desks will be set up at police stations and 15 per cent quota for women in government jobs would be ensured. She said the Punjab government had set up a Rozgar Bank which would provide loans to 170,000 women. She said almost 10,000 women had been imparted skills through the government's skill training programme. Women in rural areas had been given goat and calves for free as a means to earn livelihood.

Viqar said allocation of prayer rooms and washrooms for women had been made compulsory in all government buildings. She said women could lodge complaints on the helpline 0800-93372.

PCSW Member Zia Ur Rehman said the existing laws for women's rights were the result of 20 years' struggle by the civil society.

Published in The Express Tribune, December 29th, 2015.