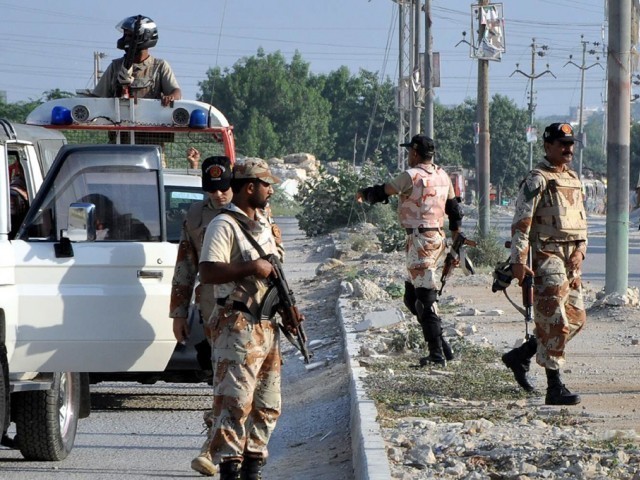 ---
ISLAMABAD:



The federal government has directed the law enforcement agencies (LEAs) operating across the country, especially in Karachi, to take stricter action against the self-styled Islamic State's splinter groups.




The order came after the Centre decided that it cannot allow religiously-inspired violence to spread throughout the country at a time when the administration is trying to defuse a politically volatile situation in the port city.

CTD to target 'women's wing' of Islamic State-inspired group in Karachi

Following Prime Minister Nawaz Sharif's directives to the Ministry of Interior, the LEAs have been told to expedite their efforts against the IS – also known by its Arabic acronym Da'ish – not only to weaken them but to eliminate them altogether, come what may.

Through a resolution the Sindh Assembly adopted with a majority vote on December 16, the provincial government had attempted to limit the Rangers' sphere of action to cases of targeted killing, extortion, kidnapping for ransom and sectarian murders. The force was also restrained from placing in preventive custody any person not directly involved in terrorism, for which they were required to seek written approval from the chief minister.

On Tuesday, however, the Centre frustrated Sindh's attempt to clip the policing powers of the Rangers, who have been engaged in a targeted operation in Karachi since September 2013, and granted a 60-day extension to the paramilitary force under the previous arrangement.

Would not allow even a shadow of Islamic State in Pakistan: army chief

Sources within the federal government claimed that the Sindh administration sees the Rangers as a threat, as the force might expedite their actions to bring to book the corrupt elements within the provincial government.

Federal government officials, however, said the Centre has directed the Sindh Rangers and other LEAs operating in Karachi to focus more on containing and marginalising the emergence of IS splinter groups in the city.

Meanwhile, they pointed out that the Rangers issue had put the Centre and the Pakistan Peoples Party-led Sindh government at loggerheads.

Won't allow proxies to operate on our soil

They said that if the IS were to re-emerge in the port city under these circumstances, then the situation would be difficult to tackle for the Centre.

Sources within the PM House said that the civil and military leadership of the country have discussed the Da'ish threat many times, and they believe that the Federally Administered Tribal Areas (Fata) and Karachi are the only two favourable safe havens in Pakistan for the terrorist group.

They said the Pakistan Army had successfully addressed the issue in Fata, but the port city needs more attention.

Published in The Express Tribune, December 25th, 2015.
COMMENTS (11)
Comments are moderated and generally will be posted if they are on-topic and not abusive.
For more information, please see our Comments FAQ