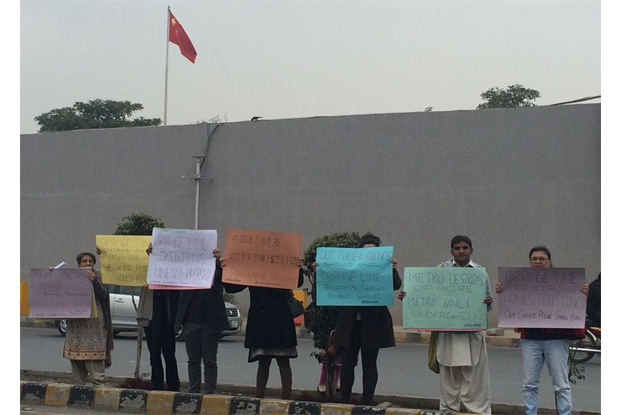 ---
LAHORE:



A few people gathered outside the Chinese consulate in Lahore on Wednesday to stage a protest demonstration against the Orange Line Metro Train project.




"We want to register our protest with the Chinese government," said Maryam Hussain, one of the protestors.

She said the Chinese government should know about the destruction that will take place as it's an implementing partner of the project.

Wielding placards in both Chinese and English, the protestors said they wanted to ensure that the Chinese government knew about what was being wreaked on heritage sites and homes under the aegis of the project's construction.

Raheemul Haque, another protestor, said it was important to realise that the project's construction would force a great number of businesses to close. He said over 300 people from Kapurthala House alone would be rendered homeless by the project. He said the area was replete with such examples.

The protestors said the project's construction would lead to a loss of culture as well.

In addition to this, they said that the government needed to make the project more transparent.

They said digging for foundations would damage heritage sites.

They proposed that the government should revert to the original plan and use tunnel technology in connection with the project.

This said this would reduce land acquisition and prevent damage to sites along the project's route. Under the current plan, the track would be elevated near Chauburji and Shalimar Gardens.

"We urge the Chinese government to take serious note of the project and demand that stringent measures are taken to ensure that these factors are kept in mind," Imrana Tiwana of the Lahore Conservation Society said.

She said Delhi was a good example of use of tunnel technology to evade sensitive areas in a city.

Published in The Express Tribune, December 25th, 2015.