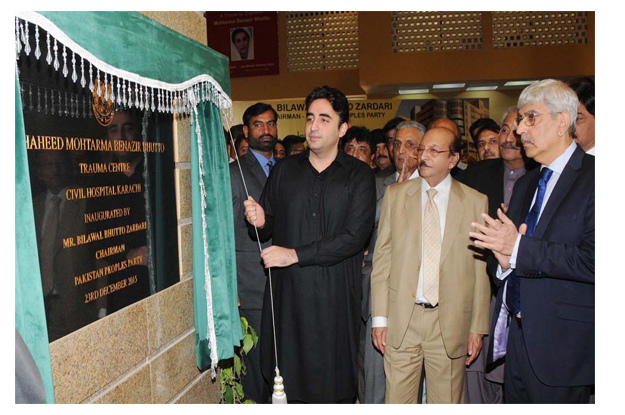 ---
KARACHI: A 10-month-old girl died on Wednesday when her family was unable to enter Civil hospital due to security measures in place for the arrival of Pakistan Peoples Party (PPP) chairperson Bilawal Bhutto Zardari and other leaders.

Bisma, a resident of Gabol Park in Lyari, was suffering from measles and had a high fever when her father, Faisal, brought her to the hospital. He arrived at the trauma centre entrance, which was manned by security officials for the arrival of Bilawal, Sindh Chief Minister Qaim Ali Shah and others.

Faisal said the security officers deployed on the road stopped him from using the gate even after he argued for some time. By the time he walked around the premises to arrive at the second entrance to the emergency ward, Bisma's condition had deteriorated.



The doctors told him that she was dead and that her life could have been saved had she been brought in on time. "The doctors believed that she could have survived if I had reached at least 15 minutes earlier," Faisal sobbed in front of television cameras as he held her lifeless body. VIP protocol took away her life, he said.

Karachi show: Rulers must learn from history, says Bilawal

According to Civil hospital management, the door that Faisal was trying to enter from was for the trauma centre. "All other doors were open," said the medical superintendent, Dr Saeed Ahmed Qureshi. The main emergency gate and the Baba-e-Urdu Road gate were open for public, he added.

Dr Qureshi clarified that the security officers deployed at the gates were not theirs. The hospital management does not close doors on patients at any time, he said.

Later, neighbours and family members reached Faisal's house in Lyari to offer condolences. The victim was laid to rest in the evening. When CM's adviser Nadia Gabol visited the family to apologise on behalf of her party's leadership, she was met with hostility. Angry residents shouted slogans of 'Go Nadia, Go' and 'Go PPP leadership, Go'.

Backlash against PPP

If the PPP leadership had planned to redeem themselves by inaugurating the trauma centre on Wednesday, their plans quickly went out the window as the party faced severe backlash from other politicians and the media.

I will not abandon ZAB's struggle, says Bilawal

What made matters worse was senior minister Nisar Khuhro claiming that Bilawal's security was more important to them. The security measures were taken given the threats to the PPP chairperson who has already lost his mother and senior leaders to terrorist attacks, he said. "The chief minister always has protocol but Bilawal's security is more important to us," he said.

Bilawal House also issued a statement clarifying that Bilawal's visit did not cause any traffic jams and that his visit merely lasted 20 minutes.

Bilawal did, however, order an impartial inquiry into the death and asked for the findings to be made public. His father and PPP co-chairperson, Asif Ali Zardari, also issued a statement asking the government to probe the matter. "The lives of people living in Sindh and other parts of Pakistan are precious," he said. "We are very saddened on the death of the baby girl."


Anguished over Bisma's death. Am personally inquiring into this heart breaking incident to ascertain what went wrong.

— BilawalBhuttoZardari (@BBhuttoZardari) December 23, 2015


The chief minister also ordered commissioner Shoaib Ahmed Siddiqui to start an impartial inquiry. Shah also met Bisma's father on Wednesday evening and a CM House spokesperson said he will announce compensation for the family.

On the other hand, the Muttahida Qaumi Movement announced that it will move a resolution in the Sindh Assembly. "We have always opposed the VIP culture in the name of security and will raise this issue in next session of the assembly," said opposition leader in Sindh Assembly, Khawaja Izharul Hasan.

Emergency services: Bilawal, CM inaugurate trauma centre

Pakistan Peoples Party chairperson Bilawal Bhutto Zardari and Sindh Chief Minister Syed Qaim Ali Shah inaugurated Shaheed Mohtaram Benazir Bhutto Trauma Centre at Civil hospital on Wednesday.

Only Bhuttos are saviours of Sindh, says Bilawal

The fully integrated, 500-bed facility considered level one trauma centre was under construction since 2009. "The centre will be functional by mid-February next year," said Civil hospital medical superintendent Dr Saeed Ahmed Qureshi, adding that the 16-storey centre needs human resources. There are three floors for parking and five floors will be used for clinical purposes. "We'll make it functional soon."

The trauma centre will be funded by grants allocated by the Sindh government and will provide free treatment similar to Civil hospital. "The concept of establishing trauma centres is new in Pakistan," said Dr Qureshi. "At least, we made it possible and we'll provide the best facility to our patients."

Sindh health minister Jam Mehtab Hussain Dahar told The Express Tribune facility will be capable of dealing with all kinds of emergencies, such as natural disasters and bomb blasts, he said, adding that special doctors will be available to deal with trauma patients.

Pakistan Tehreek-e-Insaf leaders Imran Ismail and Faisal Vawda also visited the victim's family in Lyari to offer condolences.