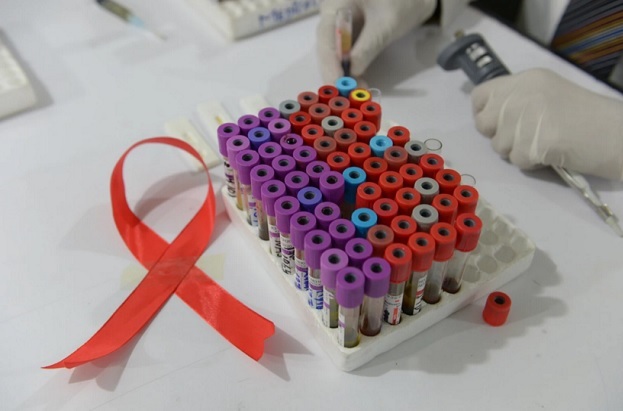 ---
PESHAWAR:



We aren't allowed to talk about it, doing it requires coming under the law and if we do it before the dotted line, chances are we will never ever admit in the heat of the moment, we might have caught something more than a thrill.






 But talk about it we must; or at least about the sexually transmitted diseases or STDs that catch you with your pants down. We must talk about it because according to what health experts and clerics have said, everyone needs to be educated about STDS, including children.




 We must talk about it, even though every health professional contacted by The Express Tribune refused to speak on the record, such is the taboo nature of STDs.




'Number of AIDS patients in Dera Ghazi Khan on the rise'




 The Khyber-Pakhtunkhwa health department records show at least 6,853 patients with STDs were registered by July 2015. Between 2011 and 2013, K-P saw 28,865 patients with STDs. But that's all the government can provide as it does not maintain complete statistics on the number, type, incidence or prevalence of STDs in K-P.




 The only STD which the health department could share numbers for was HIV – 1,700 registered so far, the number of those hesitating to seek medical assistance due to cultural constrains, is still unknown. However at a seminar before World AIDS Day K-P deputy programme manager for the disease Dr Attaullah Khan shared 1,816 patients who tested HIV positive are on the registers of the health department, including 1,349 of those are men, 391 women and 76 children.




By now, the question making your brain all itchy and scratchy would be: what do we mean when we say STD and can we all get it?




 STDs or sexually transmitted infections as they are also known are contracted through unprotected intercourse or contact with genitalia. The only way to avoid an STD is by knowing whether your partner has a clean bill of health; protected intercourse helps minimise chances.




 A health expert requesting anonymity told The Express Tribune as many STDs initially are asymptomatic—no signs or symptoms—and as a majority of the people have little or no awareness about them, most cases go undetected initially. When the infections do manifest, the fact that most symptoms present on the genitalia makes people shy away from a visit to the doctor.




 He said patients should visit the doctor as soon as they feel unwell or see the signs. "People don't know and don't adopt precautionary measures while maintaining [sexual relations]." A senior government doctor said if patients don't come in early for a check-up, they risk infertility.




 Another doctor requesting anonymity due to the "sensitive nature of the topic" said, "A routine examination by the doctor can help determine if it is an STD." He added, "We cannot prevent people from engaging in sexual contact or intercourse but we must advise that safety measures be taken." Safety measures include the use of condoms and knowing if your husband, wife or partner have not had sex with someone who is infected.


When school teachers become carriers


 A doctor at a government hospital told The Express Tribune a majority of STD patients coming through the institution were teachers, mostly from primary schools. "We receive patients from all walks of life but as far as I noticed, a majority of them are teachers and those too primary schools teachers."





Discussing the crossover of STDs and sexual abuse at schools, the doctor said, "I can say it [sexual abuse] is to some extent a practice in government schools, specifically at the primary level. This is evident from a few issues in the past."




 He added, "The only way out, to save children, is to educate them about sex." Admitting it was not the easiest job—one of the toughest he said—the doctor urged it needed to be done at the earliest. "Children especially the younger ones, under the age of 10, can be easily abused since they cannot not resist and teachers take advantage of their [children's] innocence," added the government hospital doctor.




 "Parents don't tell their children how to protect themselves, we don't tell them in the syllabus. Who do you think will come to rescue our kids?" asked the doctor. "Have you forgotten about the Government Higher Secondary School No3 Khyber Bazar case, where children were abused and no one was brought to justice?"




 One cohort that presents a high number of STDs is long-haul drivers. Doctors who spoke to The Express Tribune said drivers who are on the roads for days often present with complaints of sexually transmitted infections.


What happens behind bars


When contacted, a senior skin specialist—also a government employee—shared police officers was another cohort with a high incidence rate of STDs. Some of these are contracted in sexual encounters, others due to close proximity.




 He shared precautionary measures were adopted, ironically by the Muttahida Majlis-e-Amal (MMA) government which ruled K-P in 2008. Condoms were distributed in Central Prison Peshawar to prevent STDs but the directives were withdrawn after the government faced heat for allegedly promoting sex in prison. There are no current plans to restart this initiative as no one is ready for the blow back.




 "Sex education should be priority of the government, not for entertainment but for prevention and protection," said the skin specialist. Adding sex education at the primary level will help children understand what sort of physical contact is appropriate and will help raise awareness about safe sex, he said.




 "Until and unless sex education is included in the syllabus, these people [patients, children and abusers] will not learn how to protect themselves," said the skin specialist.




Against all odds: Pakistan seeks $11 million for its fight against AIDS




 Dr Naimatullah, a skin specialist who visits Central Prison Peshawar weekly, shared inmates suffered many skin diseases, including STDs.




 "I am not saying it happens [to the prisoners] by maintaining physical contact but when we do come across such cases, we keep the prisoner in isolation," Naimatullah told The Express Tribune.


Infecting the spouse


"The women who visit me when STD symptoms manifest are mostly infected by their husbands," said a gynaecologist. "No," she said in response to a question, "Almost all my patients are married and I don't think they were involved in extramarital relations as their [patient] history reveals their husbands had been infected first."




News reports of migrant workers returning home and infecting their spouses with HIV or other STDs are common in the region. K-P has a high rate of men who travel to the Gulf States or Saudi Arabia for better work opportunities. Once migrant workers test positive for sexually transmitted diseases or infections, they are often deported – without knowledge of what they are carriers of. Upon their return, they also contribute to the spread of STDs.


 The convoluted topic of sex


Discussing whether sex education should be included in the syllabus or not, Pakistan Ulema Council Chairperson Allama Tahir Ashrafi pointed out the repercussions of doing so.




"The Pakistan Ulema Council is aware of the issue and has held campaigns propagating parents should educate their children about sex," Ashrafi told The Express Tribune. He said they had been asking parents to themselves teach their children which he thought was the best way to resolve the issue.




"It would be a disaster if the same teacher, who is involved in sexual abuse, teaches sex education," said Ashrafi. "Whom will you hold responsible for the repercussions?"




Epidemic status: AIDS prevalence rate falling globally




Minister for Education Muhammad Atif Khan shared including sex education in the syllabus would lead to controversies. "Religious political parties will start creating problems," he said. Seconding Ashrafi's opinion, Atif Khan said, "We also think parents should be encouraged to educate children at home."


Common STDs or STIs


The following will just sound like gibberish, big scary gibberish, but all these infections are contracted through sex when both partners are not regularly tested and are not engaging in safe practices.



 Chlamydia, gonorrhoea, trichomoniasis have some common symptoms which include pain during urination and discharge from the genitalia. Genital herpes, genital warts and human papillomavirus (HPV) infection manifest with red bumps, blisters or open sores or ulcers near the genitalia or bottom, itching and pain. Warts or herpes can also be contracted through skin-to-skin contact with an infected area. Similarly pubic lice and scabies can be contracted, other than sex, by sharing bedding, clothes or towels with the infected person.
Syphilis can start with a small, painless sore on a part of your body where you contracted the infection. The bacterial infection can take on a secondary and tertiary phase where it can affect your heart and brain.  (source: Mayo Clinic website)
Published in The Express Tribune, December 21st,  2015.
COMMENTS (2)
Comments are moderated and generally will be posted if they are on-topic and not abusive.
For more information, please see our Comments FAQ