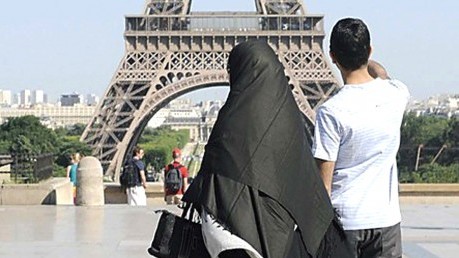 ---
PARIS: Muslims in France say the government's plan to fine women for wearing the veil is one in a string of political ploys that stigmatise them and pander to anti-Islamic prejudice.

Extracts from the law leaked on Friday propose to fine women $200 for wearing a full-face veil in public, while anyone who forces a woman to wear one would face a year in jail and a fine of $20,000. Some say that giving police the power to fine Muslim women in the street is part of a worrying trend, after the government's "national identity debate" and its targeting last week of a man accused of polygamy and radicalism. Amid the polygamy controversy, bullets were fired at a mosque in Istres, southern France, and a Halal butcher in Marseille.

A French Muslim group, CFCM, said this signalled "a rise of racism and Islamophobia." "It's getting tougher and tougher. It's as if people have had something against us for a long time and now that the politicians are saying it, they are letting it all out," said Mamadou Alpha Diallo, 73, outside a Paris mosque. Muslims in France "have the impression that Islam is on trial," added Dounia Bouzar, an anthropologist and high-profile commentator on Muslim affairs.

President Nicolas Sarkozy's government has nevertheless vowed to press on and said it will present a bill to parliament by July, despite a warning from state judicial experts that a full public ban may be unconstitutional. Sarkozy insists that veils such as the Niqab and the Burqa are an affront to women's rights and France's secular values. Fewer than 2,000 women are estimated to wear the veil in France, however, and critics of the government plan say it clouds more pressing issues for a Muslim community struggling to integrate.

"Even people who have little connection to the Muslim faith feel they are being singled out and are having a very hard time during these debates on Islam," said Azzedine Gaci, leader of a mosque in Villeurbanne, eastern France. Amar Lasfar, the leader of a mosque in the northern city of Lille, said the veil issue was "very marginal" and was being blown out of proportion. "Here in France they are concentrating on that as if it were the number one problem of Muslims and society," he said, judging it "a side-issue that has been overdone in the media".

"It gives the impression that you see people wearing the Burqa on every street corner... There is a feeling of exasperation among Muslims. They're crying out 'Leave us in peace!'" According to Friday's leaked extracts, the law will fine women $200 dollars for wearing a full-face veil in public, while anyone who forces a Muslim woman to wear one would face a year in jail and a huge fine. "No-one may wear in public places clothes that are aimed at hiding the face," says the text to be presented to parliament in July.
COMMENTS (2)
Comments are moderated and generally will be posted if they are on-topic and not abusive.
For more information, please see our Comments FAQ