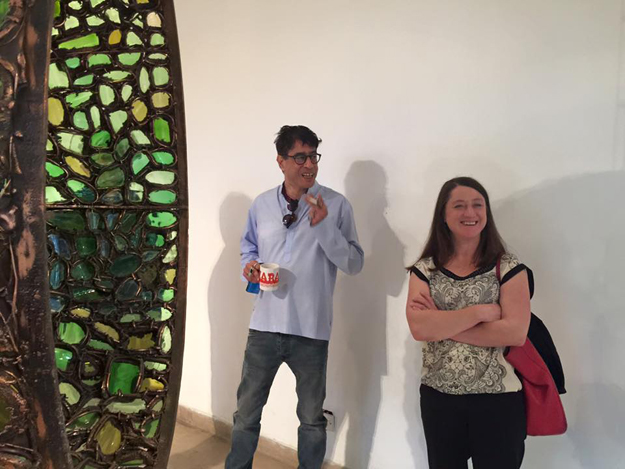 ---
KARACHI: Berlin Biennale project manager Antje Weitzel shared the history and multiple artistic approaches towards Berlin Biennale, while giving a presentation on 'Realising the Vision: International Art Management or the Berlin Biennale — Past and Present' at Goethe Institut on Wednesday.

Weitzel believes that the aim of biennale art exhibitions is to transmit artistic idea and see how it relates to the public and city's reality. Addressing a small gathering of artists, curators and those belonging to the art fraternity, Weitzel spoke about how the frequency of biennales have increased in the past years. She gave a presentation on eight such biennales of Berlin, in which not only different curatorial approaches were shown but also their relationship with Berlin on the whole was presented.

Discovering new artists: Bridging differences through art

In the seventh Berlin Biennale, which Weitzel termed as the most radical and controversial one, art was used more of a political reformative tool involving activists as artists. She showed an installation of 'Key of Return' signifying support for Palestine. Weitzel further shared the work of a certain artist on the forgotten Berlin wall. "She placed a wall blocking a street in the city centre," Weitzel said, referring to a photograph that had a huge obstruction in the middle of a street. "She [artist] tried to observe the responses she got from shopkeepers and drivers and tried understanding what having a wall was like," Weitzel said, adding that it had to be removed sooner because petitions and complaints had been lodged against it.

Weitzel said that each biennale aims to be different than its predecessor. She cited examples of first and second biennales, revolving around the goals of making Berlin a cultural capital.

According to Weitzel, it was in the third one that one sees an intellectual drift. "Apart from artists, cinemas were also included to see what Berlin as a production place is," she said. To support this, Weitzel showed a figure of a cleaner installed at the exhibition space and said, "She [the artist] wanted to engage people through her work."

Nostalgic art: Lost in the Hues of Peshawar

Weitzel also shared light on the upcoming ninth Berlin Biennale in 2016, revolving around themes of digital native and post internet times. About biennales, she said that there are no particular formats or limitations of curatorial approach. "It should relate to the people and the city it is being exhibited," she said, adding that the shift is towards fitting into existing reality of shopping malls and offices, and not just old castles for perfect exhibition spaces.

Published in The Express Tribune, December 17th,  2015.
COMMENTS
Comments are moderated and generally will be posted if they are on-topic and not abusive.
For more information, please see our Comments FAQ