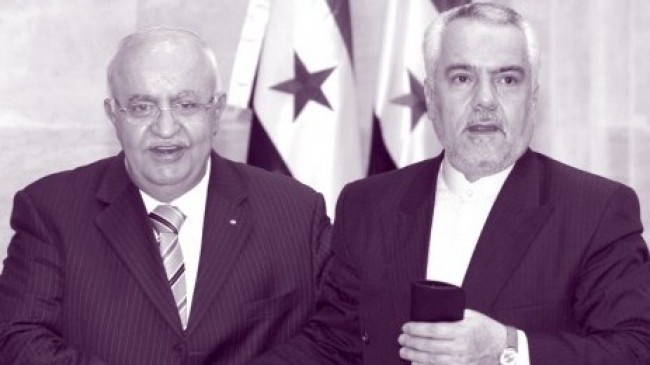 ---
DAMASCUS: Iran will "cut off Israel's feet" if the Jewish state attacks Damascus, Iranian Vice- President Mohammad Rida Rahimi vowed on Friday at the end of a two-day visit to key regional ally Syria.

"We will stand alongside Syria against any (Israeli) threat," Rahimi said at a news conference with Syrian Prime Minister Mohammad Naji Otri. Rahimi described Syria as a "strong country that is ready to confront any threat" and pledged that Tehran "will back Syria with all its means and strength". Earlier this month, Israeli President Shimon Peres claimed that Syria was supplying militant group Hezbollah with Scud missiles. Syria has denied the charges.

On Tuesday, US Defence Secretary Robert Gates accused Iran and Syria of arming Hezbollah with increasingly sophisticated rockets and missiles which he said undermined stability in the region. Another blow came when, on Thursday, US Secretary of State Hilary Clinton warned Syrian President Bashar al Assad against the risk of sparking a regional war if he supplied long-range Scud missiles to Hezbollah. "President Assad is making decisions that could mean war or peace for the region," she warned.

Hezbollah, which is backed by Syria and Iran, fought a month-long war with Israel in 2006 during which it fired more than 4,000 rockets on the Jewish state. Israel estimates that Hezbollah has since stockpiled more than 40,000 rockets, some of which could reach major Israeli population centers, and has warned it stood ready for any attack by the Lebanese group. Despite a 1949 armistice agreement, Israel remains technically at war with Syria, which was among those that battled the nascent Jewish state in the 1948 Israeli-Arab war.

Assad recently indicated willingness to resume indirect Turkish-mediated peace talks, which were suspended when Israel launched its devastating Gaza Strip offensive in December 2008. Meanwhile, the Obama administration on Thursday warned Iran and Syria that America's commitment to Israel's security was unshakable, and they should understand the consequences of threats to the Jewish state, reports AP. In a speech, Secretary of State Clinton said Syrian transfers of increasingly sophisticated weaponry, including rockets, to militants in southern Lebanon and Gaza could spark new conflict in the Middle East.

Additionally, she said a nuclear- armed Iran would profoundly destabilise the region. Clinton told the group that Israel was "confronting some of the toughest challenges in her history," particularly from Iran, Syria and groups they support like Hezbollah in Lebanon and Hamas in the Gaza Strip, and reaffirmed US determination to get them to change course. "Transferring weapons to these terrorists, especially longer- range missiles, would pose a serious threat to the security of Israel," she said.

On Iran, Clinton said the administration remains open to engaging with Tehran, but it must meet international demands to prove its suspect nuclear programme is peaceful and not a cover for developing atomic weapons. Short of that, the US will continue to press for tough new UN Security Council sanctions on Iran.
COMMENTS (2)
Comments are moderated and generally will be posted if they are on-topic and not abusive.
For more information, please see our Comments FAQ