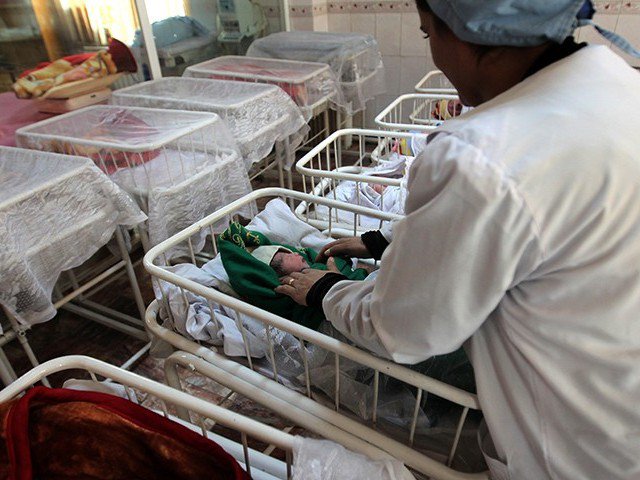 ---
PESHAWAR:



Maternal mortality remains a persistent issue in Pakistan. According to health experts in Khyber-Pakhtunkhwa, 206 women in every 1,000 in Pakistan die during pregnancy or in child-birth. However, according to Save the Children's State of the World's Mothers 2015 report, one in 170 mothers are at risk of maternal death in the country.




Health officials told The Express Tribune mortality rate for children below the age of five has also increased – 80 out of 1,000 die. The Save the Children report puts under-five mortality at 85.5 of 1,000 children.




Global experiences indicate one way of bringing improvement in this situation is a proficient front line of skilled midwives along with support supervision and strong linkages with referral system. The role of community midwives is considered pivotal in a society such as Pakistan where primary health issues have not been properly addressed for over 60 years.

Last minute care

Doctors told The Express Tribune women from rural areas do not take proper care during pregnancy and usually visit medical professionals at the eleventh hour which, according to them, always leads to serious complications.

"They just come and ask us to admit them for delivery," a senior gynaecologist at Lady Reading Hospital (LRH) told The Express Tribune. She added, "In this situation, if we admit her we take a risk and the moment we refuse admission, relatives create a serious fuss."

She pointed out women have to take care of themselves both physically and mentally. "Gynaecologists advise women to take precautionary measures for not only maintaining good health but at the same time to avoid stress," the doctor said.




Only a healthy mother can give birth to a healthy baby, said the doctor and stressed that pregnant women have to take precautionary measures, including repeated visits to gynaecologists. "Poor lifestyle and diet choices nowadays can lead to serious complications," said Police and Services Hospital medical officer Dr Tasleem Khaliq. "Not only during delivery but an unhealthy lifestyle can also have adverse effects on the foetus' health."

Baselines, tests and shots

She said, "A baseline examination of the woman and the foetus must be carried out after the trimester, followed by a second visit at sixth months and a last examination before the date of delivery."

According to Khaliq, women should remain physically active if they want a smooth delivery. "They should get tested, especially for diabetes, monitor blood pressure and get ultrasounds as prescribed by the doctor." The doctor added, "Vaccinations, such as tetanus toxoid, is also important," she said. According to the World Health Organization, all women giving birth and their newborn babies must be protected against tetanus.

"Women must take additional intake of fruits, milk and supplementary folic acid since flour in Pakistan lacks folic acid which is mandatory for a healthy child." Khaliq added children were at risk of being born with certain defects if their mothers did not consume adequate amounts of folic acid. A senior gynaecologist at a government hospital recommended a breast check-up along with the check line. "Women should get tested [where possible] for congenital anomalies and the position of the foetus."

Govt's initiatives

The government launched a special incentive package for pregnant women from the CM's discretionary funds and approved Rs300 million for the programme in July 2014. At least Rs150 million have been spent while the remaining amount has yet to be provided to the Mother and Newborn Child Health programme.

As part of the package, pregnant women are paid Rs300 for transportation charges besides free medicines at health centres on every visit via cards. The programme had been launched in 10 districts earlier but keeping in view the improvement in maternal and child health, the programme was extended to other districts of the province as well.

Published in The Express Tribune, December 8th,  2015.