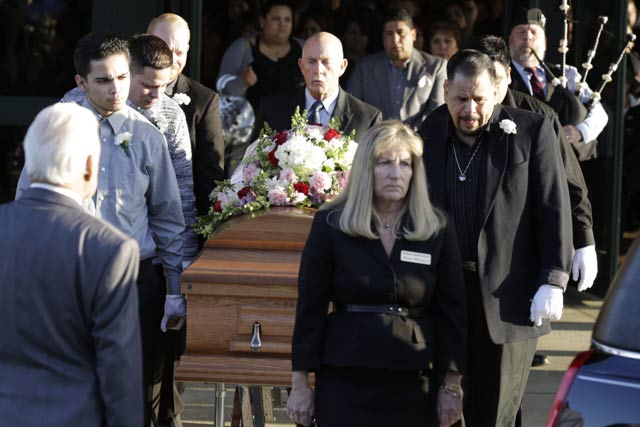 ---
Pakistan denied reports on Saturday of a meeting between Prime Minister Nawaz Sharif and the US envoy over California female shooter's links with Lal Masjid in Islamabad.

According to British newspaper Daily Mail, US officials handed over information to their Pakistani counterparts about links between Tashfeen Malik, the female shooter in the California rampage, and the Lal Masjid in Islamabad.

Female attacker from DG Khan praised Da'ish chief

However, the PM House said in a statement no such meeting was held. "News reports regarding the meeting of a special US envoy with Prime Minister Nawaz Sharif in London to discuss the California tragedy are baseless and incorrect," the statement said.

Quoting sources Daily Mail reported, "American officials have now held crisis talks with one of Pakistan's most senior figures Shahbaz Sharif, brother of prime minister Nawaz Sharif, at the country's High Commission in London."

Sources with knowledge of the meeting told Daily Mail Online that the US had handed over 'some proofs' of links to the Red Mosque, known in Urdu as Lal Masjid, the British newspaper added. The mosque is infamous for its links to violence.

Female suspect of California shooting was Pakistani: CAIR

Investigators believe that the female shooter involved in Wednesday's deadly rampage in California, had pledged allegiance to Da'ish (Islamic State) group leader Abu Bakr al-Baghdadi in a Facebook post on an alias account.

One US official familiar with the investigation said Tashfeen Malik, 27, had posted on a Facebook account under a different name just as the attack was going on. The officials did not explain how they knew Malik was responsible for the post, CNN reported.

Malik and her American-born husband, Syed Rizwan Farook, had burst into a year-end party in San Bernardino, California on Wednesday afternoon and opened fire on a roomful of Farook's co-workers, killing 14 and wounding 21.

Tashfeen hailed from DG Khan

Malik hailed from Taunsa tehsil in DG Khan district of Punjab but had lived much of her life in Saudi Arabia.

California shooting suspect was devout Muslim: father

Malik was born to Haji Gulzar Ahmed Malik, patron of a prosperous Seraiki-speaking family in Vehoa city, in DG Khan. She has two sisters and two brothers and was related to former provincial minister Ahmed Ali Aulak.

Haji Gulzar had moved from his native city to Layyah for a short while before taking his family to Rawalpindi as he pursued his business. That pursuit took Haji Gulzar to Riyadh in Saudi Arabia almost 25 years ago.

However, with educational opportunities limited for non-residents in Saudi Arabia, Haji Gulzar sent his daughters to Pakistan to complete their higher studies. Following in her older sister's footsteps, Malik arrived in Pakistan to study pharmacy at the Bahauddin Zakaria University.

Her maternal uncle told The Express Tribune that she came back around five to six years ago. Like her sister, she completed her D-Pharm with a 74.88 percentage.

Pakistani-origin couple kept tight lid on plans for San Bernardino shooting

After completing her studies, Malik returned to Saudi Arabia.

Farook was born in an Urdu-speaking household in Illinois to Syed and Rafia Farook. In 2013 Farook visited Saudi Arabia to perform Hajj.

After he met Malik apparently through an online matrimonial service, Rizwan returned to Saudi Arabia to meet her family.

The two married and moved to the US where they had a six-month-old baby.

One of Malik's uncles, Javed Rabbani, said her father, Haji Gulzar, had changed during their time in Saudi Arabia. "When relatives visited him, they would come back and tell us how conservative and hard-line he had become," Rabbani said.

Her maternal uncle disclosed that both Malik and Farook were religiously inclined.

'Radicalised' California shooter had terror ties: reports

Pakistan condemns attack

The Pakistan embassy in Washington DC on Friday condemned the attack and offered condolences to families of the victims.

"It is hoped that the investigations would lead the authorities to the perpetrators of this act to justice sooner," it said in a statement.

Meanwhile, security officials have started inquiring about Malik with her relatives in DG Khan questioned.